Several 4-H members starred at State Fair in horse riding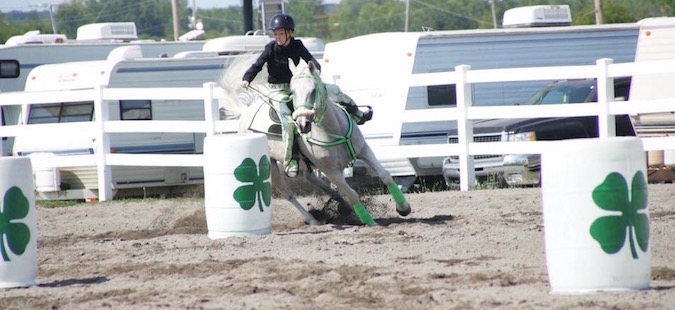 Photo courtesy of Lydia LaDue: Marisa Hanlon of Kendall competes in the Texas T Barrels at the NY State Fair.
(Editor's Note: This week is National 4-H Week. Orleans Hub posted an article recently about State Fair winners from Orleans, but didn't include these local youth who competed in the Gymkhana Games for the Horse Division.)
SYRACUSE – Several 4-H'ers in the horse program competed over Labor Day weekend at the State Fair in Gymkhana Games.
Emma Klaver and Katelyn Spierdowis competed in the Junior Division. Emma was 8th in Sweetheart Barrels, 2nd in Texas T Barrels and 10th in Figure 8 Barrel. Katelyn finished 8th in Straight Barrels.
Faith Woody participated in the Pony Division and was 6th in Texas T Barrels, 8th in Quadrangle Barrels and 5th in Pole Bending.
Mary DiBattisto and Marsia Hanlon competed in the Senior Division. Mary was 9th in Keyhole Race and 10th in Pole Bending. Marisa was 6th in Quadrangle Barrels, 6th in Texas T Barrels and 10th in Figure 8 Barrels.