Service honors 30 who died due to Covid at Medina nursing home
Ceremony also acknowledges courage of residents, staff during Covid pandemic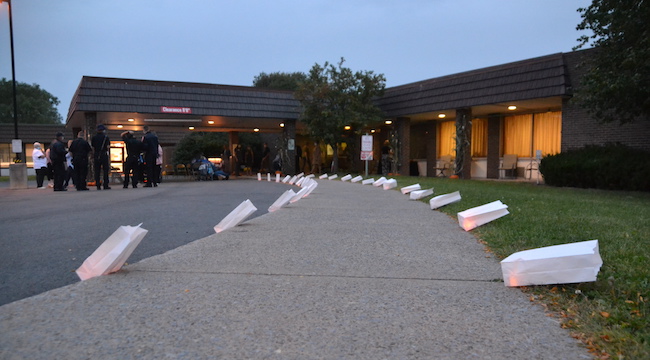 Photos by Tom Rivers
MEDINA – These 30 white bags had lights in honor of the 30 residents at the Orchard Rehabilitation and Nursing Center who passed away after getting Covid-19.
Orchard held a reflection service at 7 p.m. Tuesday outside at the front entrance of the site on Bates Road.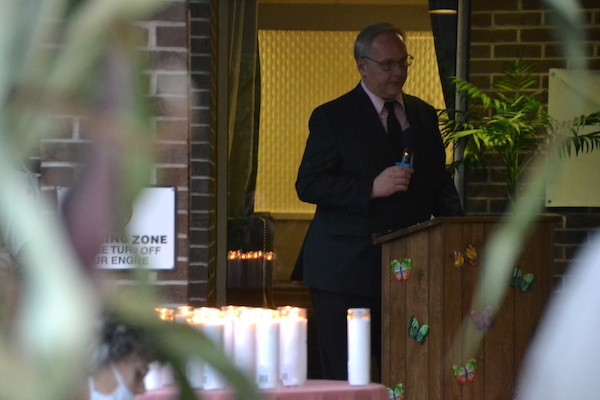 Martin MacKenzie, Orchard's administrator, praised the staff for their courage in providing care and service to the residents at Orchard. Those residents also showed strength, often encouraging the staff during a scary time, MacKenzie said.
About 80 staff members and 100 residents contracted Covid during the pandemic.
He said the virus doesn't discriminate, infecting people from all backgrounds and circumstances.
"The staff and residents deserve recognition for what they have been through," MacKenzie said. "The pandemic hasn't passed but we wanted to recognize what the facility has accomplished."
He also thanked the Medina Fire Department, the Department of Health at the state and county levels, the National Guard and the Orleans County Emergency Management Office which provided expertise, service and PPE supplies.
Many local residents and businesses also have sent pizza and other expressions of love during a tough time.
"The community support has been absolutely phenomenal for this facility," MacKenzie said.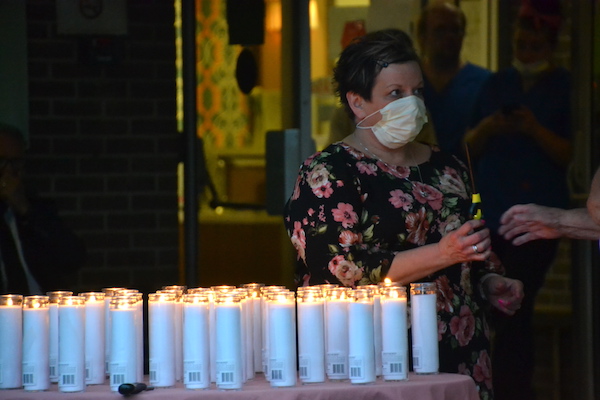 Mary Luckman, director of nursing at Orchard, lights a candle in memory of the 30 residents who died due to Covid. Pam Shirback, whose husband passed away from Covid, also lighted one of the candles during the service.
Shirback posted on Orchard's Facebook page that the service "was a wonderful tribute to both those residents who passed away during the Covid outbreak in 2020, and those who stayed by their sides to care for them at the risk of endangering their own lives."
She also thanked an honor guard of local veterans and the Medina Fire Department for attending the ceremony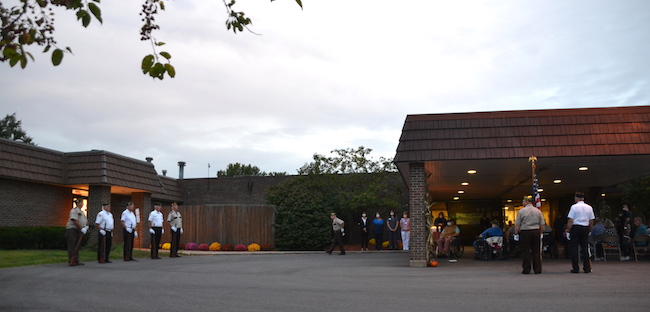 Of the 30 residents who passed away due to Covid at Orchard, six were veterans. The local honor guard did three volleys of a gun salute in honor of the deceased veterans.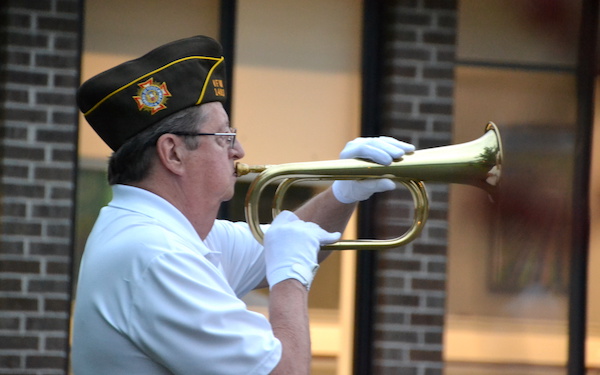 Brad Nudd served as the bugler in playing Taps.
The Rev. Dan Thurber, pastor of Oak Orchard Assembly of God Church, offered a prayer during the service.
"We mourn the passing of each dear soul," Thurber said.
He used to lead church services at Orchard, but during much of the pandemic outside visitors haven't been allowed. Just two days ago on Monday, Orchard announced it had to temporary suspend indoor visits due to the Covid transmission rate passing 10 percent in Orleans County. The facility will make accommodations for end-of-life or compassionate care.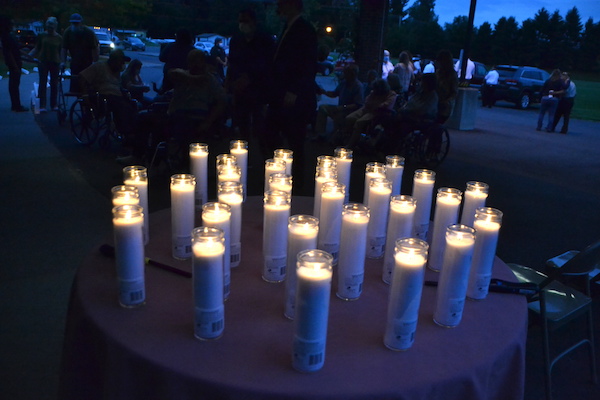 After the service this group gathered under the canopy near the front entrance. There were cookies available in the shape of butterflies.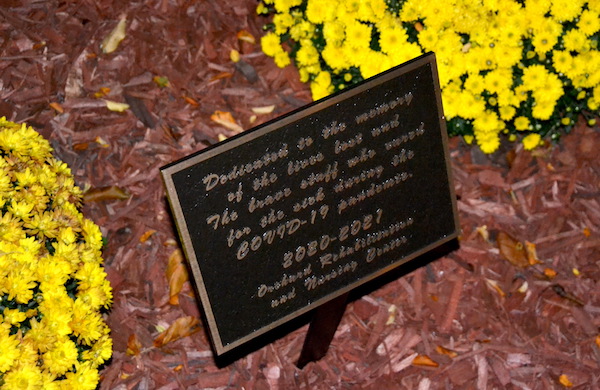 Orchard unveiled a new butterfly garden and a plaque in the garden that stated: "Dedicated to the memory of the lives lost and the brave staff who cared for the sick during the COVID-19 pandemic."