Semi hauling cabbage slides off road, overturns in Albion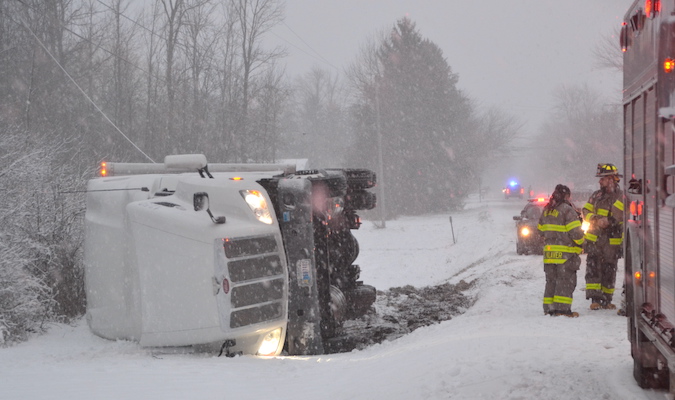 Photos by Tom Rivers
ALBION – A truck from Indiana, hauling local cabbage, slid off of Brown Street and flipped on its side this afternoon at about 4:30 p.m. during heavy snowfall.
The driver was headed north on Route 98 but was redirected due to the Main Street lift bridge being closed. Rather than following the detour signs, the driver went by his GPS and ended up on Brown Road. He was attempting to go north to Route 104 when he went off the east side of the road, a state trooper said at the scene, which was just north of the village line.
The driver will be ticketed for speed not prudent and for an overweight load. The limit of Brown Road is 12,000 pounds, the trooper said.
A towing company with a big wrecker is coming from Buffalo to pull the truck off its side and from a neighbor's yard.
No one was injured in the accident.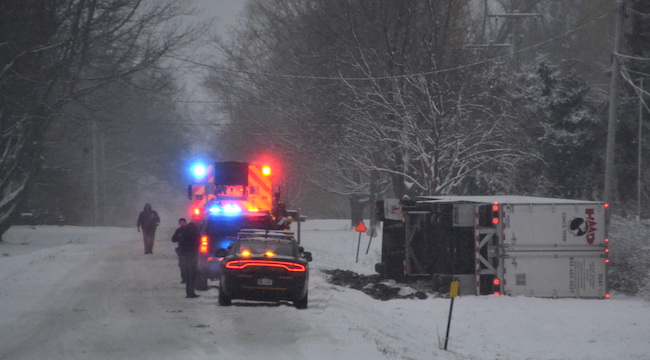 Albion firefighters are on the scene and also providing traffic control. There are several other accidents around the county.