Self Advocate All Stars want expanded public transportation in Orleans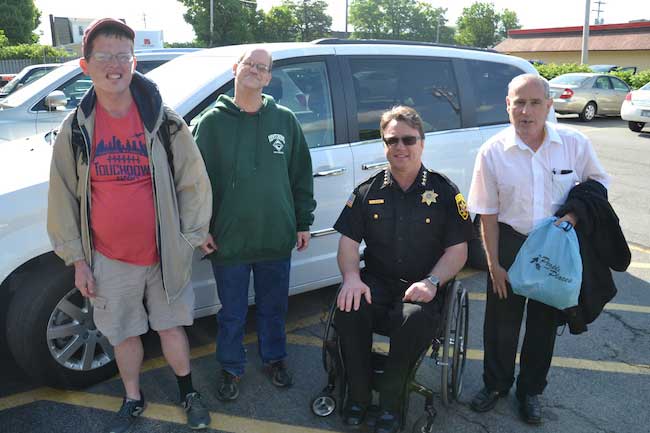 Photo by Tom Rivers
ALBION – The Self Advocate All Stars in Orleans County left this morning for a two-day conference in Rochester. Sheriff Randy Bower gave this trio a ride. Bower was named an honorary Self Advocate All Star by the group in 2015.
Bower is pictured with, from left: Jonathan Doherty of Albion, Mike Woodward of Lyndonville and Robert Geer of Albion.
The All Stars were unable to get public transportation to the conference in Rochester. Bower agreed to take them and pick them up on Friday after attending a Special Olympics torch relay in Gates with law enforcement officers in the region.
The All Stars are trying to raise the issue for expanded public transportation in Orleans County, including later in the evenings and on weekends, as well as for trips outside Orleans County.
Jonathan Doherty, the group's fundraising chairman, said the All Stars have been working on the issue for several years with limited success. They would welcome transportation for concerts and other cultural events that happen on weekends and in the evenings.
The Self-Advocacy Association of New York State is holding a two-day Western Region Conference today and Friday at the Rochester Radisson Hotel.
"We learn a lot and it's fun," Doherty said about the conference.
The event includes many workshops to address issues for people with developmental disabilities to be more active in the community. Transportation has been an ongoing issue for many years and will once again be one of the workshops at the conference.
"Transportation is a huge issue across New York State," Doherty said.