Second class from Leadership Orleans graduates
New group starts next week and will learn many facets of Orleans County
HOLLEY – The second class of Leadership Orleans graduated from the year-long program last month with 24 people learning about many facets of the county.
Class members included local government officials, business and agency leaders, and citizens. The class built a strong network among each other in the year, through retreats and a monthly day-long focus on a different aspect of the county – government, arts and culture, volunteerism and non-profit organizations, community health, tourism and recreation, agribusiness, economic & workforce development, and education.
"What we learned about the community is invaluable and there are so many opportunities to get involved and help our county," said Michele Bokman, director of operation for GCC's campus centers in Orleans County.
She said Leadership Orleans brings together people from several sectors of the community. Although the class has graduated, Bokman said the group will continue to meet and looks for ways to help the county.
Elizabeth Haibach, a librarian at Hoag Library, grew up in Orleans County. She said Leadership Orleans proved eye opening. She didn't realize how fishing is the county's top tourism draw, for example, drawing anglers from throughout the country to fish at Lake Ontario, the Oak Orchard River and other tributaries.
"I've learned so much about our community that I can apply to my job," she said.
Greg Reed, director of the YMCA in Orleans County, said Leadership Orleans helped him forge many friendships and connections in the county. Reed came to the Y in Medina two years ago after working in Denver, Colorado. He said the class participants have a common goal of wanting to move the community forward.
Some of the new graduates will be part of a Leadership Orleans Task Force to brainstorm ways to help the county and develop an action plan.
"We don't want it to end tonight," Reed said during the graduation program.
Orleans County pushed to start the program so local citizens, government officials, and business and agency leaders have a deeper understanding on how the community works, with a deeper knowledge of its assets and challenges.
The county government was instrumental in providing funding support for Leadership Orleans. The program had its first class in 2018 after the County Legislature set aside $33,000 in 2017 to get the program off the ground. The county contribution was reduced to $22,000 in 2018, and $16,000 in 2019 and 2020.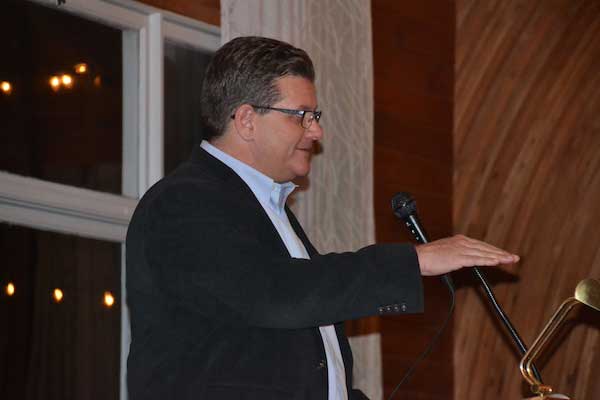 Chuck Nesbitt, the outgoing county chief administrative officer, was presented a "Distinguished Leader Award" for his support of the program, and for his efforts as the county's top administrator for 14 ½ years.
"I'm very proud of this program and where it's going," Nesbitt said during the graduation. "It is something I hope will resonate for many years to come."
Nesbitt, an Albion native, urged the class and community to pursue a higher purpose in charting the county's future.
"Take up the mantle of building this community to where it should be and where it should go," he said.
Too often local residents and officials fret about what the county is not, Nesbitt said.
He urged the class to take risks, and use courage and integrity "to break the inertia of the old."
His advice to the class was "to go for it," and take stock of their gifts and live a life with purpose.
"It's up to us to make this community the best version of itself," he said. "It's not just one of us. It's all of us."
Lynne Johnson, chairwoman of the Orleans County Legislature, thanked the new graduates for devoted so much effort to the program, and wanting to learn how to make a bigger imoact in the community.
"It is clear in the mission of Leadership Orleans that we are creating a nucleus for investment in Orleans County and are enhancing leadership that will continue to serve Orleans County," Johnson told the class.
"Now with having our second class graduate, we hope that our Leadership Orleans Alumni will continue to serve in leadership opportunities, help fill our volunteer needs of Orleans County and collaborate with those they met along the way to continue to make Orleans County a great place to live, work and have fun in."
The program has had 123 presenters its first two years and visited 78 sites. Often the month's class includes panel discussions from key officials and leaders in education, healthcare, tourism, agriculture or whatever the focus was that month.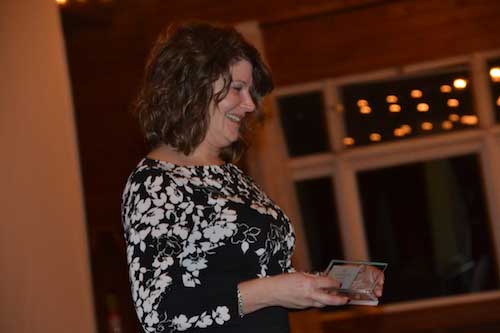 Ellen Eaton, director of employee experience at Takeform, accepts the "First Impression of the Year" award on behalf of the company in Medina. Takeform wowed the class with its high-tech work site, while insisting employees maintain a life-work balance in their jobs.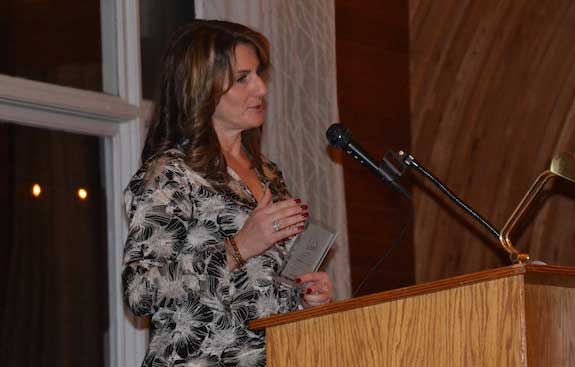 Lisa Tombari was presented the "Alumna of the Year." She was a member of the Class of 2018 and works as director of Operations & Historic Properties at Talis Equity. She oversees several new Talis Equity businesses and real estate projects. She manages operations at Bent's Opera House, the Stonehurst and Talis Historic Restoration (the window shop at the Mustang City, the former Medina High School).
Tomabri was praised for handling the many challenges with these projects. She also is active in the community, including on the Leadership Orleans steering committee. She also is a member of a waterfront revitalization committee in Medina, and a newly formed Orleans Women's Leadership group.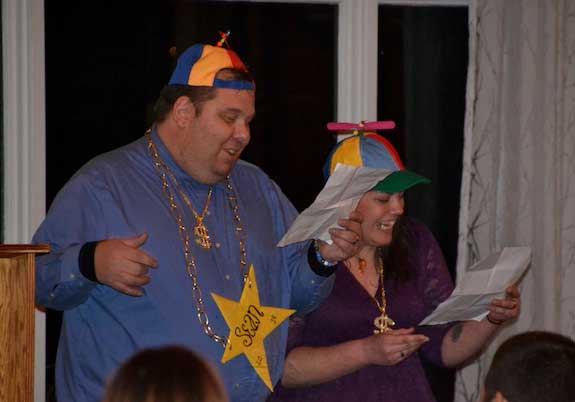 Sean "Fresh Sean" Casher and Jessica "DJ Jazzy Jess" Capurso shared a rap about the program and the connections they made as a class. Casher and Capurso both were members of the Class of 2019.
The 2019 graduates include:
Delano Alvarez, Quality Associate III, Baxter Healthcare
James Bensley, Dir. Dept. Planning and Development, County of Orleans
Melissa Blanar, Dir. Orleans County Office for the Aging, Orleans County
Michele Bokman, Director of Operations, SUNY GCC
Beth Brown, Business Administration Manager, Orchard Dale Fruit Company, LLC
Sean Casher, Human Resources Business Partner, CRFS, LLC
Nicole Davis, Director of Residential Services, GCASA
Daniel Doctor, Community Outreach Liaison, Medina Central School District
Jessica Capurso, Health Educator/Community Outreach, Orleans Community Health
Ellen Eaton, Dir. of Recruiting and Employee Experience, Quorum Group dba Takeform
Elizabeth Haibach, Librarian, Hoag Library
Tessa Hartway, Dir. Of Marketing and Branding/Business Development, Talis Equity
Rachel Hicks, Agent/Customer Services, Albion Agencies
Susan Howard, 1st Assistant District Attorney, Orleans County
Pattie Kepner, Assoc. Exec. Dir. Quality/Corp. Compliance, Arc of Genesee Orleans
Steve Mowers, President, CRFS, LLC
Jonathan Oakes, Winemaker/Cidermaker Vice President, Leonard Oakes Estate Winery
James Olinger, Farm Operations Assistant Manager, Sandy Knoll Farms, Inc.
Sarah Olinger, Credit Analyst, Farm Credit East, ACA
Amanda Pollard, Assistant Branch Manager, Tompkins Bank of Castile
Greg Reed, Executive Director, GLOW YMCA – Orleans County YMCA
Brittany Scott, Sr. HR Representative, Baxter Healthcare
Jerod Thurber, Sales Mgr./Cider Mgr., Leonard Oakes Estate Winery/Lynoaken Farms
Carly Ward, Dir. of Planning and Oper., Community Action of Orleans & Genesee, Inc.
Vanja Zinaja, QA Manager, Baxter Healthcare ​