Girl Scout drops off treats with special meaning for police officers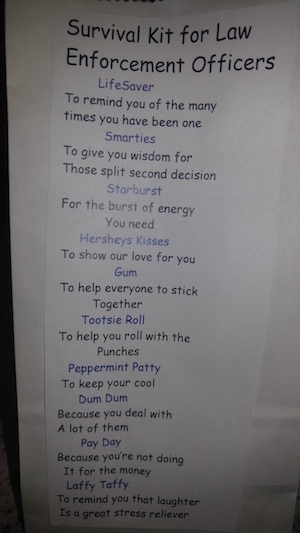 Press Release, Albion Police Chief Roland Nenni
ALBION – The Albion Police Department was honored today to be visited by Sarah Bassinett of Girl Scout Troop 82259. Sarah dropped off "Survival Kits for Law Enforcement Officers."
In the white bags, that were closed with a cut out of a badge and blue ribbon, were various candies. On the bag was a list of the candies with its specific meaning towards law enforcement.
For example, the Life Saver in the bag was to remind law enforcement officers of how many times they have saved a life.
The Laffy Taffy in the bag was to remind officers that laughter is a great stress reliever.
The Albion Police Department would like to thank Sarah for the thoughtfulness of bringing the bags to the police departments.
Police officers do their jobs day in and day out with the understanding that they do not need or want recognition. However, when someone like Sarah makes a point to come to the police station and show police officers that she cares it means a great deal to us.