Schumer, community give thanks to veterans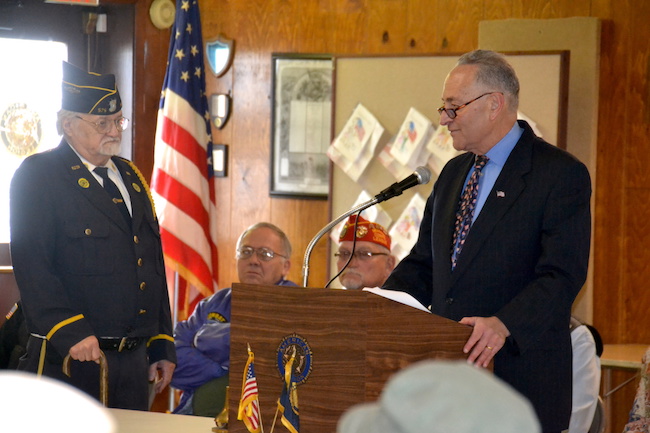 Photos by Tom Rivers
HOLLEY – U.S. Sen. Charles Schumer speaks during the Veterans Day ceremony today at the American Legion in Holley. Chuck Eberhart, the Legion commander, is at left.
There were several Veterans Day observances in Orleans County. The Legion in Holley had several speakers from different branches of the military.
Schemer said he prefers to celebrate Veterans Day in a small town, because the sacrifices of veterans in those communities are often more keenly felt by the community.
"It's the small towns that have often sent the most veterans," Schumer told a crowd during a program at the Legion in Holley.
Schumer noted that Holley suffered one of the highest per capita losses during the Vietnam War. He read the names of eight soldiers who graduated from Holley and died in Vietnam: Gary E. Bullock, Howard L. Bowen, David D. Case, John P. Davis, George W. Fischer Jr., Paul S. Mandraccia, Ronald P. Sisson and Gary L. Stymus. David States, another solider from Holley, also died in Vietnam.
"They symbolize the greatness of America," Schumer said of the Holley soldiers.
He said the country didn't give soldiers during the Vietnam War the respect they deserved.
"One of the saddest chapters in American history is when our Vietnam veterans came back and were not honored. Some of them were vilified. That was a disgrace," the senator said. "The wars in Iraq and Afghanistan have had many divisions about them, people were for them and people were against them, but praise God when our veterans came back they have been honored."
The United States wouldn't have been possible without veterans stepping forward to defend the country, and continuing to answer the call for more than 200 years.
"We've a tradition in this grand land of ours from the days of farmers, ordinary farmers, who put down their plows and took up muskets on Bunker Hill to create our freedom and generation after generation after generation has volunteered and served in our armed services," Schumer said. "Western New York has had a tradition of volunteering in the armed forces in greater numbers in general than any other place in our country because of the spirit of America and the spirit of volunteering."
Schumer said he has pushed for better healthcare for veterans through the VA system and the GI Bill that helps to pay for college. He also was instrumental in the new Veterans Cemetery in Pembroke.