Schools get ready to send off graduates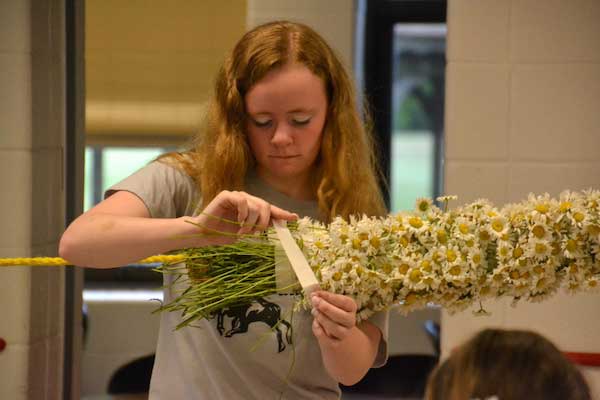 Photos by Tom Rivers
MEDINA – Tiffany Poynter, a junior at Medina, helps put together the 56-foot-long daisy chain for this evening's high school graduation ceremony.
'It's an honor to be in it," Tiffany said about the daisy chain. "It's sending off the seniors, and for us it's the beginning of our school year."
Medina has 109 seniors who will graduate today in the high school auditorium. Nicole Waild is valedictorian and Madison Holland is salutatorian.
The daisy chain is a century-long tradition at Medina for graduation. The daisy chain is a chance to honor the top 16 girls in the Junior Class. They are escorted by the top two boys in the class.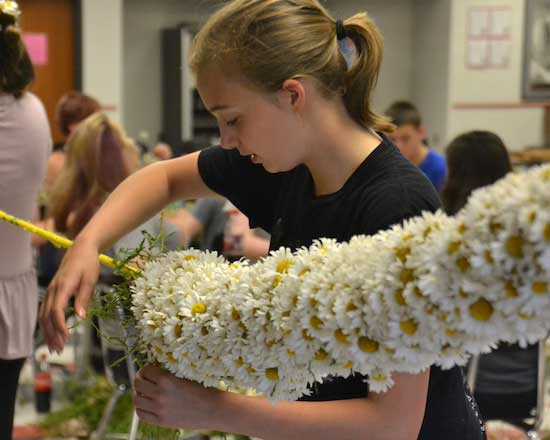 Hannah Sones works on the daisy chain in the school cafeteria today. The students began assembling the daisy chain at 7 this morning, after spending a few days picking daisies. Each of the 18 students fills 5 bushel baskets with daisies that are needed for the chain.
Other schools also honoring graduates
• In Albion, 120 students are graduating this evening at 7 in the high school gym, with Emily Blanchard delivering the valedictory address and Joseph Madejski the salutatorian speech.
• Holley's graduation is at Middle School/High School Stadium on Saturday at 10 a.m. Holley is graduating 92 students. Anna Brasted will give the valedictory address and Jesse Beach is the salutatorian.
• Kendall holds commencement at 7 p.m. today at David J. Doyle Kendall Jr./Sr. High School Auditorium. Kendall has 54 graduates. Elizabeth Rath, the valedictorian, and Chelsea Wright, the salutatorian, will both be speaking during the ceremony.
• Lyndonville has 63 graduates for the commencement at 7 this evening at Stroyan Auditorium at school on Housel Avenue. Jessica Smith is valedictorian and Kelsi Nice is salutatorian.