Scarecrow Fest returns to Kendall this Saturday
KENDALL – New faces are popping up along Kendall Road (Rt. 237) in Kendall in advance of this year's Scarecrow Festival which will take place on Saturday from 10 a.m. to 3 p.m.
Town Board member Barb Flow said this year features the theme – "Your Favorite Holiday." "It's one of the highlights of the town year," Flow said during her report at the recent Town Board meeting.
Events this year include live music in the gazebo and a performance by the HooDoo Daddies Band.  Those attending can vote for their favorite scarecrow or build their own scarecrow. There is a scarecrow scavenger hunt and a strolling magician from 10:30 a.m. until 12:30 p.m.
Other activities include pumpkin decorating and alpacas. New this year will be the  Lions Club Vision Screening and the Orleans County Sheriff's Department will be conducting an "Operation Safe Child" service, which produces cards for parents and guardians with fingerprints and a photograph of their child. The cards assist law enforcement in the case of a child's disappearance.
Additionally, Tim Bourke will be holding a one-hour balloon workshop in the bus garage beginning at 12:30 p.m. The Kids Fun Run begins at 11 a.m. and the St. Mark's Farmers Market will be held at the Fire Hall from 9:30 a.m. to 3:30 p.m. The Masonic Lodge will also be holding their chicken barbecue.
Flow encouraged everyone to attend. "It's a huge event for the town," she said.
The festival is held rain or shine.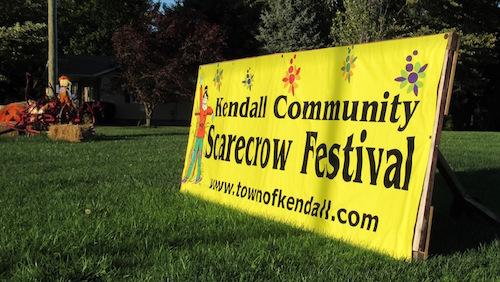 Photo by Kristina Gabalski: Kendall Scarecrow Festival has become a big event for the community.