Scarecrow clown in Albion is vandalized, but refuses to be defeated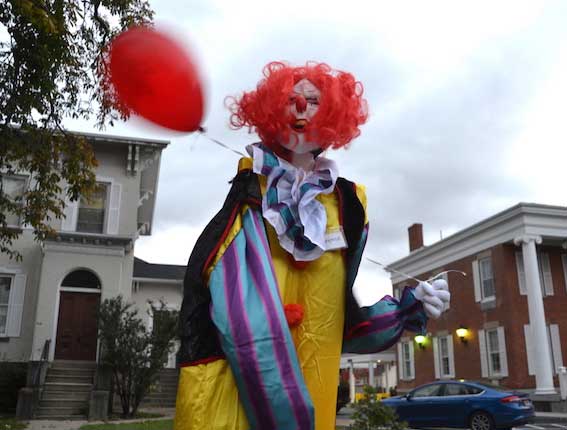 Photos by Tom Rivers
ALBION – Pennywise the clown created lots of buzz in the Albion community when he appeared on Main Street on oct. 8, two days after the Fall Festival in downtown Albion.
Matt Hand made the scarecrow with his wife Crystal and their daughters. Matt is a member of Energize Albion, which has sponsored a scarecrow contest the past three years. He tries to make an elaborate scarecrow each year. In 2016, it was a witch that was hanging sideways from a downtown light pole. Last year it was Jack the Pumpkin King.
"We wanted to go big to inspire people to do their best scarecrow," Hand said.
This time, he wanted to top his previous efforts. He decided to do Pennywise, a scary clown from the horror movie, It. Hand decided to mount the scarecrow in an 80-pound bucket of concrete that he could move around Main Street, so Pennywise was in a different spot each day.
"I thought it would add to the creepy factor to move it around," Hand said.
He even gave the clown a red balloon, just like Pennywise in the movie.
Pennywise has proven popular in Albion. Many people have posted on social media they appreciated the creativity with the scarecrow.
However, Pennywise hasn't been universally adored. Vandals have struck several times. They have popped balloons, broken Pennywise's wooden leg, ripped off his mask and smashed his head.
It's all discouraging to Hand, who estimates he spent $150 making the scarecrow.
He was going to take Pennywise off the street, a victim of the vandals.
However, he had another clown mask and a determined spirit. He gave the scarecrow a new look, and Hand's wife gave it a new name: Bennywise. He also now has a blue balloon. The color could change leading up to the finale, Beggars' Night this Friday evening in the downtown.
He has been inundated with comments from the community, thanking him for keeping the scarecrow up.
"I didn't think that many people cared," Hand said today. "But there has been an outcry of anger over the vandalism."
He also hopes the attention will get people planning for next year – and to not let the vandalism discourage them from trying projects in Albion.
After Halloween last year, Hand and his wife went to Walmart and bought many of the pirate outfits, wigs, princess masks and feather boas so they could be used for this year's scarecrows. The Hands donated the supplies which were used to make scarecrows on Oct. 6.
He is impressed by many of the scarecrows on Main Street.
"I'm definitely thinking about next year and hoping more people will step it up," he said.
---
You're here checking the site, so you know: Orleans Hub is a vital resource for our community. Day in and day out, we share information and insights that matter to those who live and work in the towns, villages and hamlets of our county. Local advertisers help make the Hub possible, and so can you.

Donate today to keep Orleans Hub healthy and accessible to all. Thank you!
---