Santa mural added to Main Street in Albion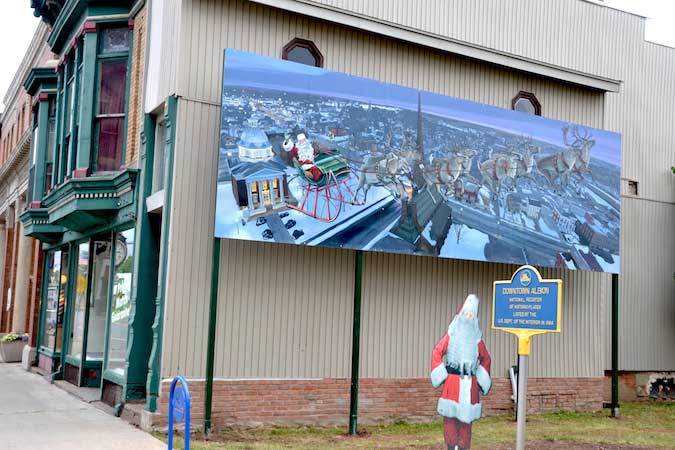 Photos by Tom Rivers
ALBION – The Albion Department of Public Works this morning installed a mural of Santa Claus in flight in a sleigh over downtown Albion and the Courthouse Square.
Albion native Stacey Kirby Steward created the mural that is 24 feet wide by 8 feet high. It is mounted on a steel frame in Waterman Park, a half block south of the Erie Canal. The Albion Rotary Club organized the project and raised the money to get it done. Rotary paid for about half of the cost with community donations covering the other half.
The mural honors Albion's history as home to the Charles W. Howard Santa Claus School from 1937 to 1966. Howard also ran Christmas Park in Albion. Mr. Howard passed away in 1966. The Santa School continues in his name in Midland, Michigan.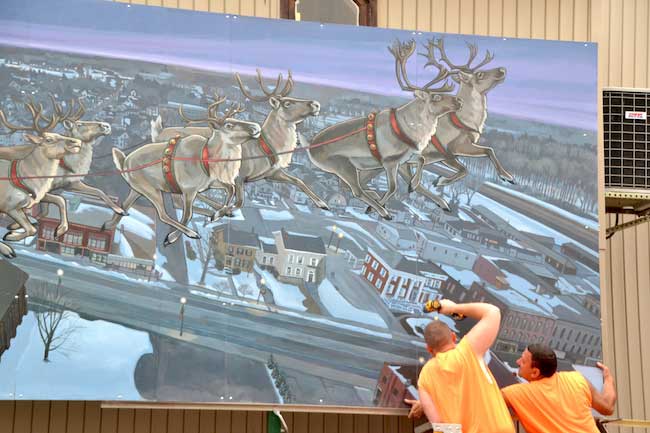 Albion DPW workers Jeff Ashbery, left, and Tim Banker attach the final panel. There are six panels that are 4 feet wide by 8 feet high.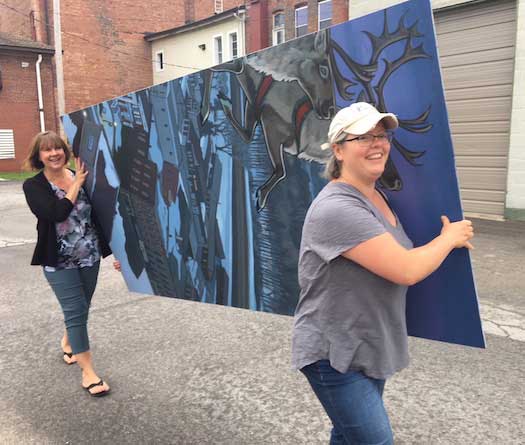 Stacey Kirby Steward, front, and Albion Mayor Eileen Banker carry one of the panels from the firehall to Waterman Park. Steward did some of the painting on the mural at her home in Spencerport and also worked on the project in the firehall.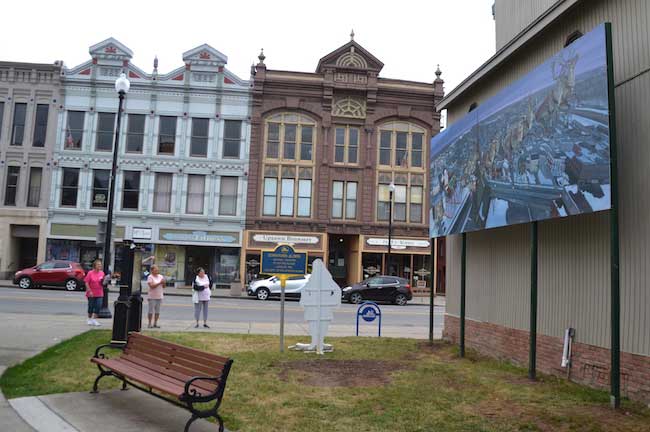 Some local residents check out the mural after it was installed at about 9 a.m. today.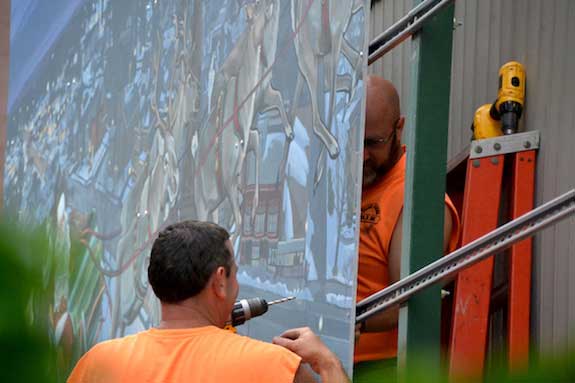 DPW workers Tim Banker and Todd Sargent fasten a panel to the steel frame.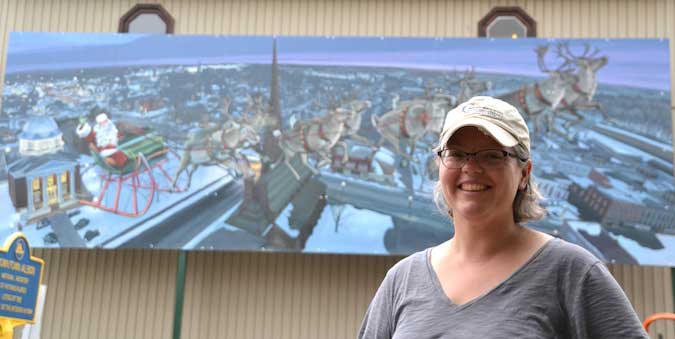 Steward welcomed the chance to create a mural for her hometown. She said drone photos taken of downtown Albion and Main Street at dusk were very helpful in creating the Albion scenery. Elliott Neidert, who just graduated from Albion High School, sent up his drone to get the aerial photos that were a reference for Steward.
Steward has painted many murals of Canal scenes that are in Holley, Medina, Gasport, Brockport and other locations.
The Santa mural was a dramatic change from the themes of her other large-scale paintings.
"Flying reindeer isn't something you get to paint everyday," she said.
Steward will be on location Friday putting some finishing touches on the mural, including painting over the tops of the bolts used to fasten the mural to the frame.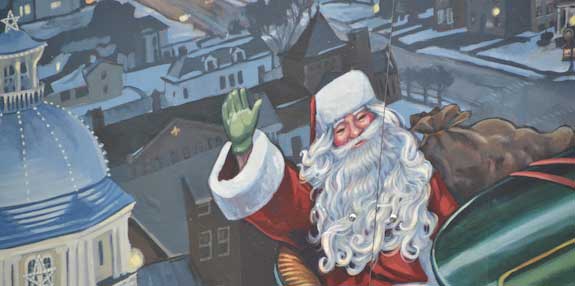 Ken McPherson of Medina is a graduate of the Charles W. Howard Santa Claus School. McPherson watched the installation this morning and praised Steward for the painting. McPherson likes how the mural showcases Albion.
"It's Albion, New York," he said. "That's what's really cool about it. You can pick out your house."
McPherson also appreciated the vibrant expression on Santa's face.
"I'm loving it," McPherson said about the mural. "The Santa has a Charlie flair. Charlie wanted to overemphasize the facial expressions because that's all that the kids see."