Santa Hat Drive raises more than $4K for MAAC, Community Action
Funds will go for toys, gifts for local families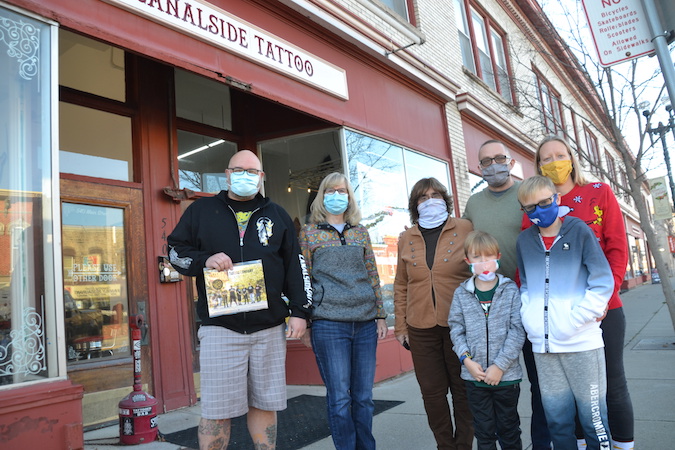 Photo by Tom Rivers
MEDINA — The leaders of the fourth annual toy drive met on Monday to share proceeds from the effort with the Medina Area Association of Churches and Community Action of Orleans & Genesee. Pictured from left include Shawn Ramsey, owner of Canalside Tattoo, which sold calendars and collected funds for the toy drive; Sherry Tuohey, leader of the Red Barrel program for MAAC; Annette Finch, director of emergency services for Community Action; brothers Wyatt and Lukin Szatkowski (in front); and Andrew and Sara Szatkowski.
This year the toy drive was shifted to a "Santa Hat Drive" with money collected at the reverse Parade of Lights on Nov. 28. Andrew Szatkowski has spearheaded the one-day drive. In past years, people would drop off toys at Canalside Tattoo. This year, Szatkowski shifted to collecting funds at the parade, with the money then turned over to MAAC and Community Action.
Andrew, his wife and two sons collected money at the reverse Parade of Lights and spent many hours rolling the donated coins.
The Santa Hat Drive collected about $2,000 at the parade. Szatkowski said another $300 was sent electronically. People also stopped by Canalside Tattoo and gave $740 to the effort.
Canalside owner Shawn Ramsey also has been selling whimsical calendars of his staff. Erin Townsend took the photos for the calendar, which include golden tickets with discounts on tattoos. Those calendars have raised $1,300 for the toy drive.
The total proceeds for the toy drive added up to $4,429. On Monday, Szatkowski presented Community Action with $3,543 and the MAAC with $886.
The Medina Area Association of Churches has 41 red barrels out on the community for people to place toys. The red barrels will be out until Wednesday. The MAAC will then organize all those donations for more than 50 families that have signed up for the holiday effort. The money from the toy drive will allow MAAC to purchase some items and presents for the local families and senior citizens. About 20 senior citizens will receive food boxes with personal care items.
Sherry Tuohey, director of the program for MAAC, said Medina families can contact her at (585) 356-8346 to see if they can be included in the program.
Community Action will be serving at least 135 families in Albion, Holley, Kendall and Lyndonville with its annual holiday program. Instead of collecting and organizing presents, Annette Finch said the agency will instead be raising money for gift cards for the families. That way volunteers and staff aren't handling so many items during the Covid-19 pandemic. The families can use the gift cards to pick the presents for their children.
Szatkowski praised the community for giving to the cause during a difficult year when residents and small businesses are feeling financial strain.