Sanford Church takes the oath as new county judge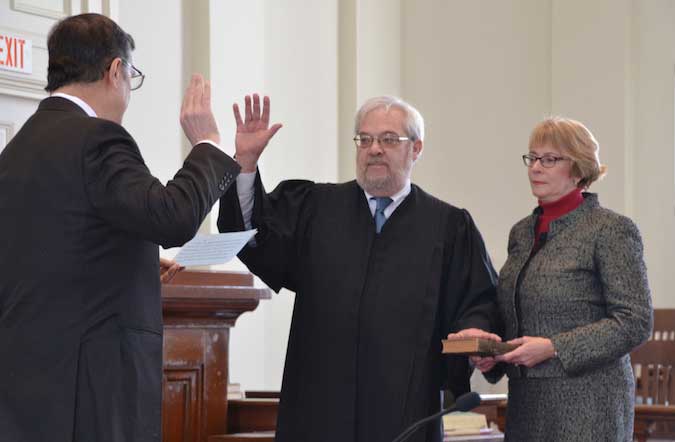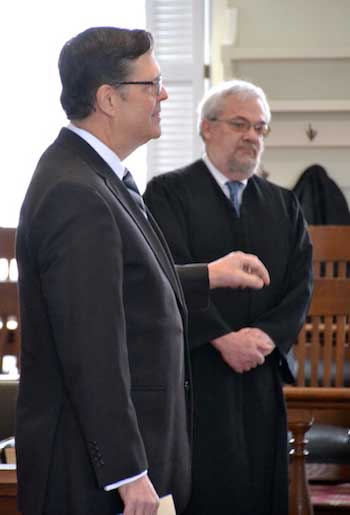 Photos by Tom Rivers
ALBION – Sanford A. Church takes the oath of office today while his wife Diane holds The Bible. Church was sworn in by James Punch, who retired on July 29 after nearly 27 years as county judge.
Church, an Albion attorney who served about 20 years as the county's public defender, was elected to a 10-year term as judge on Nov. 7.
"He has distinguished himself with his knowledge of the law, his integrity, his intelligence and his courage," Punch said. "Running for office, as many of you know, is not easy."
Church took the office in front of many family, friends and other elected officials.
Church is known by many in the community as "Sandy." He has been a long-time Little League coach, member of service clubs and a former member of the Board of Education.
His two children, Ben and Molly, made the trip home for the swearing-in. Ben, 26, is a graduate of the Northwestern Medical School in internal medicine, and is doing his residency in California. Molly, 24, earned a bachelor's degree in psychology at the University of Pittsburgh and is studying to be a mental health counselor in Boston at Tufts University.
Punch said the judge position is critically important in the community.
"If we don't respect the law we run the risk of a chaotic society," Punch told the crowd at the swearing-in ceremony. "It's in everyone's interests to respect Sandy and to respect the law, and to remember how lucky we are that Sandy was willing to do this."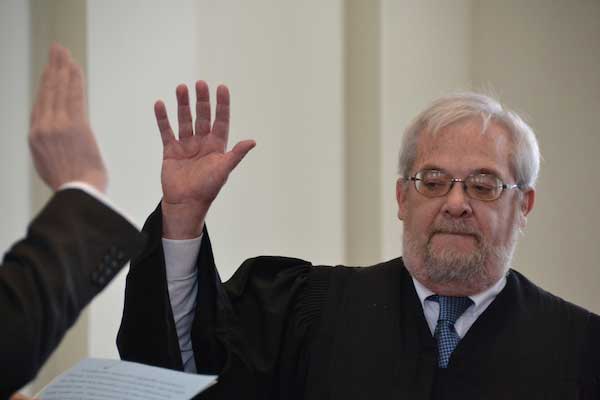 Sanford Church raises his right hand and takes the oath of office. He solemnly swore "to faithfully discharge the duties of office of Orleans County judge and to uphold and defend the Constitution of the State of New York and the Constitution of the United States of America, so help me God."
Church will attend a "judge's school" or a judicial institute next week at Pace University in White Plains. Because he was public defender of many pending cases in criminal and family courts, outside judges will continue in Orleans in the short term.
Judge Sara Sheldon of Niagara County has been an acting criminal court judge and Judge Charles Zambito of Genesee also has been handling some of those cases. Judge Michael Griffith of Wyoming County also has been presiding over some of the Family Court cases. Those judges are expected to continue in the short term in Orleans. Judge Punch also could handle some Family Court cases as a judicial hearing officer.
Church is expected to fully take over in Criminal and Family courts in the spring. He will assume the duties in Supreme and Surrogate's courts next month. He is expected to handle some criminal cases in Genesee County in early 2018.
Because Church is becoming a full-time judge, he has to shut down his law office in Albion. He can't practice law and also work as a full-time judge in the same community. He doesn't have a partner to continue the law office. Church & Church has been in his family since 1903, and the office dates back to the early 1800s.