Sandstone Society has sellout for first local bus tour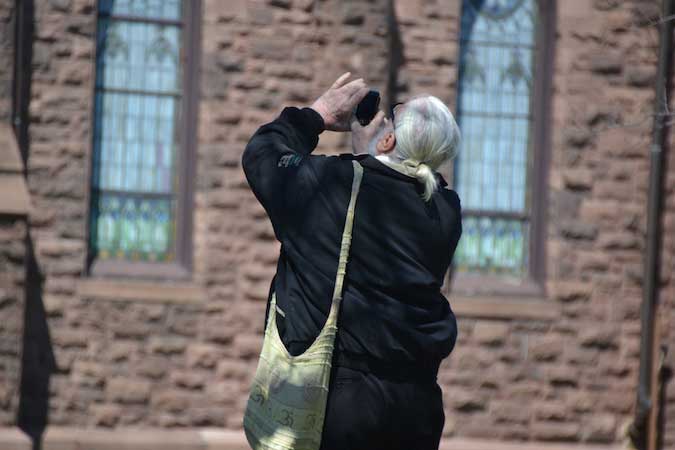 Photos by Tom Rivers
ALBION – Michael Miano of Middleport takes a photo of the First Presbyterian Church of Albion on Sunday as part of the first bus tour of local sites that are in the Medina Sandstone Hall of Fame.
The Medina Sandstone Society organized the tour and had a sell-out with 30 people riding the bus through My Cowboy Transportation in Medina.
The Sandstone Society established the Hall of Fame in 2013. There are plaques of the inductees hanging inside the main meeting room at City Hall in Medina.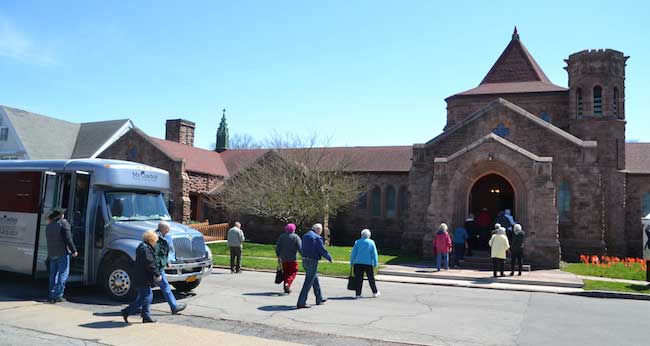 The group heads into Pullman Memorial Universalist Church in Albion which was included in the debut Hall of Fame Class in 2013.
The tour started in Medina and included Holy Trinity Parish (St. Mary's Catholic Church), the former Armory (now the Orleans County YMCA) and then St. John's Episcopal Church.
The bus then headed to Albion for stops at the Pullman Memorial Universalist Church, First Presbyterian Church and Mount Albion Cemetery. The group then went to Holley to see St. Mary's Catholic Church and Hillside Cemetery, where the chapel has the only flying buttress in the county.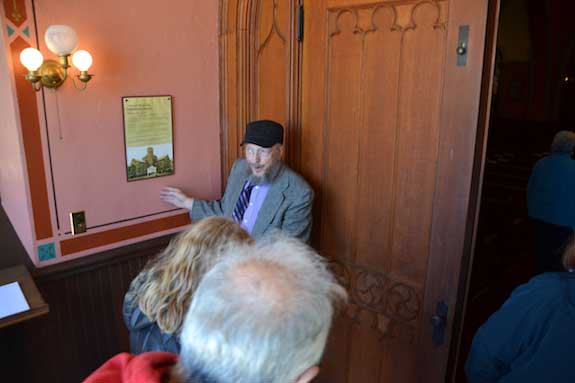 Bill Lattin, the retired Orleans County historian, welcomes the group into the Pullman Memorial Universalist Church. Lattin described architectural features and the local efforts behind creating the landmark buildings.
The Pullman church was built in a Gothic Revival style to resemble an 11th century rural England church. George Pullman, the famed railroad industrialist, provided about $67,000 to build the church in Albion in honor of his parents. The church opened in January 1895 after some anxiety in waiting for the large Tiffany stained glass window of Christ the Consoler.
The church has always been electrified, with power coming from the hydroelectric dam in Waterport, Lattin said.
Dave Miller of the Sandstone Society welcomed nominations for the 2018 Hall of Fame Class. For more information, click here.