Sandstone Heritage: Dunkirk built church edifice of Medina sandstone a century ago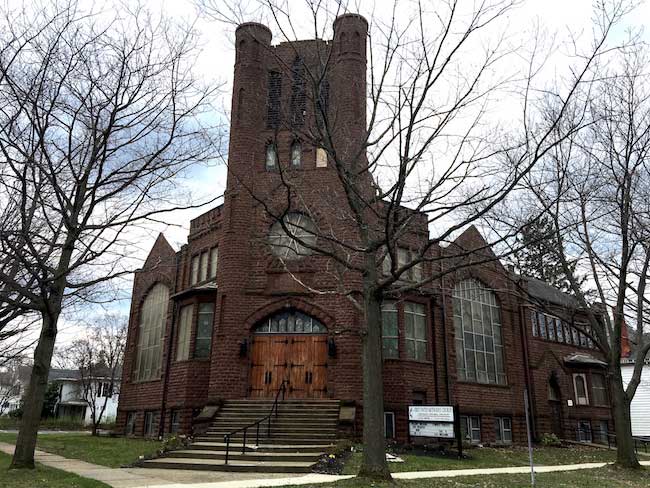 DUNKIRK – A century ago, when Dunkirk was booming from the railroad industry, a congregation built a large church edifice at 601 Washington Ave.
The church shows the wealth of the congregation and the small city in Chautauqua County at the time. Besides using high-quality Medina sandstone, the church has three very large stained glass windows, and numerous smaller windows.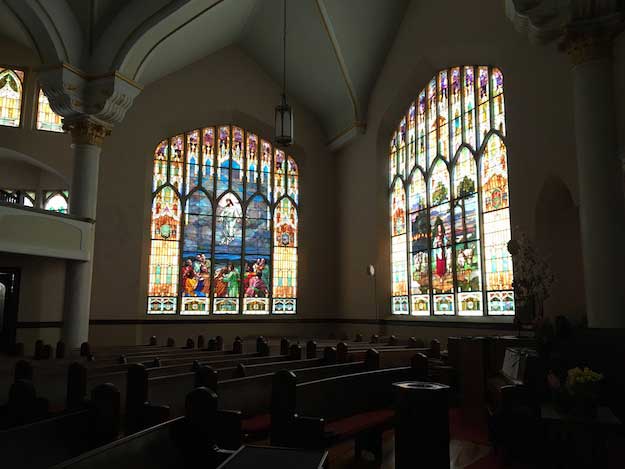 The First United Methodist Church in Dunkirk has large, striking stained-glass windows. The one on the left depicts the The Ascension of Christ, which shows the apostles watching in awe as the resurrected Christ ascends to Heaven. The window on the right shows Christ as the Good Shepherd.
I stopped by the church on Easter. I was in the area visiting my parents and other family. I saw this church a few months ago when I was home scouting for the Civil War Memorial in Dunkirk. There is a stone statue of a soldier in a park next to the church.
Greg Cole, husband of the church's pastor Judy Cole, gave me a brief tour of the church after the 11 a.m. service on Sunday. I told Cole I was building a database of Medina sandstone sites, and would pass the photos along to the Medina Sandstone Society. I told Cole I also like to feature the sites on the Orleans Hub, showing that our local stone has been used in important community buildings all over the state – and beyond.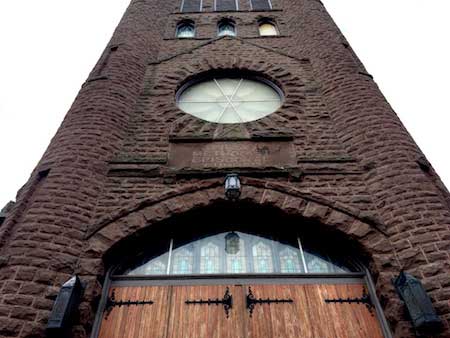 Mr. Cole said people stop by periodically for tours. They want to see the inside of the church with the enormous stained-glass windows. Many have commented the church was built with Medina sandstone. "You're known all around the world," he said about Medina sandstone.
There are about 40 people attend Sunday services. The church hosts monthly dinners for the community, including one on Tuesday. It also has a ministry for people who are homeless, offering a clothing closet, food pantry, household items, laundry facilities, showers and a place to rest, along with a meal. The church also offers temporary overnight emergency shelter.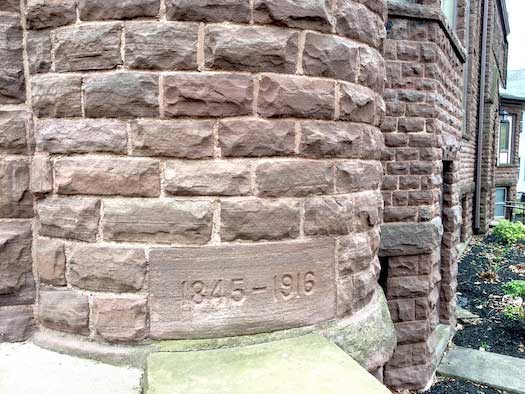 A cornerstone indicates the church was built in 1916, replacing one from 1845, but inside a sign says it the church was finished in 1918. Mr. Cole said it took about two years to build the church, with construction starting in 1916.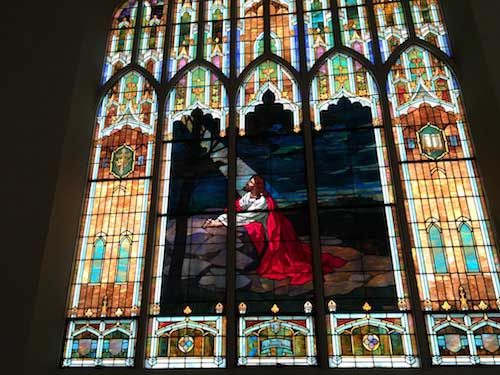 Jesus is portrayed in the Garden of Gethsemane, where he prayed before he was betrayed and would be crucified. This is one of three large windows depicting Jesus. Mr. Cole said the windows were created by the Pittsburgh Art Glass Company.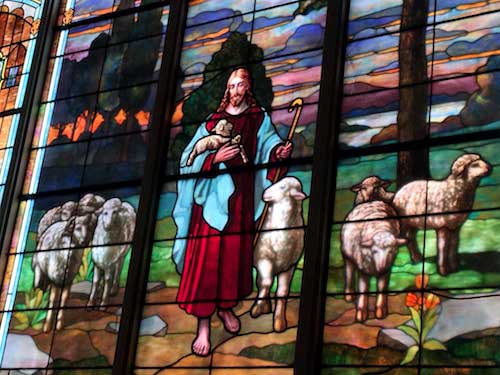 This close-up shows Jesus as the Good Shepherd.