Samantha Basinait wins grand master showman at fair
9 master showmen show 9 different animals in one of fair's most prestigious events
KNOWLESVILLE – The Orleans County 4-H Fair has a new grand master showman, one of the most prestigious titles at the fair.
Samantha Basinait, 17, of Barre won the title on Friday. The competition features the master showman in nine different animals: horse Western, horse English, dairy goat, meat goat, sheep, swine, llama, dairy cattle and beef cattle.
Basinait qualified for the competition after winning the master showman for beef on Tuesday. Winning the title was quite a turnaround from the start of the week for Basinait. She woke up Tuesday and went to the barn and discovered someone have shaved off most of the hair on steer's tail. Normally the tails are shaped into a fluffy tear drop of hair.
She improvised and put ribbon and electrical tape on the tail after the judge in Tuesday's show was told there had been vandalism to the animal.
"I was so upset," Basinait said.
But she persevered and kept going. That trait helped her in the show ring on Friday. Judge Tammi Kron said Basinait was unflappable, even when animals were uncooperative.
"She was very calm, cool and collected," Kron said. "She was able to go with the flow and not lose her temper."
Basinait has been showing animals at the fair since she was 9. She had never shown a llama, pig or horse until the event on Friday. She said animals can sense if you're anxious. They key is to keep yourself under control.
"It all takes patience and time," she said. "If you get worked up, then the animal gets worked up."
The master showmen had to use animals that weren't their own or ones they had shown earlier in the week.
Several times during the competition, animals would bolt away from the showmen. One steer got tired and laid down for a nap.
Basinait, an incoming senior at Albion, said she wants to work in ag tech for a career, perhaps helping farms use GPS systems to improve their output. She also wants to work as a beef breeder.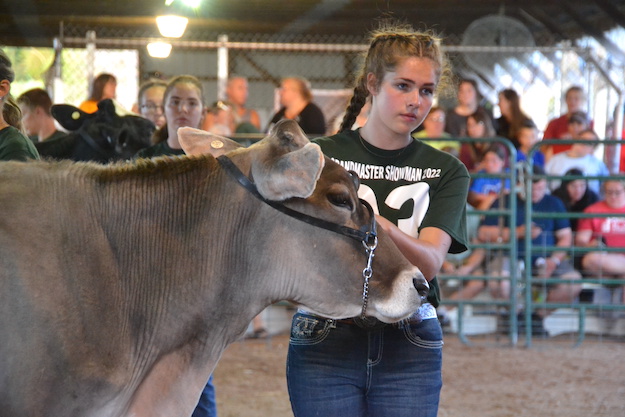 Brilyn Rebisz of Bergen, 17, finished as the reserve master showman. She qualified after winning the dairy goats showman competition.
Rebisz has been showing animals for six years. She and her family like the environment at the Orleans fair and the 4-H program. She appreciates that there is a grand master showmen event, which she said is unusual among county fairs.
"I love the environment here," she said. "It's a great program."
Rebisz also qualified last year for the grand master event. She said she felt calmer this year in presenting the nine different types of animals.
"Everybody did so well," she said. "I was just proud to be a part of the grand master showman."
The master showmen included:
Samantha Basinait, 17, of Barre, representing beef cattle
Brilyn Rebisz, 16, of Bergen, representing dairy goats
Danielle Schmidt, 17, of Medina, representing llamas
Meganne Moore, 16, of Albion, representing English horse
Celes Paratore, 14, of Corfu, representing meat goats
Kylie Marion, 16, of Kendall, representing Western horse
Elizabeth Dresser, 10, of Medina, representing dairy cows
Carter Kuipers, 14, of Byron, representing pigs
Audrey Pask, 17, of Barre, representing sheep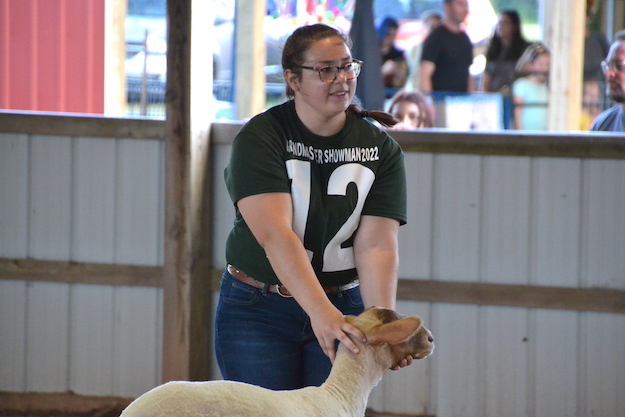 Audrey Pask, 17, of Barre leads a sheep around the ring. The showmen used their bare hands to keep the sheep and goats under control. With other animals they used halters and show sticks.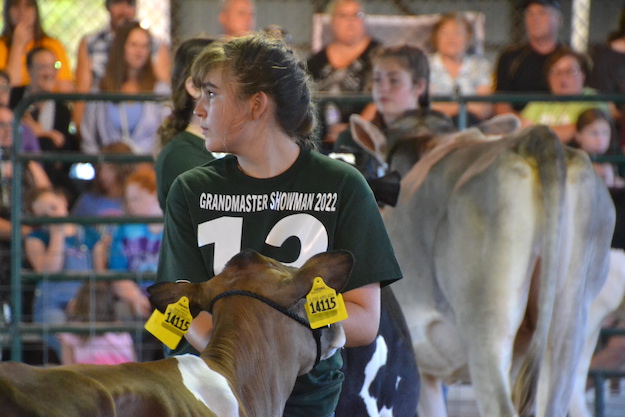 Celes Paratore, 14, of Corfu backs up while showing this dairy animal. With beef cattle, the showmen used a halter and show stick and walked forward with the animal.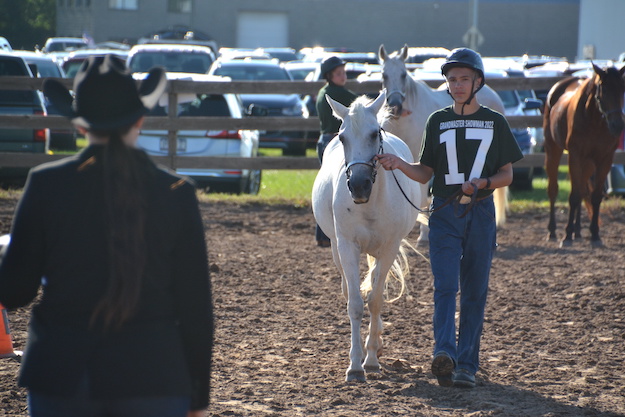 Carter Kuipers, 14, of Byron leads a horse in the first event of the competition. Lexi Dasson was the judge for the horse and llama portions of the event.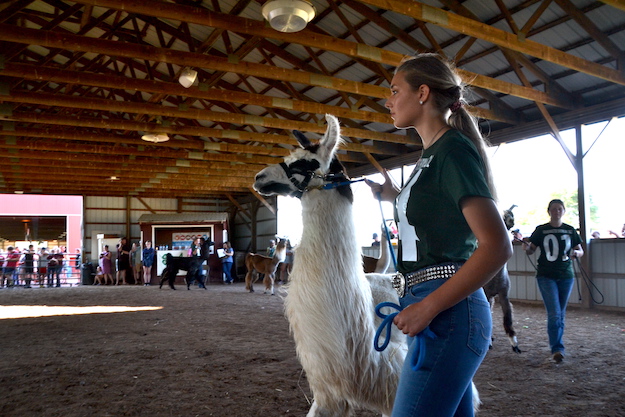 Danielle Schmidt, 17, of Medina leads a llama in the show ring. She was the master showman for the llamas.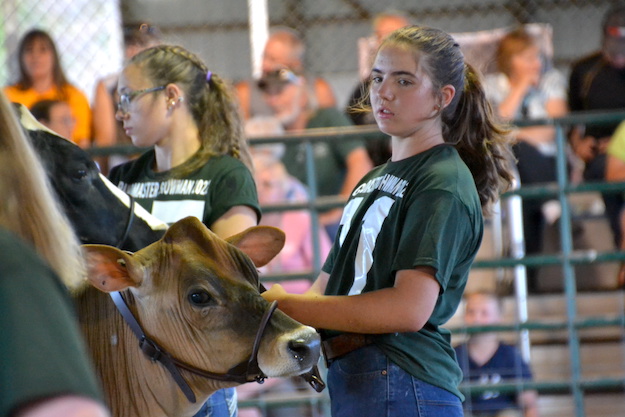 Meganne Moore, 16, of Albion keeps this dairy animal calm and under control.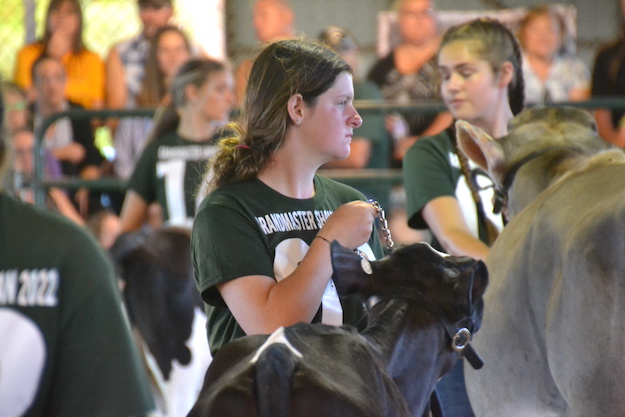 Kylie Marion, 16, of Kendall shows a dairy animal. She said the event, with all the different animals, "was stressful at first, but it was fun." She said being around her horse for so many years helped her to not be afraid of the bigger livestock animals, including the beef cattle.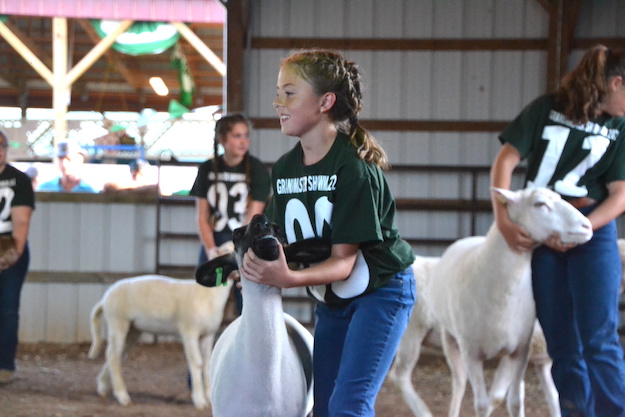 Elizabeth Dresser, 10, of Medina had to work hard keeping up with this sheep.