Saint-Gobain in Albion demos drywall tapes for Building Trades students at BOCES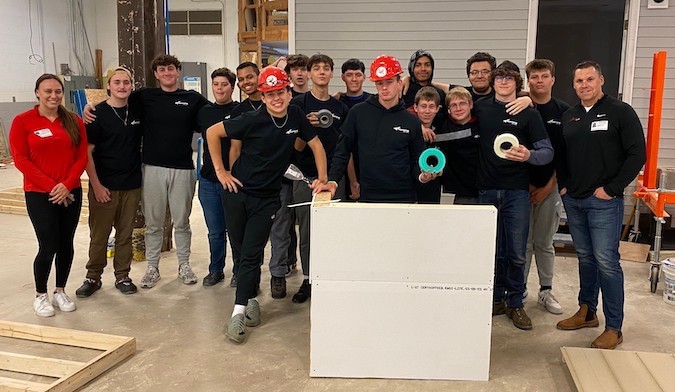 Photo and information courtesy of Orleans/Niagara BOCES
Matt Anastasi's Building Trades students were given a demonstration of drywall tape products by Saint-Gobain ADFORS representatives Nathan Katz (National Sales Manager; Facades, Roofing & Wall Finishing) and Victoria Jacumski (Associate Product Manager).
Katz and Jacumski had an interactive demonstration of their different drywall tape products.  They were able to show the students how many applications they can use their different lineup of drywall tapes for.
"These tapes include ones specific for moisture resistant drywall, cement boards, repairs, as well as traditional seams," Anastasi said.  "They even make heavy-duty tapes which will help resist cracking in our modular homes and cabins."
Students had the opportunity to interact with the representatives and talk to them how their products can help save time and labor on a project. Students got to see firsthand these differences and the reps even brought in several samples for them to try in the cabin they are building.
All the products, as well as Certain Teed roofing products, are made locally in Albion. Katz and Jacumski talked about job opportunities at their facility and encouraged the students to apply for internships that might translate into fulltime employment after graduation.
"It was a great experience for my class," Anastasi said. "They offered to come back with additional interactive demonstrations with their products and brought company t-shirts for all the students in both of my classes. I really appreciate them taking the time to talk to my class and help them explore careers."