S.A. Cook site in Medina once employed 600 as major furniture manufacturer
By Catherine Cooper, Orleans County Historian
Illuminating Orleans, Vol. 2, No. 36
MEDINA – The red-brick structure on East Avenue in Medina now stands roofless and forlorn.
A recent fire has prompted calls for demolition of the 70,000-square-foot complex.
Built in 1911 to house the expanding S.A. Cook & Co. factory, the building once housed the largest industrial maker of rockers and chairs in the northeast.
Employing as many as 600 workers at one time, the company could rightly claim in a 1913 advertisement that "it was responsible in no small degree for the growth and advancement of Medina."
(Editor's Note: The 70,600-square-foot manufacturing site has been sold multiple times through the property tax auction, including in 2016 when it only fetched $100. The current owner – Open the Windows of Heaven, Apostolic Ministry – doesn't have insurance on the building. The church group also doesn't have the resources to make extensive repairs or to demo the site, village officials said. Medina is seeking state and federal funding to assist with the demolition of the three-story site.)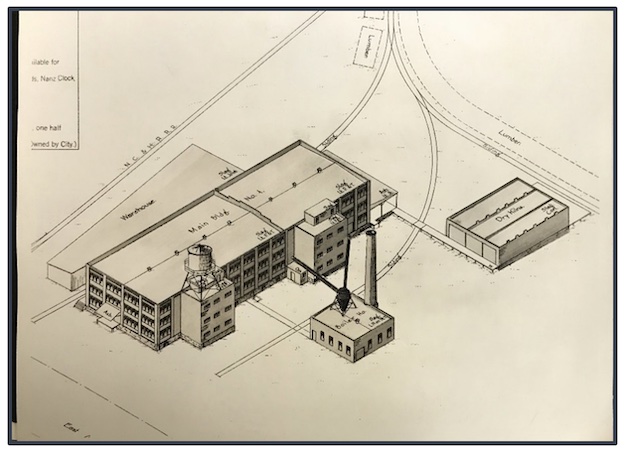 The plant's location, adjacent to the railroad, facilitated the delivery of lumber and other raw materials as well as the shipping of finished products. The plant had its own boiler and drying kilns.
S.A. Cook & Co. furniture factory building plans
Over 5,000,000 feet of lumber were cut and used in the manufacturing process in 1912 and seventy-five carloads of coal were burned. It was estimated that one finished product was produced every 45 seconds and that the entire annual production would fill 564 freight cars. (Atlas of Niagara and Orleans Counties, 1913)
Furniture sales declined drastically during the Depression. S.A. Cook survived this period but production and empoyment declined. The impact of World War II further affected sales.
In 1965 J. Michaels Inc. of New York city purchased  S.A. Cook & Co. to manufacture furniture for its stores. Production increased and employment rose to about 100. But the business model for the industry changed. North Carolina became the new center of furniture production and the cost of shipping lumber and raw materials to the northeast became prohibitive.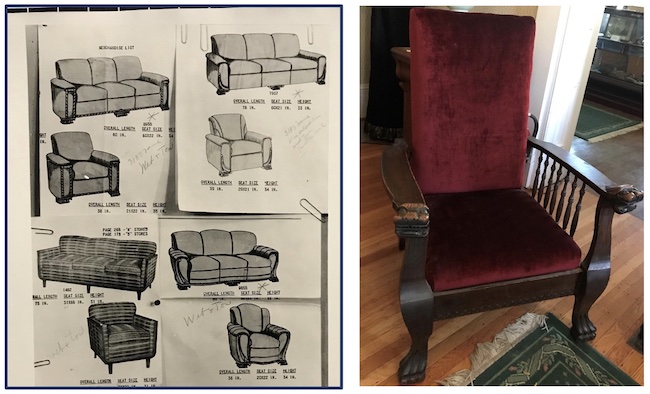 Furniture manufactured at the plant is still in use in homes across the country as it was of high quality.
The Medina Historical Society continues to receive requests each year for information about the company's distinctive version of the Morris Chair. Patented for the company in 1901 by George A. Bowen, it had an adjustable back rest and featured carved griffin's heads on the arms, turned spindles and claw feet.
Twenty-five employees were laid off when the S.A. Cook & Co. closed in August 1984, having been in operation for almost 90 years.