'Run for Wayne' honors memory of Albion music teacher
Wayne Burlison continues to inspire community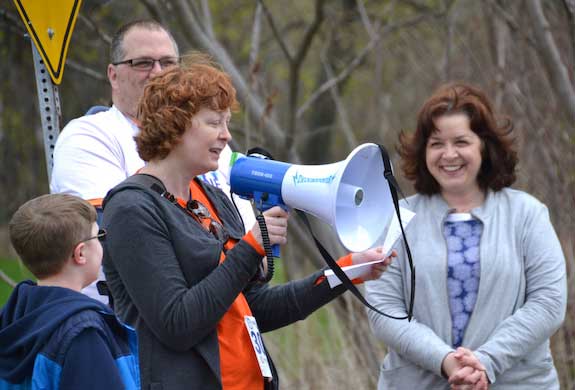 Photos by Tom Rivers
ALBION – Lisa Burlison, wife of the late Wayne Burlison, welcomes runners and other participants in the third annual Run for Wayne today. She is joined by the couple's son, Adam, and family friend Marsha Rivers and the Rev. Randy LeBaron, pastor of the Albion Free Methodist Church.
Rivers encouraged Burlison to sign up for his first race. He went on the run marathons and help start the Albion Running Club.
Burlison died at age 36 from colon cancer on March 26, 2014.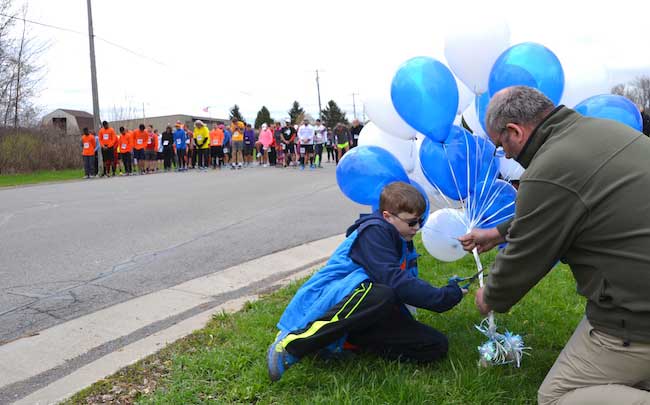 Adam Burlison gets ready to cut the string holding the balloons. Mark Moore, the race director, is at right.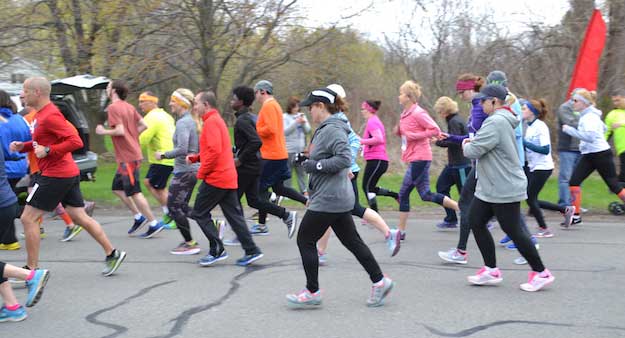 The race started at 12:01 p.m. on Clarendon Road by the Ronald L. Sodoma Elementary School, where Mr. Burlison was a band teacher.
"Run for Wayne" started at 12:01 in recognition of Hebrews 12:1 as one of Burlison's favorite Bible verses. The verse states: "Therefore, since we are surrounded by such a great cloud of witnesses, let us throw off everything that hinders and the sin that so easily entangles. And let us run with perseverance the race marked out for us."
There where about 75 runners and walkers in the race today. Proceeds are being used towards a second memorial scholarship in Burlison's memory, as well as to help develop a running/walking trail at Bullard Park.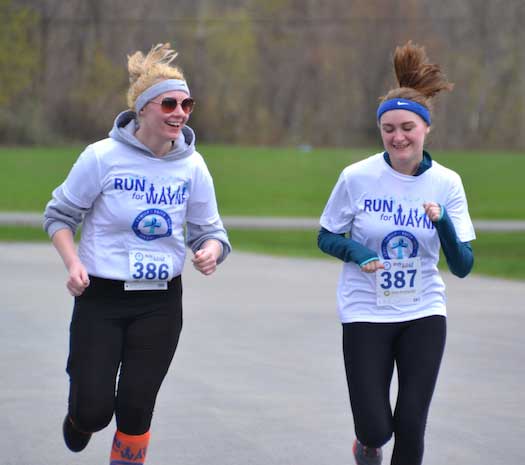 Mary Martin, left, finishes the race with her friend Sarah Meister. Martin, 21, was one of Burlison's students.
"He taught me how to play the jazz drums and got me into running," Martin said.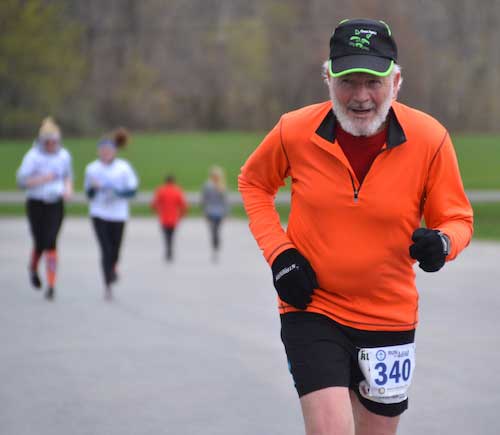 Ed Russell, 75, of East Amherst is close to the finish line. Russell ran a 5K in the morning in Williamsville, "Run Forest Run!"
Last year Russell ran 185 races. He wants to run at least 100 this year.
Evan Steier of Albion had the fastest time overall in the Run for Wayne at 19:12. Lindon Morici of Albion was the fastest woman at 20:17 for the 3.17-mile course, which is slightly longer than a 5K. The 3.17-mile course represents the 3 months and 17 days that Burlison lived his diagnosis of Stage 4 colon cancer.