Roy-Hart/Barker/Medina icers win semis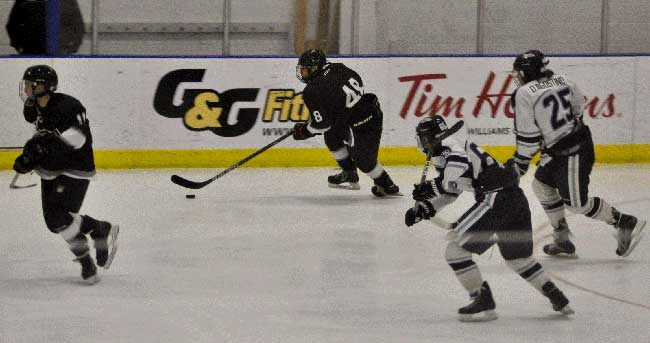 Having to travel to SUNY Fredonia, play two games, play two overtimes, use two hours and forty minutes in real time, and play 76 hockey minutes, the Roy-Hart/Barker/Medina Club Hockey team scored a pair of wins Sunday to punch their ticket to the Western New York Club Mixed Schools Championship game.
That game will be played on Friday, at  9 p.m. in the Key Bank Arena against either Jamestown or Iroquois/Alden.
The structure for the semi- finals was a two game home and away series followed by a 10 minute 'mini' game if the teams split the first two games.
Roy-Hart/Barker/Medina defeated Dunkirk/Fredonia Saturday 6-1 and only had to win the full game to move onward. However, D/F evened the series with a 4-3 overtime win forcing the deciding "mini' game.
RBM though rebounded to win the "mini" game 1-0 in overtime to advance to the title contest.
In the opening period of game two of the series, D/F scored the only goals to take a 2-0 lead.
In the second period, however, Michael Kuchey and Jason Kuchey both scored for RBM to even the game going into the third period.
At the 15:19 point of the third, Luke Luckman scored on a slapshot from just inside the blue line off assists from Jason Kuchey and Joe DiBenedetto for 3-2 RBM lead.  However, less than a minute later though, D/F scored the tying goal.
The teams finished the last fourteen minutes of the period scoreless, sending the game into a five minute overtime.
At the 4:04 point of the overtime, Dunkirk- Fredonia found the net to win the game.
This then required the 'Mini' game to settle the winner.
Through the entire ten minute game, neither team was able to score.
This necessitated a 10 minute overtime.  At the 4:14 point of the game, RBM had a 3 on 1 charge to the net, but could not score.  Finally, on passs from Michael Kuchey and Dominic Peracciny, Jason Kuchey scored the go ahead goal.
For the final three nail- biting minutes, RBM thwarted numerous rushes to the net, including a final 6 on 5 minute after D-F had pulled their goalie.
Not only did the win put RBM into the WNY Championship game, but it also insured a #1 or #2 seed in the New York State Club Tournament to be played in Jamestown March 2, 3, and 4.