Route 31 closed near school in Albion for large-scale response drill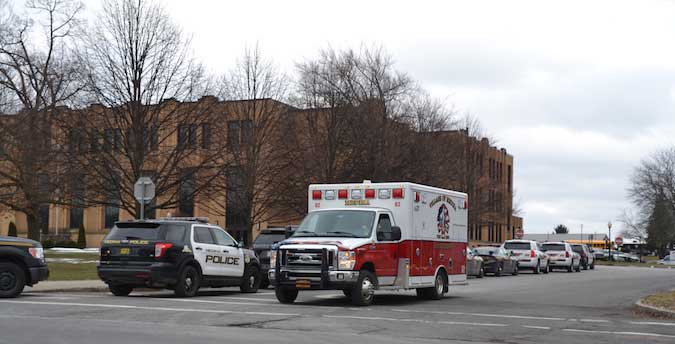 Photo by Tom Rivers
(UPDATE at 12:13 p.m.) Route 31 has been reopened to traffic.
ALBION – Many police, EMS and other fire responders are at the Albion Middle School this morning for a large-scale active shooter/emergency response drill.
The school is closed today for the drill which includes multiple local law enforcement, EMS and fire service agencies, as well as participation and assistance from state and federal agencies.
"This is huge for us," Albion Police Chef Roland Nenni told a group of observers this morning. "We're going to test a lot of things."
The drill started about 9 a.m. and is scheduled to last until approximately 2 p.m. During the drill, Route 31 will be closed from Route 98 to Clarendon Street. Residents who live in the area will be allowed to access residences on Route 31 during the drill if necessary.
Nenni said the drill gives the many different agencies a chance to work together, and determine the best way to respond to an active shooter or large emergency response.
Law enforcement arrived in stages this morning, with the Albion Police Department first on scene. Firecrackers were sent off in the hallway to simulate gun shots. More law enforcement were then called in from Orleans County, as well as Border Patrol and the Department of Environmental Conservation.
The drill also simulated how to quickly assess the condition of victims and get survivors medical attention.
About 200 school district staff members will be participating in the drill, simulating various roles within the school to allow for a realistic emergency response environment.
Kendall Central School hosted an active shooter response drill last August. Lyndonville Central School will host one this August.
(Editor's Note: The media wasn't allowed to take photos inside the school during the drill. Chief Nenni said he will send a press release with images.)