Rotted steel supports prompt Albion to close bridge on Phipps Road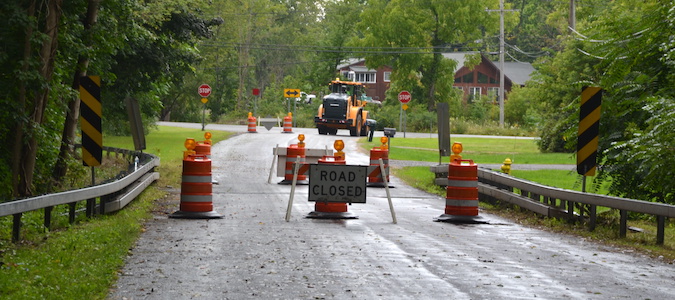 Photos by Tom Rivers
ALBION – The Albion highway department has closed a bridge over Otter Creek on Phipps Road following a detailed inspection today that showed the steel high-beam supports are rotted, said Highway Superintendent Mike Neidert.
The bridge was closed on Thursday after an initial annual inspection showed concerns about the bridge's condition. A more thorough inspection was done today and Neidert said the bridge will be closed permanently until funding is in pl ace for a replacement.
The town tried for a $600,000 Bridge NY grant from the state but was denied. Neidert said the town will keep looking for funding to upgrade the bridge.
The span is technically a culvert because it is 19.5 feet long. Anything less than 20 feet is considered a culvert while bridges are considered to be 20 feet or more.
Neidert said Otter Creek has a bend near the bridge. One idea is straightening the creek which would make for a bigger bridge at 20 feet. That could increase the chances for the town to receive federal funds for a replacement, he said.