Rose sale marks fundraising return for Albion Lions Club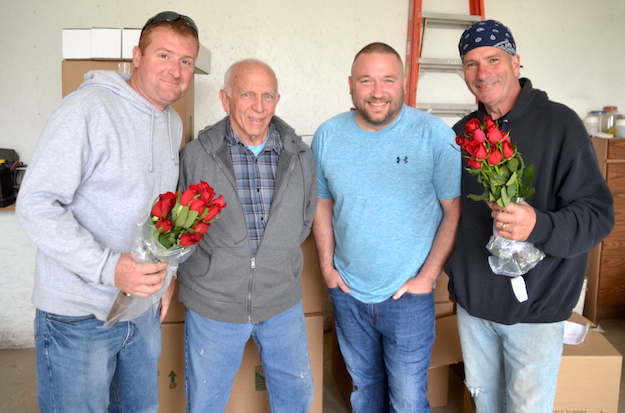 Photo by Tom Rivers
ALBION – The Albion Lions Club is back raising money after Covid-19 wiped up its fundraisers last year, including the annual Mother's Day rose sale.
That fundraiser returned this year and the club sold 250 dozen roses. These four Lions Club members – from left Jake Stinson, Lloyd Wright, Club President Dan Conrad and Ron Albertson – stopped by Wright's garage on Friday to organize the flowers which were all pre-sold.
The club in the past used to sell 340 dozen, with the late John Keding selling close to 100 from his auto repair shop on East Avenue. Keding passed away at age 85 on Jan. 18.
The Lions Club currently has about 25 members. Wright, the long-time treasurer, said the flowers are a popular item and he expects the club will sell 300 dozen next year.
The sales help the Lions fund scholarships, support a local Little League team and other community efforts.
Wright said the club lost momentum last year in Covid, and couldn't even meet in person for several months. But the group is reinvigorated in 2021.
It is next planning to be part of a craft fair with food vendors on June 12 to support COVA. Several food, and arts and craft vendors will be part of the event, which will help fill a void with the Strawberry Festival cancelled due to Covid-19 restrictions on large crowd sizes.
The Lions Club will be selling Italian sausage meals with peppers, onion, chips and a bottle of water. 11 a.m. to 4 p.m. on June 12 at Arnold Gregory complex parking lot on South Main Street, behind COVA. The food will be served drive-by, takeout only. Law enforcement officers can stop by and get a free meal from the Lions Club that day.