Rock the Park Committee presents Albion village with $5K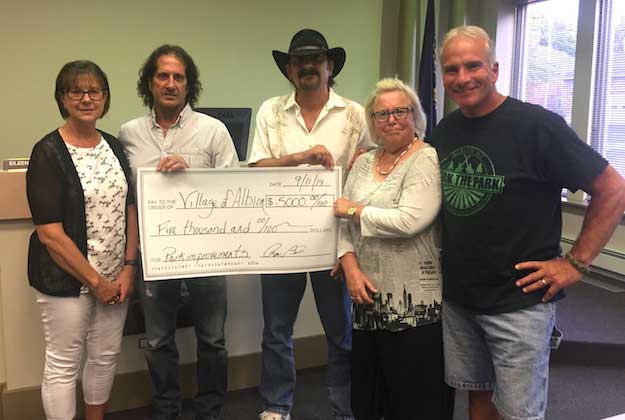 Provided photo
ALBION – Some members of the Albion Rock the Park Committee on Wednesday presented a $5,000 ceremonial check to Albion Mayor Eileen Banker, left, for projects at Bullard Park. Other sin the photo include committee members: John Grillo, Bernie Baldwin, Kim Remley and Ron Albertson.
The committee organized the Albion Summer Festival featuring Rock the Park on Aug. 3. It added children's games and welcomed vendors for the event.
The sixth annual event attracted about 1,000 people to the performance tent where five bands performed from 3 to 11 p.m.
Next year, the bands will play from a new amphitheater that has been under construction this summer, along with a spray park and other improvements.
The Rock the Park Committee would like the $5,000 to go towards the amphitheater with $2,000 for electric work, and $3,000 for side slats that can be rolled up. The amphitheater is on a slope and some of the $5,000 from the committee could also be used for drainage, said John Grillo, one of the committee members and Albion's recreation director.
The committee wants to add more vendors and children's games and activities for next year's festival.