Ridgeway town officials take the oath of office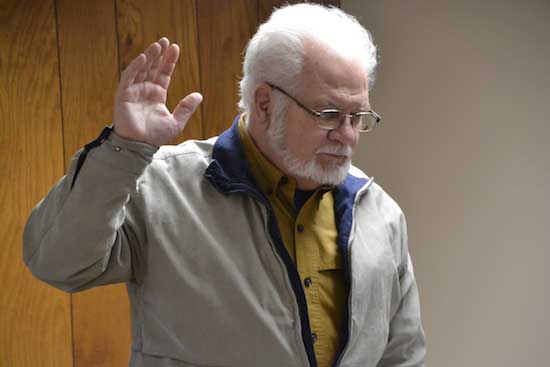 Photos by Tom Rivers
RIDGEWAY – Duane Payne, a new member of the Ridgeway Town Board, raises his right hand and takes the oath of office this afternoon during Ridgeway's organizational meeting. Payne was elected to the board in November.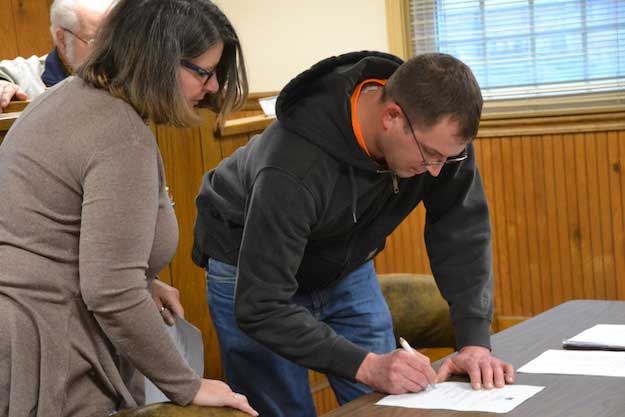 John Olinger, the Ridgeway highway superintendent, signs the oath of office, which was administered by Town Clerk Karen Kaiser. Olinger was first appointed to position on March 23 following the retirement of Mark Goheen. Olinger was elected to the position in November. He has worked in the Highway Department since 2012, starting as a motor equipment operator.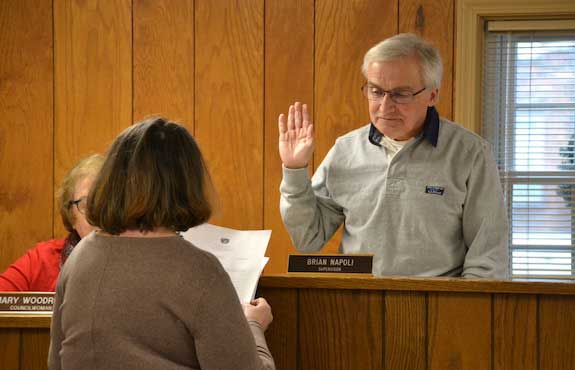 Brian Napoli takes the oath of office for a new term as the town supervisor. He was re-elected in November in an election with two other candidates.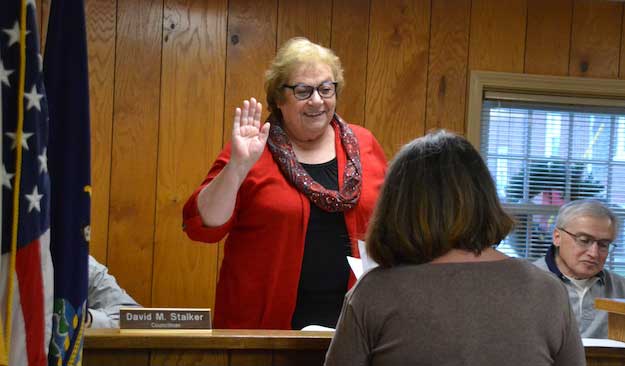 Mary Woodruff also takes the oath of office after being re-elected to the Town Board in November.
Town Board adopts new ethics policy
During the organizational meeting, the board approved several appointments and also adopted a new ethics policy. That policy states town elected and appointed officials shall not serve as a committee member, chairman, vice chairman or officer of a town political party.
Councilman David Stalker, a member of the Ridgeway Town Republican Committee, said he thinks the policy was drafted to target him. Stalker was endorsed by the Ridgeway Republican Committee last year for town supervisor. Napoli would defeat him in an election that also included Michael Maak.
Stalker noted that many elected officials across the county serve on the town and county Republican committees.
The Ridgeway policy will allow current town officials to continue in their roles on the Ridgeway Republican Committee, or be grandfathered in.
Stalker abstained in the vote for the new policy, while the four other board members approved it.
Brian Napoli, the town supervisor, said the nine-page policy is likely the most comprehensive among the 10 towns in the county.
Councilman Jeff Toussaint said he supports not having active Republican Committee members on the Town Board.
"Otherwise you try to serve two masters and there is the chance for conflict," he said.