Ridgeway elected officials take the oath of office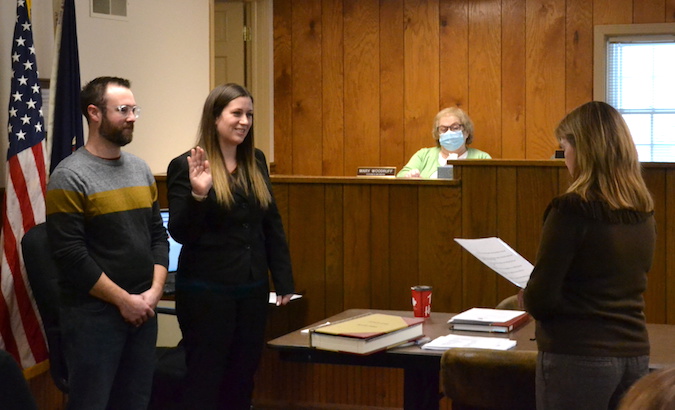 Photos by Tom Rivers
RIDGEWAY – Hannah Hill takes the oath of office as Ridgeway town clerk this afternoon. Her husband Jeremy is standing next to her and Orleans County Clerk Nadine Hanlon administers the oath. Town Councilwoman Mary Woodruff is in back.
Hill was elected to the position in November. Karen Kaiser didn't seek re-election.
Hill about six years ago was the second deputy town clerk under Barbara Klatt, and the water and code enforcement clerks. She then stayed at home to be with her young children.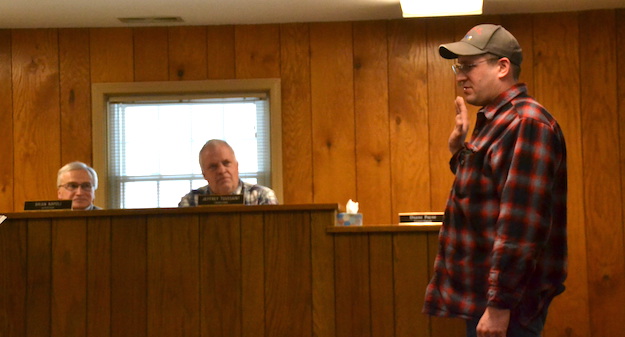 John Olinger takes the oath as the Ridgeway highway superintendent. Town Supervisor Brian Napoli, left, and Councilman Jeff Toussaint observe in back.
Olinger was elected to a full four-year term in November. He was appointed highway superintendent on March 23, 2019, following the retirement of Mark Goheen. Olinger was first elected to a two-year term in November 2019. He has worked in the Highway Department since 2012, starting as a motor equipment operator.
The Town Board also approved the following appointments during today's organizational meeting:
Official depositories: Bank of Castile, Key Bank
Official newspaper: Daily News in Batavia
Budget officer and fair housing officer: Town Supervisor Brian Napoli
Law officer: Kathy Bogan for general legal work and for water districts 5 through 15; Webster, Schubel & Meier for water districts 3 & 4
Fire and building code officer: Jason Raduns
Dog control officer, registrar of vital statistics, planning/zoning board clerk: Town Clerk Hannah Hill
Zoning enforcement clerk, planning/zoning board clerk, and water billing clerk: Joelle Brown
Zoning Board of Appeals chairman: Larry Meyer; vice chairman: Raymond Wendling
Planning Board chairman: Thomas Fenton; vice chairman: Tim Elliot
Planning Board member: Thomas Kline
Assessor assistant: Julie Cecchini
Deputy of vital statistics, fixed asset officer: Laurie Kilburn
Historian: Catherine Cooper
Janitor/cleaner: White Glove Cleaning Services
Water superintendent and sewer superintendent: John Olinger
County Planning Board member: Thomas Fentor; alternate: Tim Elliot
Constables: Claude Grimes and James Wells
Glenwood Lake Commission: Gary Blackburn, James Watson and Barry Jones
Other appointments include:
Deputy Town Supervisor: Jeff Toussaint
Town Supervisor's Bookkeeper: Millenium Roads
Deputy Town Clerk: Laurie Kilburn; Deputy Town Clerk (second): Joelle Brown
Highway clerk, part-time: Joelle Brown
Court Clerk: Stacey Silker