Ride4Life thrills crowds while bringing message of hope and love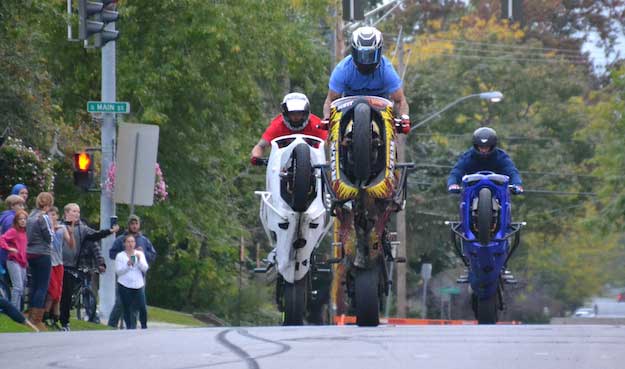 Photo by Tom Rivers
It was a busy Friday for Scott Caraboolad, center, and his motorbike stunt team. They performed at Holley and Kendall schools, and later in the evening at Albion at a closed off section of East State Street in front of the Orleans County Courthouse.
The top photo shows them at their Albion show. Besides the stunts on the motorbikes, Caraboolad and Ride4Life shared a message of overcoming drug addiction and despair.
The riders will perform three shows on Saturday at the Orleans County 4-H Fairgrounds in Knowlesville. The free event runs from noon to 6 p.m.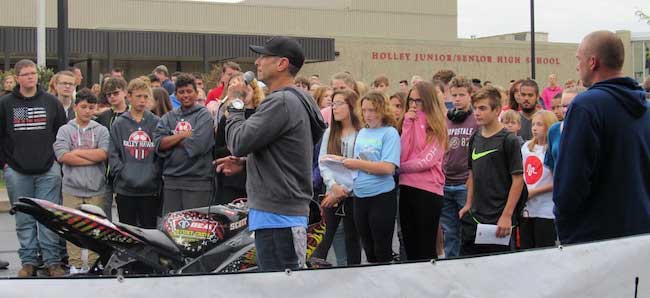 Photo by Kristina Gabalski: Scott Caraboolad shares the story of his recovery from drug and alcohol abuse with students at Holley Middle School/High School. He encouraged them to reach out to mentors and to not turn to drugs and alcohol to deal with pain.
Caraboolad and his team travelled from Akron, Ohio. They lead a ministry that tries to give people hope, especially when they are fighting opioid addictions.
Caraboolad said opioid abuse has devastated communities throughout the country.
"I never saw it coming," he said of his downward spiral into drugs and alcohol after a personal loss at age 17. "I gave up hope in myself and was surrounded by the wrong people."
He almost tried to take his own life in 2011, but realized it was up to him to begin making the right choices and seek mentorship.  "Reach out if something hits you hard," Caraboolad said.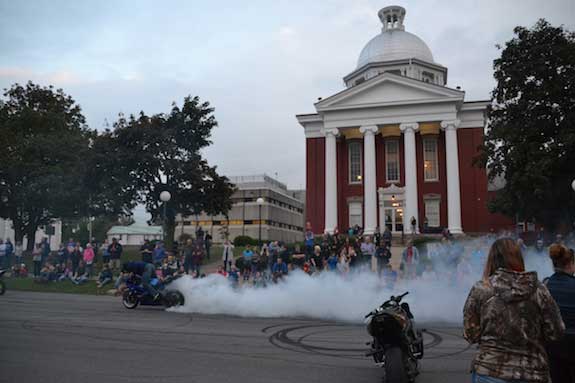 Photo by Tom Rivers: A Ride4Life stunt rider leaves a trail of smoke as well as tire marks on East State Street in front of the courthouse. About 300 people watched the stunts on Friday evening.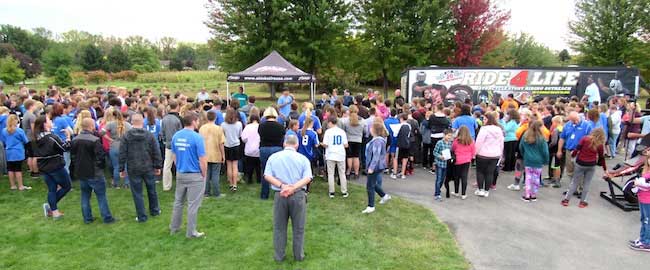 Photo by Kristina Gabalski: Students, faculty and administrators at Kendall Jr./Sr. High School surround Caraboolad on Friday afternoon to hear his story and words of advice.
Kendall students said they learned much from the visit.
"It was great, I really like the stunts," Junior Hanna Hofstra said.
Sophomore Colby Speer called the show, "exciting and exhilarating."
Both said they would remember Caraboolad's message of hope and his advice to, "live in the light."
The stunt shows on Saturday will be at 1, 3 and 5 p.m. at the fairgrounds as part of "Hopefest."
Caraboolad is in the midst of a three-day stop in Orleans County with motorbike stunt shows and his inspirational message of hope and love.
"This is one of the most amazing places we've been around the country this year," Caraboolad told students at Kendall Central School on Friday afternoon. He encouraged students at both stops to seek out good mentors who can help and guide them in the right direction as they make choices in their lives.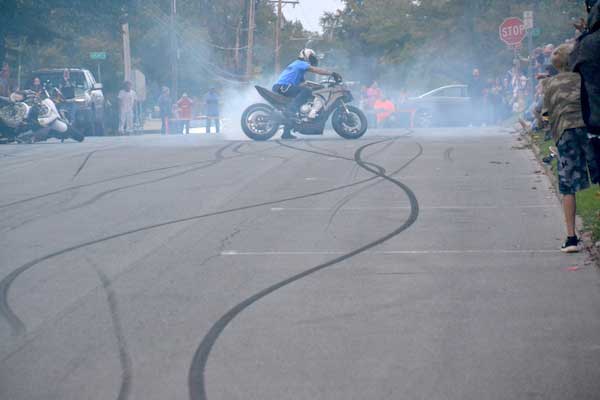 Photo by Tom Rivers: Caraboolad burns rubber in front of a delighted crowd in Albion.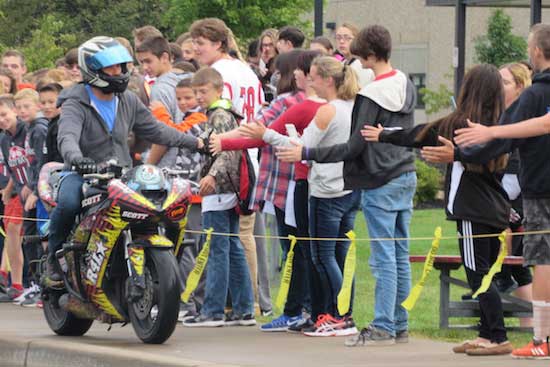 Photos by Kristina Gabalski: Caraboolad gets high fives from the Holley students.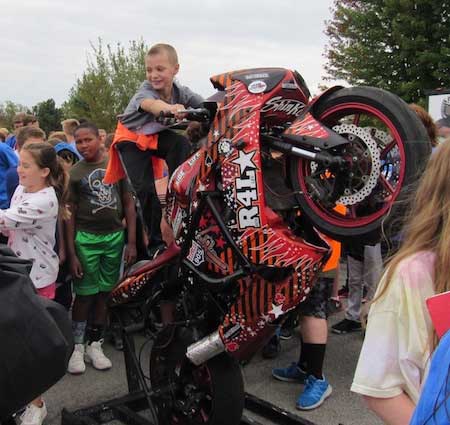 The Ride4Life team allowed students to climb on a motorcycle for "selfies." Many students happily accepted the offer.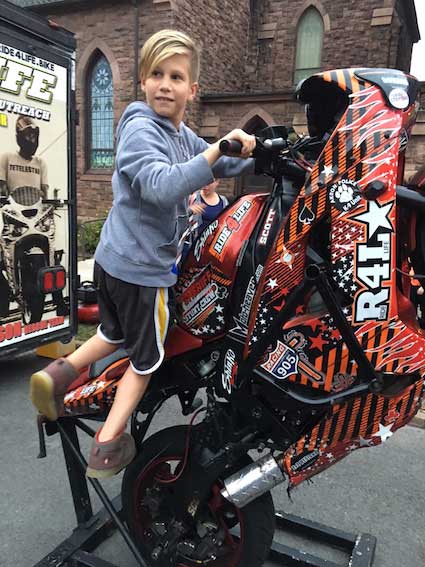 Photo by Tom Rivers: Isaac Sugar, 9, of Albion poses for a photo on the motorbike.