Ribbon-cutting for new business in downtown Albion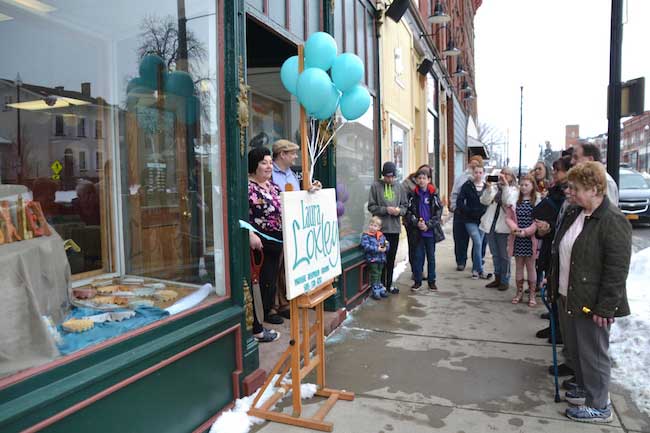 Photos by Tom Rivers
ALBION – Laura Kemler and her husband Kevin are joined by friends and family for the ribbon-cutting this morning for Laura Loxley, a business at 45 North Main St., Albion.
Kemler makes baskets out of tie-dyed cotton ropes. She sells other vintage-style gift items. She had been making the products and selling them out of her house in Albion. The business has been growing and she wanted to be a part of the downtown business district.
The past three months the Kemler family has worked on the storefront, creating a space with a 1930s-'40s theme.
Mrs. Kemler wants her shop to take people back to an era when products weren't mass produced.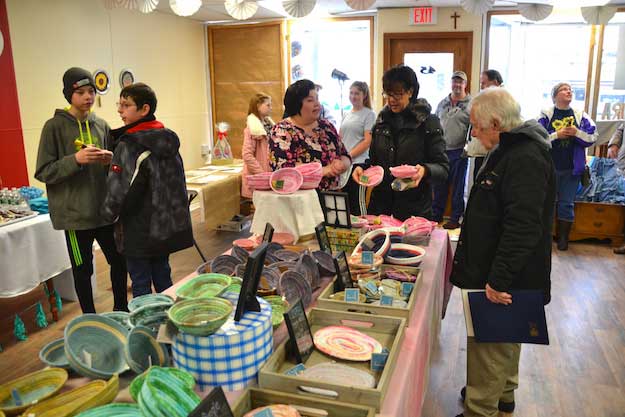 Albion Mayor Eileen Banker and Trustee Stan Farone look over some of the baskets at Laura Loxley. Banker presented Kemler with a citation of congratulations from the Village of Albion, as well as a certificate of recognition from State Assemblyman Steve Hawley. Banker works as his chief of staff.
She urged the community to shop at the downtown businesses.
"This is our village and we need to support it," she said. "This is a very unique business. We need to encourage our residents to shop locally."
Many of Kemler's baskets have proven popular to store envelopes and stationary. Kemler makes them in a variety of colors and themes. She turned it into a business about three years ago, selling most of them online through Etsy.
Laura Loxley is one of the stops on a wine-tasting in the downtown later today from 4 to 7 p.m.