Return of Kendall Carnival brings lots of smiles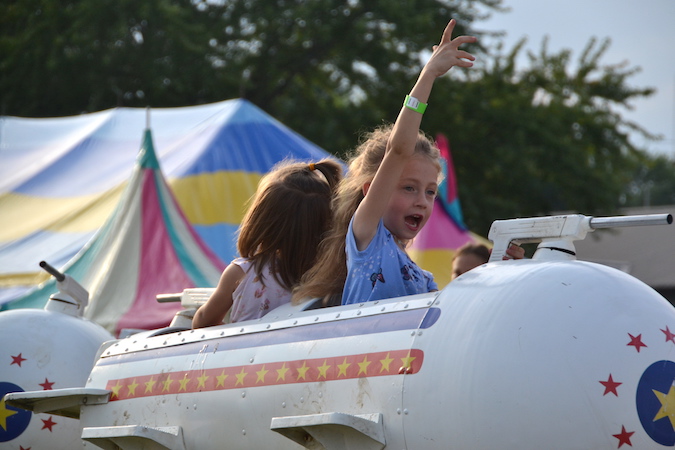 Photos by Tom Rivers
KENDALL – The Kendall Firemen's Carnival returned on Thursday for the a three-day run after last year's event was cancelled due to Covid-19 restrictions. The top photo shows kids enjoying the Sky Fighter, which resembles an old fighter plane.
American Amusements Rentals of Franklinville has many classic midway rides on site at the Kendall Fire Department's grounds on Kendall Road behind the fire hall.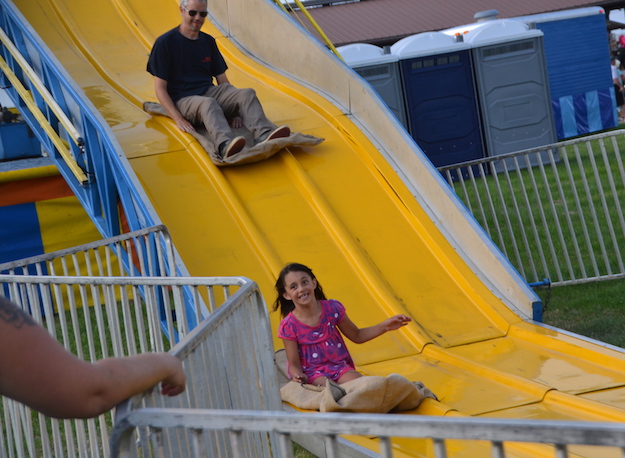 Aubrey Blake, 7, of Clarendon heads down the Rapid Slide, which is 28 feet tall and 70 feet long. Her father Michael Blake joined her for the slide. Mr. Blake said he was happy to take his family to the carnival.
"It's good family fun and it's right here in Orleans County," Blake said.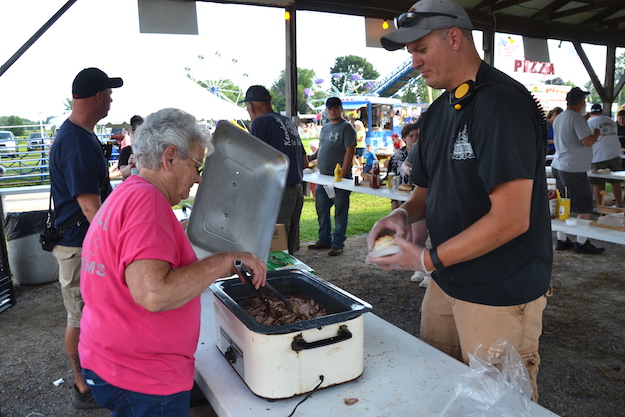 Shirley Jones and Mike Schultz work together serving beef on weck sandwiches for the Kendall Fire Department. Jones has volunteered at the carnival for 40 years. She was glad to be back at it on Thursday, despite the heat.
"It's nice to see all of the people here enjoying themselves," Jones said.
Schultz is president of the Kendall Fire Department and the deputy fire chief. He said the carnival is an important fundraiser, helping the volunteer department provide emergency services to the community.
"We're glad to be back," Schultz said. "We hope to have a big crowd all three days."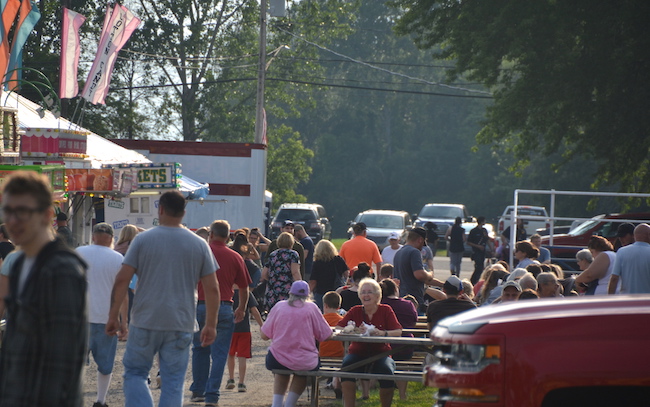 It was a larger-than-normal turnout for a Thursday at the carnival. Many people enjoyed reconnecting with friends.
The carnival today will feature the first traditional parade in the county since 2019. There will be a long lineup of fire trucks and community groups in the parade that begins at 7 p.m.
The carnival includes a beer tent, lots of carnival food and live bands. Saturday's schedule also includes a corn hole tournament at noon, garden tractor pull at noon, cruise-in car show from 4 to 7 p.m. and fireworks at 10 p.m.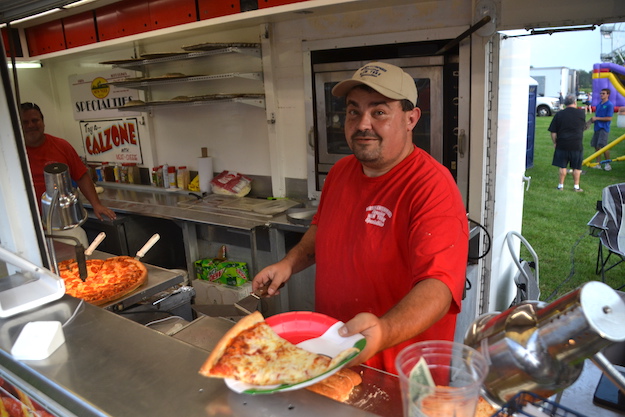 Frank Hess of Wilson Enterprises in Wilson serves up a slice of pizza. Hess and many of the other food vendors were sidelined last year during the Covid pandemic. This is his third event this year. So far, there has been a big turnout from customers, who are happy to be back at fairs and festivals.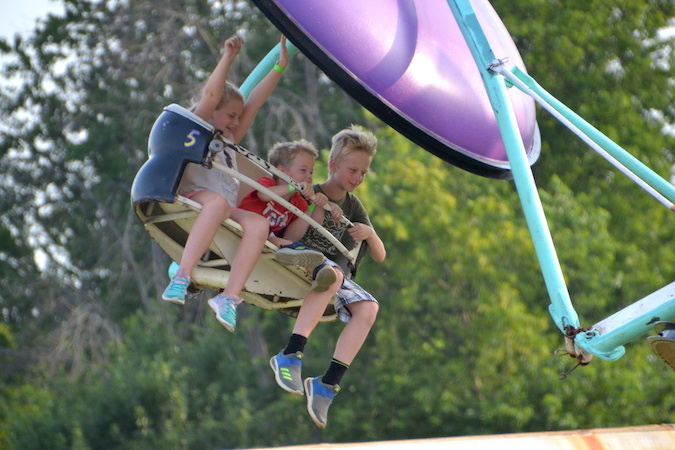 These kids have fun on the Super Trooper ride that peaks at 30 feet high.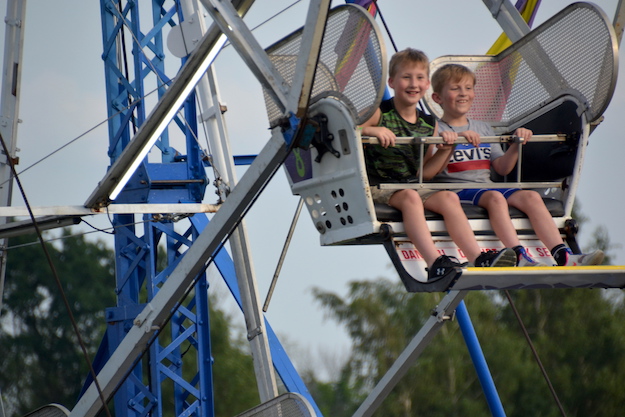 The Ferris Wheel also was popular on Thursday. That ride takes people 35 feet up high.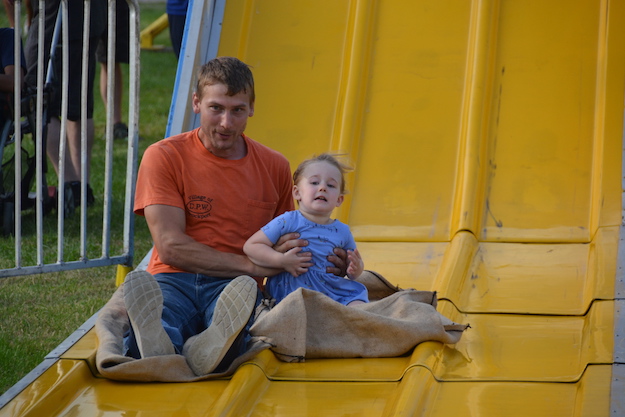 Jeremy Moyer of Lyndonville rides down the Super Slide with his daughter, Josie.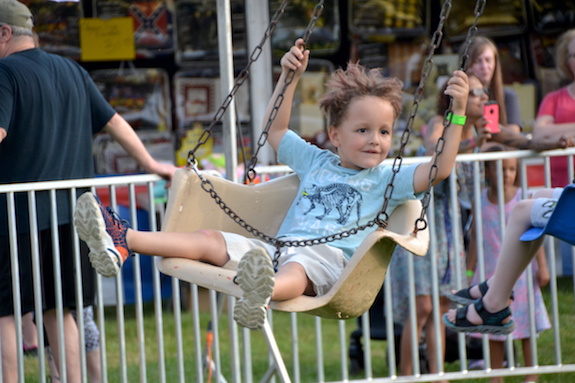 This kid sits in the swing ride and enjoys the Kendall Firemen's Carnival.