Retiring Kendall school superintendent praised at last Board of Education meeting
Julie Christensen has led district past 15 years
KENDALL – Julie Christensen said she has attended 500 Board of Education meetings in the past 20 years, which includes 15 years as Kendall's school district superintendent and five years as an assistant superintendent at gates-Chili.
Wednesday was her final meeting as school superintendent at Kendall. She is retiring on Dec. 31. She was honored during a retirement reception prior to Wednesday's board meeting.
"She has done a phenomenal job for us," said Lisa Levett, the Board of Education president.
She praised Christensen for leading the district through major capital projects, curriculum and technology changes, and the challenges of the Covid-19 pandemic the past two years. Kendall was able to offer in-person education all five days for all students during the 2020-21 school year when many other districts were on a hybrid or remote schedule.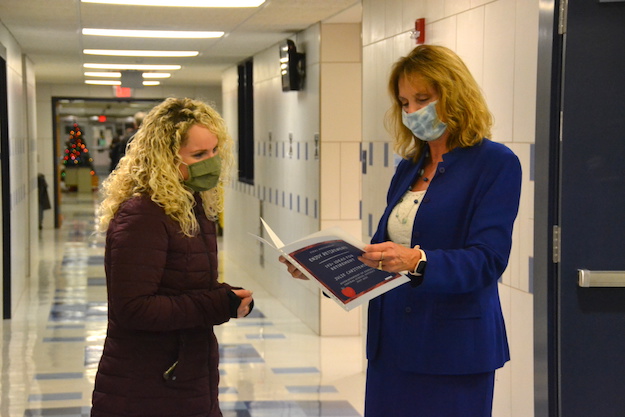 Kaitlyn Catone, a seventh- and eighth-grade teacher at Kendall, chats with Julie Christensen at the retirement reception.
Catone is a Kendall graduate and returned to teach in her hometown.
"I have nothing but good things to say about her," Catone said. "She is always warm and welcoming. She made it easy to come back home."
Christensen is holding a book with 200 suggestions on how to spend retirement. The book includes ideas from students, teachers and staff.
Christensen also was given a wooden artwork display made by teacher Jeff Decker and student Evan Levett. It was made using wood from the old school bleachers.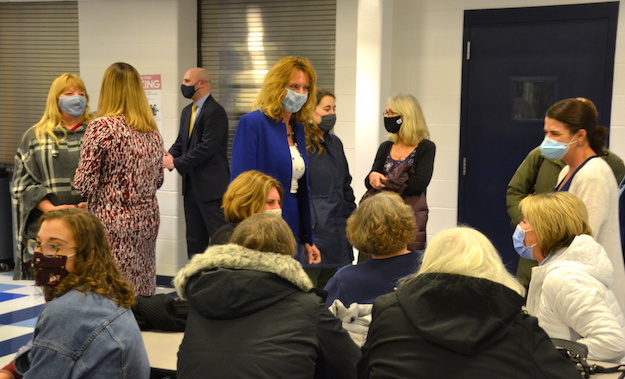 Julie Christensen laughs with teachers and staff at the reception.
Heather Tomasino, the Kendall faculty Association president, praised Christensen for steady leadership and pushing student achievement.
Tomasino said Christensen led the district for deep state aid cuts in 2010, and was able to maintain programs for students. Christensen was able to reduce taxes for the community while spearheading technology upgrades and overhaul of the school campus.
"She has kept the tax rate low for community members and still provided opportunities for our students," said Tomasino, a middle school special education teacher. "All of our students are on 1 to 1 devices and many rural schools have that."
Christensen led the district through $40 million of capital construction projects in the past decade, as well as lofty academic standing. Kendall is routinely recognized by the U.S. News and World Report for its academic performance and the district typically has a 100 percent graduation rate.
Nick Picardo will take over superintendent on Jan. 1. He started at Kendall 16 years ago as a social studies teacher and boys soccer coach. Christensen encouraged him as he became a school administrator, first as the coordinator of Student Services and chairman of the Committee on Special Education at Kendall. He is currently the executive director for Student Services and Athletic Director.
"She has provided me with an opportunity and had faith in me," Picardo said.
He praised her for mentoring other administrators, including former Kendall Elementary Principal Sharon Smith who is becoming Lyndonville's interim school superintendent and Elba Superintendent Gretchen Rosales, who was Kendall's instructional support specialist and middle school department chair.
Picardo said Christensen leaves the Kendall district in great shape with strong support from the community.
"I want to just continue with what's been built here," he said. "We have great staff and kids."
Christensen, in her remarks at the reception, said she has hired the majority of Kendall's current staff. They have proven to be student-focused.
She thanked the community, teachers and staff for a joint effort in creating a caring and successful school district.
She said she won't miss the frequent red tape and often changing guidelines from the State Education Department, Health Department and government agencies.
"The people and the kids, that's what matters at the end of the day," she said.