Retiring county highway superintendent gets praise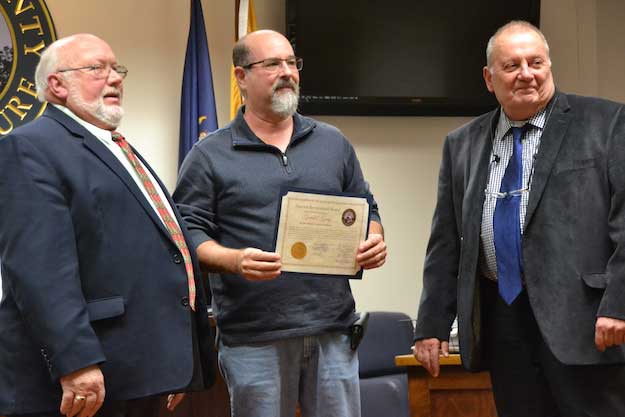 Photo by Tom Rivers
ALBION – Jerry Gray, center, receives a "Special Recognition Award" from the Orleans County Legislature on Wednesday for his 40-year career with the Orleans County Highway Department, including the past eight years as highway superintendent. He accepts the award from county legislators Bill Eick, left, and Fred Miller.
"Your dedication and expertise has benefitted our county tremendously," legislators said.
Gray, a Medina resident, started with the Highway Department as a laborer. He worked his way through the ranks as a motor equipment operator, motor equipment operator lead, deputy highway superintendent and then was appointed highway superintendent in October 2010.
He led the merging of the Highway Department with the Buildings and Grounds Department and has been the leader of 40 employees.
He also has led the county efforts to replace several culverts and bridges, while upgrading roads and other county infrastructure.
The Highway Department this year started making the concrete pieces for culverts, which has cut the cost of those projects in half.
"That has been a crowning achievement, but I'm just one guy," Gray said. "We couldn't do it without a good staff and the support of the county legislators and Chuck Nesbitt (the county's chief administrative officer)."
Gray praised the county legislators and Nesbitt for backing the purchase of a new paver about five years ago that the county loans out to towns and villages, helping them to upgrade their roads.
The county also approved two new pole barns allowing the Highway Department to store equipment.
Orleans has an inventory of its roads and bridges, and a rating of their condition, as well as a plan to upgrade them. That new approach has earned the county recognition in the region.
Peter Houseknecht, the current deputy highway superintendent, on Wednesday was named the interim highway superintendent following Gray's retirement next week. Houseknecht previously worked as the superintendent of the Department of Public Works in Medina. His father, Ed Houseknecht, was the county highway superintendent before Gray took the job in 2010.