Retiring commissioner commended for leading DSS past 11 years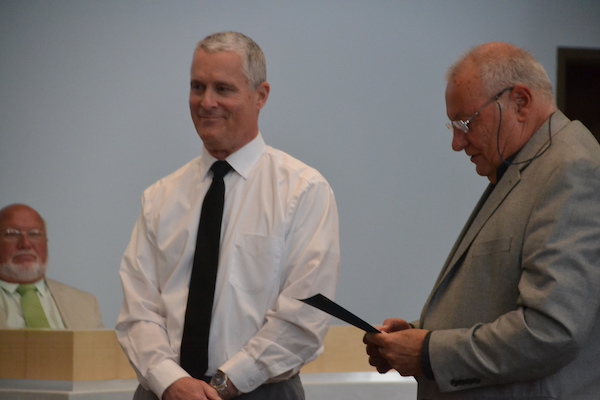 Photos by Tom Rivers
ALBION – Orleans County Legislator Fred Miller, right, presents a special recognition award to Tom Kuryla during Wednesday's County Legislature meeting.
Kuryla was praised for more than 11 years as commissioner of the county's Department of Social Services. He was commended for restructuring the department during his tenure, which lowered the county's operating costs while maintaining services to the public.
"Tom was able to rebalance our workforce with the changes directed by Albany so that Orleans County was able to reduce the workforce and maintain the required services to our residents," said Jack Welch, the county's chief administrative officer. "This unique skill was much appreciated by the County Legislators."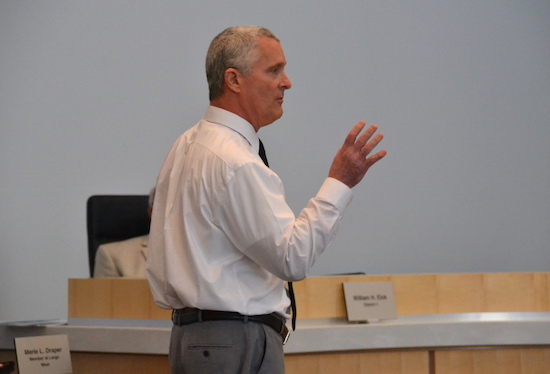 Tom Kuryla thanks the county legislators and the DSS employees during his brief remarks on Wednesday when he was recognized for his service to the county. He led the DSS since Jan. 1, 2010. He came to Orleans after being deputy commissioner in Seneca County.
The DSS and the county's Job Development Agency in 2019 were recognized by the New York State Office of Temporary and Disability Assistance for the county's success in transitioning people from public assistance to securing employment. The county was honored for its success from 2015 to 2018.
Under Kuryla, the DSS also stepped up efforts with welfare fraud recoveries and cost avoidance. The DSS would often recover about $75,000 in welfare fraud each year and avoid paying out about $1.5 million in unentitled benefits.
"We appreciate all of Tom's work in Social Services and for working within the system creating positive change in our County," Welch said. "Tom Kuryla as Commissioner of Social Services brought a balance to the Social Services Department of serving our residents who are in need with an eye and respect for our taxpayers who provide the funds for these services."