Retiring Albion fire chief also commended for 50 years with AFD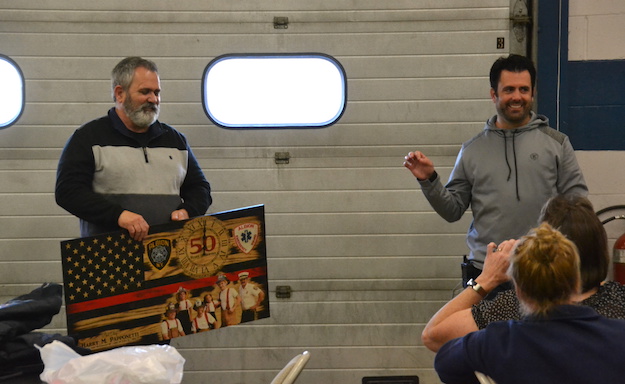 Photos by Tom Rivers
ALBION – Harry Papponetti, left, was presented with several citations and gifts on Thursday during the Albion Fire Department's 2021 installation meeting. John Papponetti, Harry's son, is also Albion's assistant fire chief.
Harry Papponetti stepped down as fire chief on May 1 after three stints as chief over 16 years. Papponetti has been a line officer with the AFD for 49 out of his 51 years as a firefighter.
John Papponetti presented his father with a display of an American flag on burned wood that also included a family photo from 1998 of Harry with his children – Scott, Steven, John, Sarah and Jimmy. The flag includes a clock with the number 50 and the three stripes represent Harry three tenures as fire chief.
He will continue in the department's leadership as the chief engineer, overseeing all of the apparatus, including fire trucks, air packs, hoses and equipment.
John also presented his father with an AFD jacket and a new helmet shield with Harry's number, 121, and his new title of "Chief Engineer."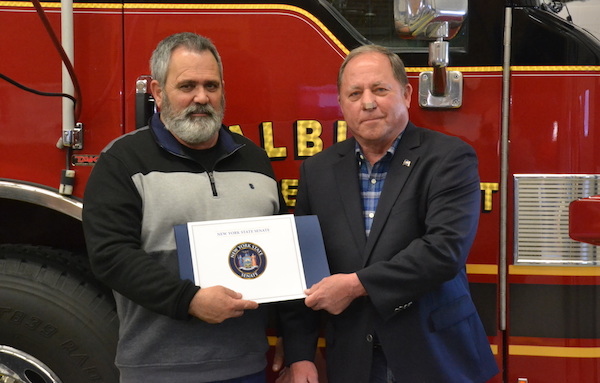 Assemblyman Steve Hawley presents a citation from the Assembly to Papponetti for his 50 years as an active firefighter. Papponetti was to receive the citation last May but the department's banquet and installation dinner was cancelled due to Covid-19 restrictions.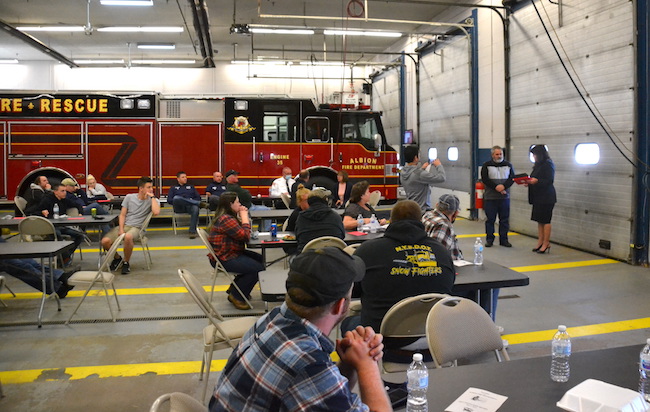 Orleans County Legislature Chairwoman Lynne Johnson, far right, also presented a citation from the county to Papponetti, who received the recognition inside the Albion fire hall.
He also received citiations from Albion Mayor Eileen Banker and her husband Dale Banker, the county's Emergency Management Officer director. Dale Banker presented the citation from the Firemen's Association of the State of New York.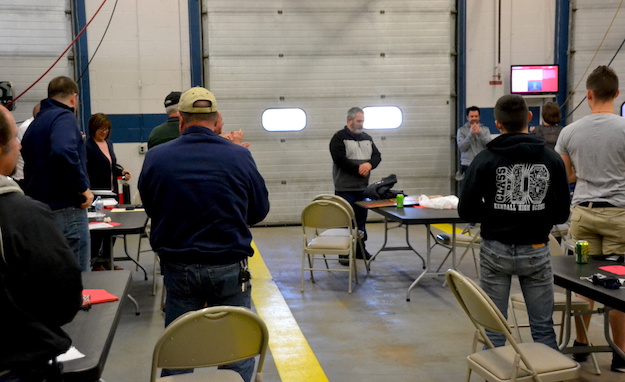 The other firefighters stood up to commend Harry Papponetti for his 51 years of service. Papponetti thanked the group for their commitment to training and responding to motor vehicle accidents, fires and other calls for the department. Last year there were 445 calls.
He said he is grateful he joined the department 51 years ago and was fortunate to know so many mentors. The most difficult part in recent years has been going to funerals of many of his long-time friends who served with the AFD, Papponetti said.
"Everytime we have a funeral it's hard on me because I grew up with that person," he said.
Papponetti also thanked his family and acknowledged their sacrifice with him missing so many dinners and events due to his commitment to the fire department.
Papponetti said the fires were more frequent and more destructive when he started as a firefighter. There weren't many smoke detectors back then to give an early detection of a fire.
He used to bolt out of class in school when the fire whistle sounded, and then go back to class when the fire was put out.
"When you heard that horn blow it was a structure fire," he said.
Rob Conner Jr., 39, is Albion's new fire chief. Conner has been with the Albion Fire Department since he was in the explorer post when he was 16.
"This is something I've wanted to do since I was a little kid," Conner said about being a firefighter. "It has taken a lot of time and hard work."