Restored WWI cannon gets warm welcome from veterans, Medina community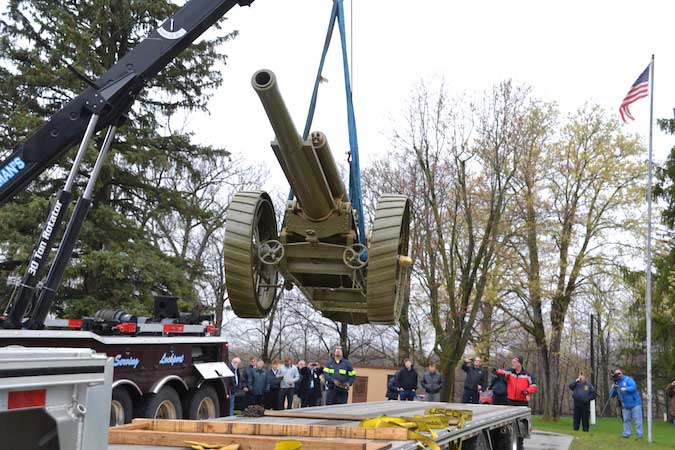 Photos by Tom Rivers
MEDINA – A World War I cannon is hoisted from a trailer this morning at State Street Park. The cannon returned to Medina following more than a year of restoration work by Seed Artillery Reproduction and Restoration, in Altoona, Pa.
The B.L. 60 Pounder British field gun was a fixture at State Street Park since 1935. It was hauled away on March 12, 2018 for its restoration work.
The cannon was falling apart. Dave Seedenberg of Seed Artillery Reproduction and Restoration was in Medina this morning to watch the cannon be put back in pace at the local park.
Seedenberg completely stripped and disassembled the cannon, and needed to fabricate some new parts. The big 15,000-pound gun was reassembled and painted with historic accuracy.
"It's absolutely stunning," said George Bidleman, owner of Orleans Ford who paid the $40,000 restoration cost. "It's beautiful."
There are only 10 of the cannons like this remaining, with five in Europe and five in the United States, said Jim Freas, a past commander of the Butts-Clark Post for the American Legion in Medina.
"We have one of them," Freas said. "It's priceless."
The Orleans Renaissance Group pushed to have the cannon restored. Chris Busch, chairman of the ORG, thought it might take a few years to raise the money. But Bidleman offered to cover the entire cost of the cannon restoration.
The ORG also raised $12,000 for three new flag poles, a new granite slant for a plaque about the cannon, and other site improvements. Orleans Ready Mix also donated the concrete where the cannon is displayed.
The new flag poles will carry flags for the United States, Great Britain and France. The cannon was manufactured in 1916 by Elswick Ordnance Company, Newcastle upon Tyne, England. It was used in battle in France and fired 2,871 rounds during its first tour. It was returned to England in 1917 for repairs and reissued to battery in France, September 1918, firing an additional 1,471 rounds.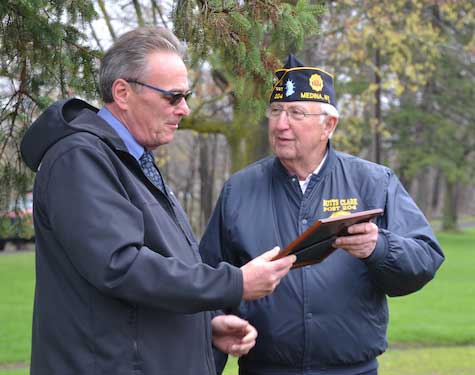 George Bidleman, left, is presented a photo of the cannon with local veterans by Glenn Whitmore, commander of the American Legion Post in Medina.
"When George stepped forward we couldn't believe it," Whitmore said. "His heart is bigger than he is."
Bidleman shook hands with each veteran at the park today, thanking them for their service. He said he was happy to help with the restoration of a prominent local landmark.
Whitmore said the cannon will be rededicated during the Memorial Day celebration on May 27. He said it will be a big event, and he welcomed veterans of all eras for the observance, and then an additional celebration at the American Legion, which is marking its 100th anniversary this year.
"It's something that's not being taken away because we're losing so much of our history every day," Whitmore said about the cannon. "Memorial Day is going to be a big day for this village and county."

WJW Associates in Syracuse delivered the cannon to Medina this morning. The trucking company picked up the cannon in Altoona on Tuesday and brought it to Salamanca last night, before leaving this morning for Medina.
Jeff Karol of WJW said he got a lot of friendly honks and waves bringing the cannon up on Route 219 to Buffalo and then the Thruway this morning.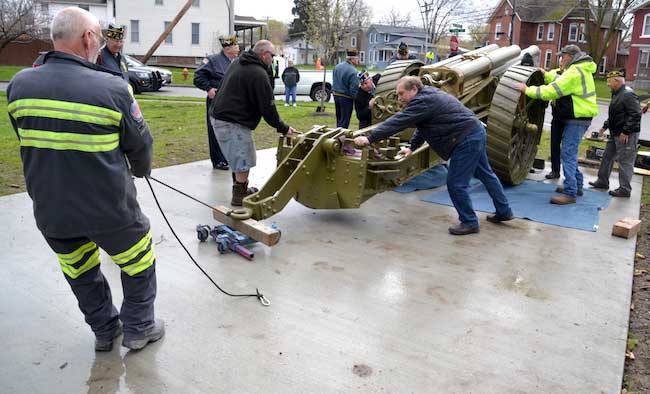 Ron Ettinger, left, of Lyons Collision in Medina helps steer the cannon in place while a group of people, including Medina Mayor Mike Sidari (center), help push the cannon back on the concrete pad.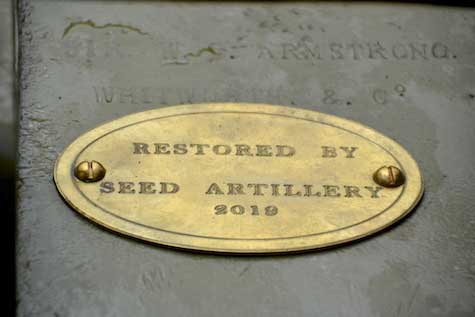 Seed Artillery Reproduction and Restoration put a small plaque on the cannon noting the restoration efforts were completed this year. The cannon was rusty with rot in spots and was missing chucks that Seed recreated.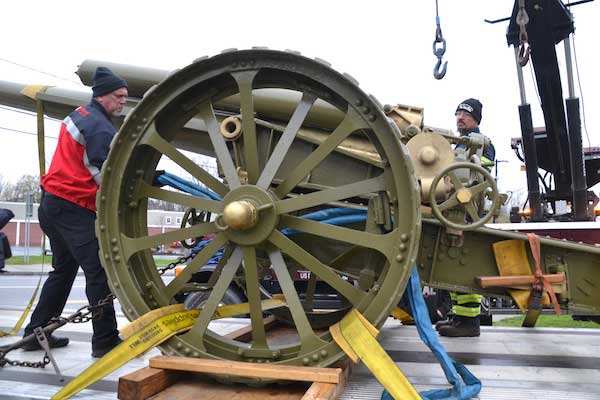 Jeff Lyons, left, of Lyons Collision works with John Beauman of Beauman's Garage in Lockport to remove straps from the cannon. Beaumont's Garage brought a crane with a rotator to remove the cannon from the trailer.