Restaurant and bar opens in downtown Albion
Owners pushed for site to draw more people to Main Street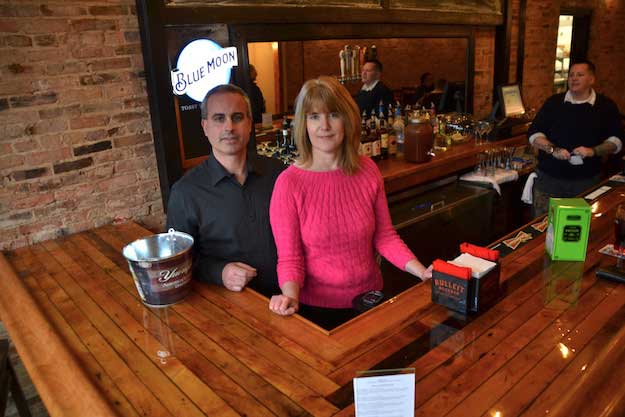 Photos by Tom Rivers
ALBION – Adam and Tina Johnson are pictured behind the new bar that opened today at 39 Problems on North Main Street. The Johnsons also opened a new restaurant at the location.
The couple purchased the building, which includes three storefronts, in 2015. They have been working diligently to renovate the site, while preserving its historic charm. Last June they opened 39 Problems, selling pizza, grilled foods and "chill desserts." The site didn't have a dine-in option.
Now 39 Problems has a dine-in restaurant. The Johnsons have two of three storefronts done, and they would eventually like to expand the dining area to the remaining storefront.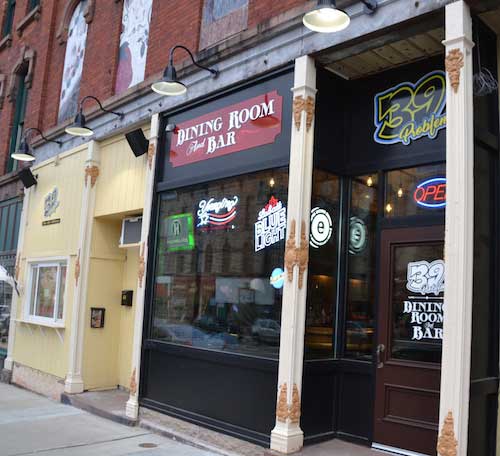 Today is a more than opening day for the bar and restaurant. It felt like a celebration with many residents and village officials stopping by to congratulate the Johnsons on the ambitious work they have completed at the site, which includes a new kitchen, two new bathrooms, wiring, gas lines, structural and roof repairs, masonry work and lots of other attention.
"There isn't anything that hasn't been touched," Johnson said.
The storefront has been changed. The windows are now aluminum framed with insulated glass. Johnson kept the cast iron columns and removed paint on the Medina sandstone at the storefronts. Some of the wood from the storefront he has repurposed above the bar.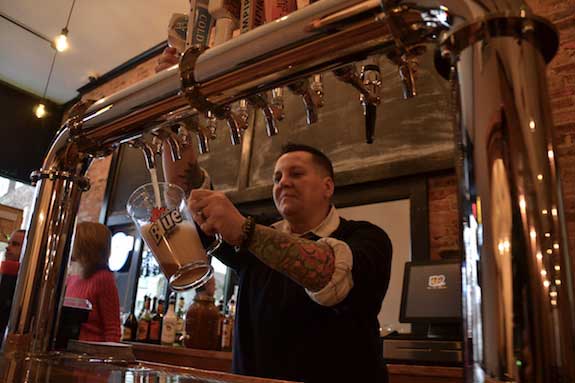 Angie Dickinson is one of the bartenders.
"Albion needs a place like this, without a doubt," she said. "It's got everything you want for a night out. It's beautiful in here and the food is delicious."
Dickinson is one of 15 employees at 39 Problems. Johnson named the business 39 Problems because of the challenges in renovating the site at 39 North Main St. That is the unfinished storefront and the largest of the three.
Johnson had to gut the sites. When he knocked plaster off the walls, it exposed the original brick.
"The brick was buried in the plaster," he said.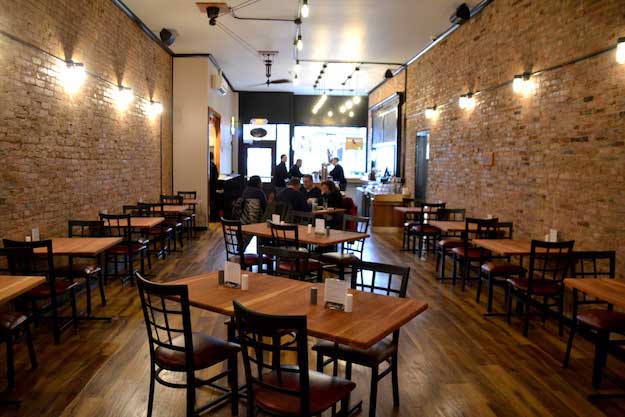 Johnson wanted to keep the scene as a "simple industrial" look, with drop-down lights, ceiling fans with belt drives, unadorned bricks and clean lines.
He used maple he salvaged from the hardwood floors for the bar top, and chestnut from the old wainscoting for part of the bar. He did put down new vinyl planks for the floor to better endure the demands of the foot traffic in a restaurant and bar.
Johnson was pleased with the positive reaction from the first customers who stepped when the dining room and bar opened for the first time at 4 p.m.
"We're hoping it will get Main Street alive, and lots of people to the downtown," he said.
39 Problems opens at 11 a.m. and closes at 9 p.m., except on Fridays and Saturdays when it closes at 11 p.m. The hours may be tinkered with, Johnson said. The business will be closed on Mondays.