Republicans thank long-time treasurer, judge for their public service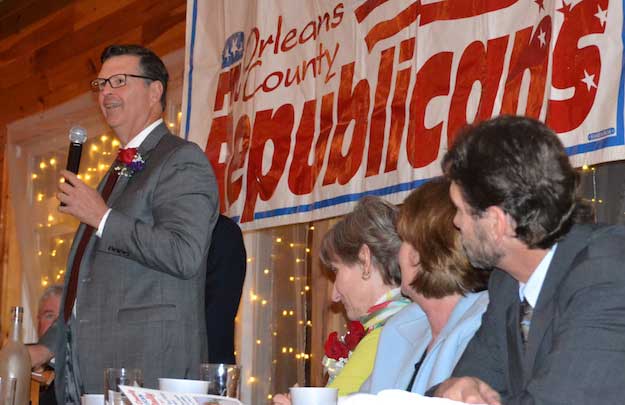 Retired judge urges community to back Sanford Church as county judge
Photos by Tom Rivers
LYNDONVILLE – The Orleans County Republican Party held its annual fall rally on Thursday and presented gifts and gratitude to Susan Heard and James Punch for their long tenures in public office. Heard is retiring after 24 years as county treasurer, and Punch retired July 29 after nearly 27 years as county judge.
Jim Punch is shown addressing more than 200 people at the fall rally at the White Birch Golf Course. Punch said the Republican leaders took a chance on him in 1985 when he was 29 and running for district attorney. That was the biggest endorsement of his career, and began a 32-year journey of public service in his home county.
Punch served as DA for 5 five years before being elected judge. He retired before his term ended. He felt comfortable knowing Sanford Church, the county's public defender, was willing to serve as judge. The judge referred to some recent letters to the editor on the Orleans Hub, criticizing him for retiring before the term was up when he knew Church was willing to run for the position.
Punch urged the Republicans to push to get Church elected.
"Before I retired I did want some assurance the office would be respected by someone we trust," Punch said at the rally.
The retired judge said Church has the experience, integrity, decency and kindness to serve as an effective judge for the community.
"Sandy is my friend and if you worked with Sandy for 30 years he'd be your friend, too," Punch said.
In their many interactions in the courtroom over three decades, Punch said Church never asked for special treatment, an indication of his high morality and respect for the judge's position.
The retired judge noted that Church has strong support from the attorneys in the county who have all seen him in action in the courtroom.
Church has worked the past 20 years as public defender, representing indigent defendants in felony prosecutions, as well as overseeing the public defender's office. Church has worked as an attorney for 32 years, including as an assistant district attorney for Punch and Joe Cardone, as well as two other DAs.
Church, a former member of the Albion Board of Education, has practiced law in all of the courts a county judge will preside.
Church admitted he is a low-key person who is making his first run for a countywide elected office.
"Thank you for your faith in me," he said at the GOP rally. "I will try to live up to it."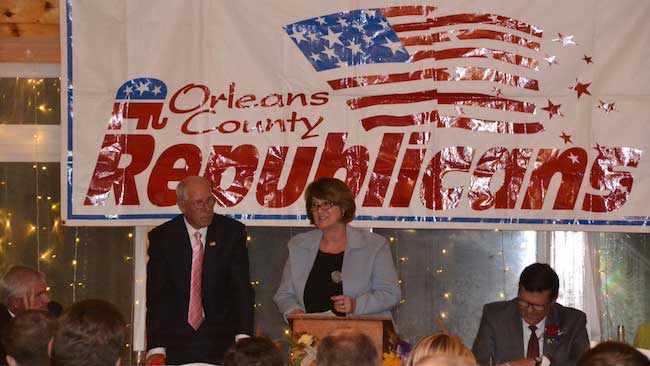 Susan Heard speaks at the fall rally at the White Birch Golf Course. Ed Morgan, left, is the County GOP chairman. Jim Punch is at right.
Heard started in the treasurer's office 40 years ago when she was 18 on a summer work program. Back then she was planning on a career as a dental assistant.
But Heard liked the job at the Treasurer's Office. She worked her way up in the Treasurer's Office under then Treasurer Mary Basinait. Heard thanked the Republican leaders in the county for their support over the years. She also commended the employees in the Treasurer's Office, the attorneys, town clerks, county department heads, chief administrative officers and residents who she all worked with.
Marcia Tuohey, the late chairwoman of the Orleans County Legislature, was Heard's favorite county leader. "The lady in the hat, she was a woman in charge," Heard said.
Kim DeFrank of Murray, Heard's deputy treasurer, is unopposed in running to succeed Heard as county treasurer.
Heard doesn't want to fully retire. She is running for the Gaines town clerk on Nov. 7.