Republicans in Orleans County rally to support Singletary, Tenney in Congress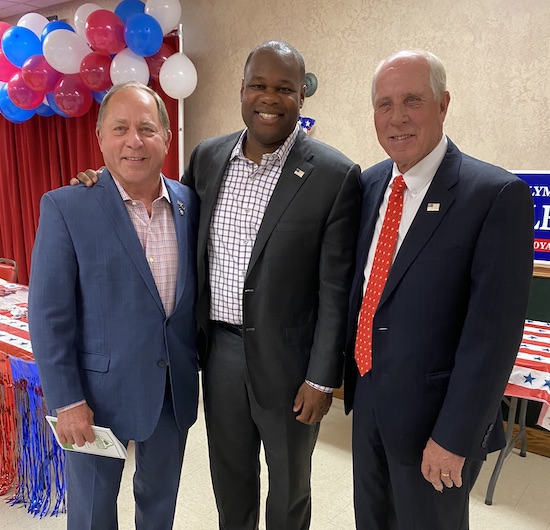 Provided photos
RIDGEWAY – The Orleans County Republican Party held their fall rally recently to support their candidates, including two running for Congressional Districts in the county.
The top photo shows La'Ron Singletary (center), a retired Rochester police chief who is seeking to represent the 25th Congressional District as a Republican against Joe Morelle, a Democrat from Rochester. Singletary said Congress needs members with experience in law enforcement.
He said the country is short about 100,000 police officers, and that is putting communities at risk.
The 25th Congressional District includes Monroe and about half of Orleans County – the towns of Carlton, Clarendon Dist. 1, Gaines, Kendall, Murray and Yates.
Singletary is pictured with Assemblyman Steve Hawley and County Legislator Ed Morgan. Hawley is running for re-election against Jennifer Keys, a Democrat from Le Roy.
Claudia Tenney also addressed the Republicans. She is running for the 24th Congressional District against Steve Holden, a Democrat. This district includes 12 counties, going from Watertown, through the Finger Lakes region and into Niagara County. In Orleans, it includes the towns of Albion, Barre, Clarendon districts 2 and 3, Ridgeway and Shelby.
Tenney currently represents the 22nd Congressional District. She has been based in Utica but is moving to Canandaigua to be in the district.
She has been a staunch Donald Trump supporter and called for impeachment proceedings against Joe Biden in Aug. 27, 2021, claiming he failed the country with the troop withdrawal from Afghanistan.
Tenney said she will work to reduce inflation, cut taxes, restore energy independence and fight illegal immigration at the southern border.