At Orleans picnic, Republicans state support for Trump, opposition to liberal 'elites'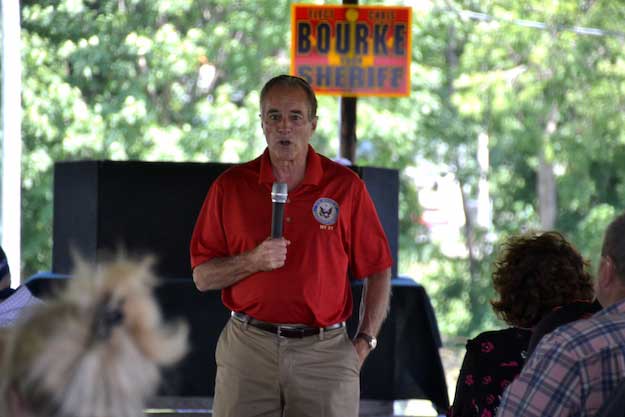 Photos by Tom Rivers
ALBION – Congressman Chris Collins speaks during Sunday's Orleans County Republican picnic at the Elks Club in Albion.
Collins bemoaned a legislative standstill in Congress. The House of Representatives has a Democrat majority, while the Senate is led by Republicans.
"Nothing is getting done," Collins told about 150 people at the picnic.
He is hopeful the Senate will push through an appropriations bill that will be signed by the president.
Collins remains a staunch backer of the president. He was the first sitting member of Congress to endorse Trump in February 2016. Trump faces re-election in 2020 amidst a crowded Democrat field.
"He's going to be in a battle royale," Collins said about the president. "Let's hope it's (Bernie) Sanders or (Elizabeth) Warren, and he will win 40 states."
Collins also spoke about efforts to lower the Lake Ontario lake levels and to avoid flooding problems in the future. He praised the work of Jane Corwin, a new American representative on the International Joint Commission, which regulated the lake levels and includes representatives from Canada. The IJC currently is releasing maximum outflows from the lake.
The IJC now uses Plan 2014 for the lake and Collins said the plan has been a disaster in two out of its three years since it took effect in late 2016.
He supports having the Government Accountability Office to look into the IJC's implementation of Plan 2014.
Rep. Anthony Brindisi (D-NY-22) and Rep. John Katko (R-NY-24) on Aug. 7 announced the GAO would review the IJC and focus on how the plan was developed and implemented, and how the IJC has addressed the flooding concerns of people along the lake.
"I'm optimistic we have it under better control," Collins said about the lake levels.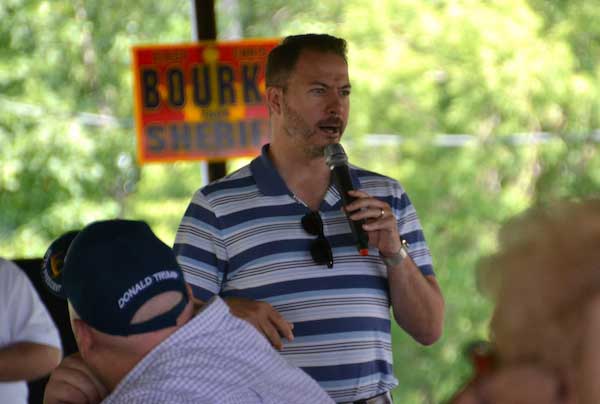 State Sen. Rob Ortt speaks to the Republican crowd. Ortt on Saturday announced his campaign for Congress.
Collins hasn't officially announced a re-election campaign. He is under federal insider trading charges with a trial set for February 2020.
Ortt said Collins has worked hard for the 27thCongressional District.
"The congressman has done a good job over the years on the issues," Ortt told the group.
Ortt said he could be counted on to support the president in Congress.
"We need to have someone who has the president's back and is tough on immigration," Ortt said.
He said "elites in Albany and Washington" look down on rural residents. He wants to be an advocate for small town America. He said he has championed rural values in Albany the past five years, challenging downstate Democrats in their push to unionize farmworkers, expand abortion rights, and pass gun control legislation.
"I will defend working class people," he said.
Ortt thanked the Orleans GOP for its support since he ran for State Senate in 2014.
"Orleans County, you've always been great to me," he said. "It's been the privilege of my life to represent you in Albany."
Erie County Comptroller Stefan Mychajliw, another likely candidate for the 27th, attended the picnic briefly and met with the Republicans but didn't address the group.
Skip Draper, Orleans County Republican Party chairman, said he isn't ready to pick a candidate for the upcoming Congressional race.
"It's premature," he said about endorsing someone right now. "We'll let the process play out and the best candidate will rise to the top."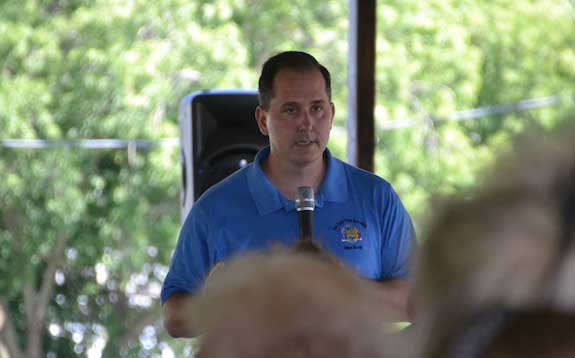 State Assemblyman Michael Norris told the group that the State Legislature and Gov. Andrew Cuomo adopted a massive state budget of $175 billion, which cut critical funding for towns and villages.
Norris said he would push to have more Aid and Incentives to Municipalities (AIM) restored in the state budget for the towns and villages. The state is making up for a $60 million cut in AIM by having counties pay for it with their sales tax.
"Our country is at a crossroads," Norris said. "The upstate way of life is under attack."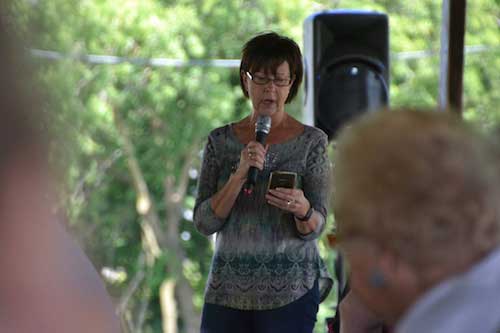 Eileen Banker, chief of staff for Assemblyman Steve Hawley, spoke on behalf of Hawley who was unable to attend the picnic. She read a statement from Hawley, who decried a full takeover of state government by the Democratic Party, which he said has resulted in driver's licenses for illegal immigrants, leniency for criminals, and more regulations on agriculture, which will strain upstate's leading industry.
Hawley said he was pleased the governor and Legislature were shamed into approving a bill he sponsored that provides free college tuition for the children of Gold Star families, where a parent was killed in the line of duty.
Hawley also said he will be taking veterans on his 12thannual Patriot Trip to see war memorials in Washington D.C. from Sept. 19-22.