Repeat winner in County Tourism Photo Contest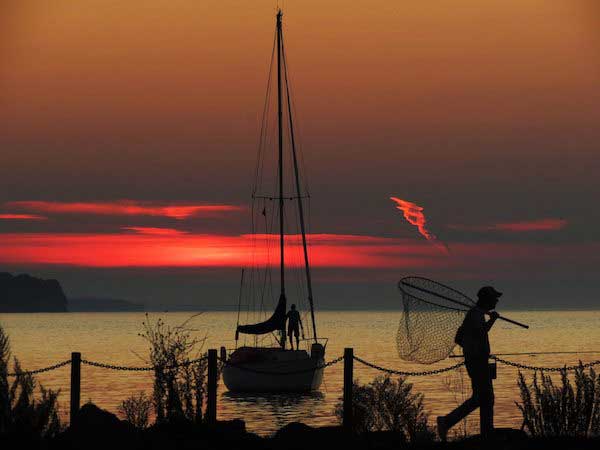 The winner of the 2017 Orleans County Tourism Photo Contest has been announced. Peggy Barringer of Albion took the winning photo this year – "When the Sun Goes Down…at the Point" – on Sept. 21 at Point Breeze, showing a fisherman and a sailboat in silhouette at sunrise.
Barringer also won the contest in 2016 with a photo of lilacs in bloom at Mount Albion Cemetery.
Dennis Button of Albion came in second with "Memorial Day Cemetery" at Mount Albion. Elizabeth Carpenter of Waterport was third with a photo from the top of the tower at Mount Albion, looking above the tree line towards the county courthouse in Albion. "
Judging was tough as there were 25 photographers who submitted 85 images that captured the essence of Orleans County – from rainbows & sunsets to waterways & wildlife, said Lynne Menz, the county's tourism director.
A jury of 15 was asked to rank their top 10 picks with the following criteria to consider:
• Does the subject have a Tourism draw?Is this an interesting attraction worth travelling to? Is it current?
• Quality: Is the photographer skilled in using interesting design elements such as depth-of-field, perspective, texture, symmetry or contrast? Is this image "Magazine Cover Worthy"?
• "Only in the OC": Is the image iconic to Orleans County or could this picture be taken anywhere?  Does it represent Orleans County's character?
• The WOW Factor: Does the image spark a positive emotion in you?
• The I-GOT-IT! Factor: Was the photographer in the right place at the right time?
View the Top 15 entries by clicking here.