Relationships key to racial reconciliation, despite very painful past
Speakers at schools, churches share message; Matt Lockett's family from 7 generations ago owned Will Ford's as slaves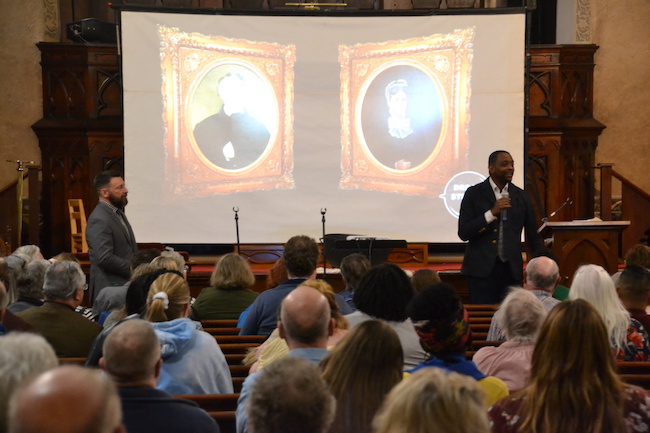 Photos by Tom Rivers
ALBION – Will Ford, right, shares how the family of Matt Lockett, left, once owned Ford's as slaves. The photo on screen shows portraits of Napoleon and Mary Lockett during the Civil War era. The Lockett family once owned 126 slaves.
Lockett and Ford met at a rally against abortion in Washington DC about 17 years ago. They became close friends and after a decade they both traced back their family lineage. Ford saw in the past some of his ancestors had the last name Lockett before his grandfather changed the name to Ford because he didn't want the last name of a family that held his in bondage.
Lockett's brother was actively trying to learn about the family's history. The two found the last battle of the Civil War was fought at the Lockett farm in Virginia on April 6, 1865. After the war, the family dispersed to Kentucky and Louisiana.
Ford said he felt anger towards Lockett, his friend, when he realized the Locketts once enslaved Ford's ancestors.
"For me it was the first time there was a face connected to a painful story," he said.
He needed to go to a deeper level of forgiveness to find healing.
"I was confronted with the reality of this historic pain," Lockett told about 150 people at the First Presbyterian Church in Albion on Friday night. "I wasn't there 150 years ago, but Will's pain is still real."
The two have remained close friends. They believe relationships are the key to moving the country forward through so many divisions.
"The first one to love wins," Ford said.
Ford brought a cast-iron kettle that has been in his family for seven generations. That family artifact is a powerful connection to when the family once was enslaved.
He shared how he has been called racial slurs, pulled over by police "for driving while Black" and faced suspicious for living in a mostly white suburban neighborhood in Dallas, Texas.
Ford said the Christian people can make a difference in bringing racial justice to the country. Upstate New York has been instrumental in the past in the fight for abolition and women's rights, Ford said.
He called on a united church to show love for all, and lead the way through the intense division in the country.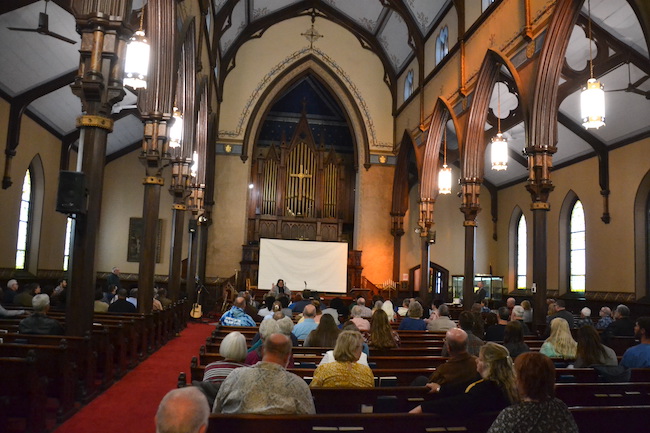 The Rev. Susan Thaine, pastor of the Presbyterian church in Albion, welcomes the group to Friday's program.
"Our hope is it will become a community conservation – not a one and done – as we work towards racial reconciliation," she said.
The two speakers will be the First Baptist Church in Medina today at 1 p.m. for a question and answer session, and then at 7 p.m. today at Roberts Wesleyan College in North Chili.
In addition Ford will speak at Sunday service at 10 a.m. at Harvest Christian Fellowship in Albion with Lockett speaking at Antioch Baptist Church in Rochester on Joseph Avenue.
For more information, click here.