Refill with Randy – Trip to Holy Land deepened faith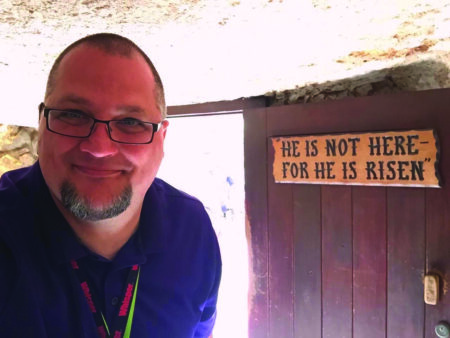 Happy Easter! Grab your favorite cup. Fill it up. And let
'

s start this week right… TOGETHER!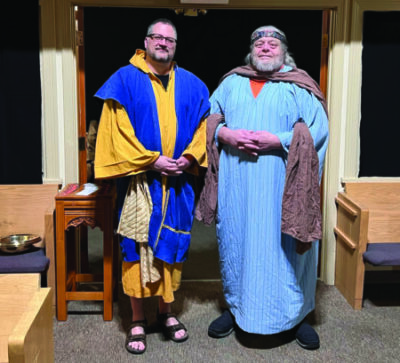 Over this past week I have had the privilege of experiencing Holy Week in many different ways such as: playing Peter in a Passion Play, celebrating Palm Sunday with songs of Hosanna, enjoying an intimate Maundy Thursday Meal at the 1st Baptist Church of Medina, participating in the MAAC Cross-Walk and the PACT Good Friday Service, and speaking at a sunrise service this morning at the Boxwood Cemetery in Medina.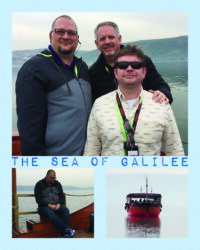 I thoroughly enjoyed experiencing Holy Week in this way but nothings compares to actually reliving each event in an immersive manner which is what I did in February of 2017 when some fellow pastors and I traveled to Israel. My colleagues from Orleans County, Pastor Dan Thurber (Oak Orchard Assembly of God) and Pastor Russ Peters (Alabama Full Gospel Fellowship), literally walked where Jesus walked Scripture came to life for us in a new way. So, in an effort to give you a glimpse of what we experienced, I would invite you to take a walk with me. Feel free to check out video as well at https://youtu.be/Otl6J308YR8
Starting in Tel Aviv we spent one very full week traveling to: Caesarea, Magdala, Capernaum, Bethesda, Tiberias,  the Golan Heights, Galilee, Nazareth, Jerusalem, the Judean Wilderness, Masada, and The Dead Sea. In doing so we were able to visit various sites where Jesus had ministered. 
The Sea of Galilee was often mentioned in Scripture. Jesus not only taught beside it, and took his disciples out on it in a boat, but he even walked on it once all while imploring Peter to do the same. We spent a meditative ride where we contemplated what it must have been like to engage with Jesus while on the water whether it be a disciple calling for help during a storm or a fisherman calling for his partners to come help because where Jesus had said to let down their nets caused them to catch way too many fish. We also spent time on the shore and hillside stopping where Jesus would have fed the five thousand or delivered his famous Sermon on the Mount.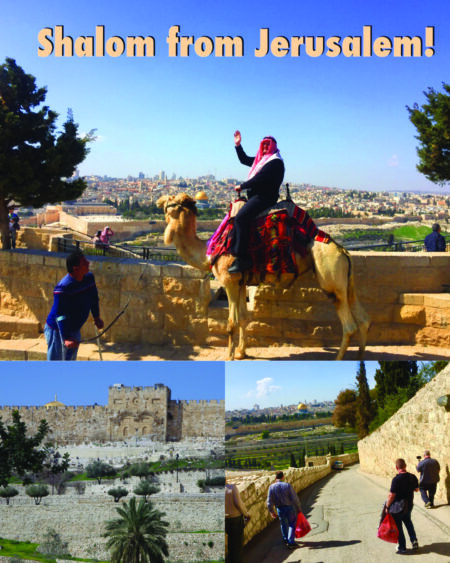 Many of the events that we think of in regard to Holy Week take place once Jesus and the disciples entered Jerusalem. On Palm Sunday Scripture teaches that Jesus rode in on a donkey but, as you can see from the photo, I chose to ride a camel instead. Once in Jerusalem we made our way down the Mount of Olives to the place that probably had the most profound impact on me of the entire trip. You may recall that after celebrating Passover in the Upper Room Jesus went down to the Garden of Gethsemane to pray just prior to being arrested. Something to note here is that the olive trees in the garden are actually the same ones that have been pruned for 2,000 years. We were able to take some branches back with us which I treasure as a keepsake.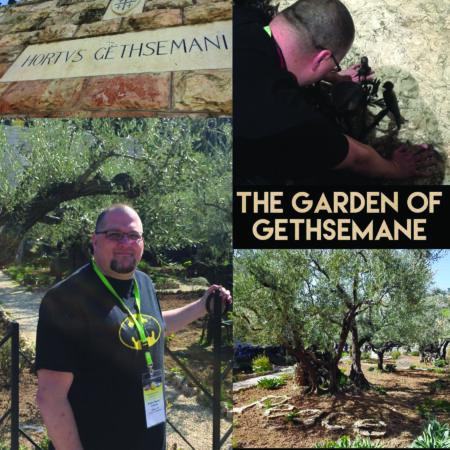 Before even entering the garden I started to weep when I considered the anguish Jesus must have felt knowing what agony was to come but still choosing to go through it for our sake,  "Father, if you are willing, please take this cup of suffering away from me. Yet I want your will to be done, not mine." Luke 22:42 (NLT)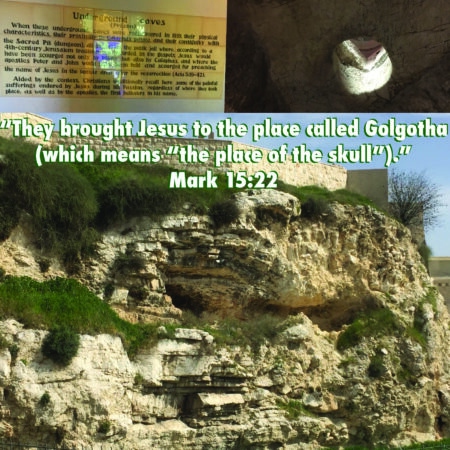 Eventually we made our way from Golgotha, the site of Jesus' crucifixion, to The Garden Tomb where he was laid to rest. And of course I couldn't go all the way to Israel without seeing for myself, like Mary and the disciples almost 2,000 years ago, that the rock was rolled away and that the tomb was empty. He is risen! He is risen indeed! Hallelujah!!!
I hope you have a Happy Easter and I will see you again in two weeks! 
See you in two weeks!
Pastor Randy