Red Cross assisting families after fires in Clarendon and Royalton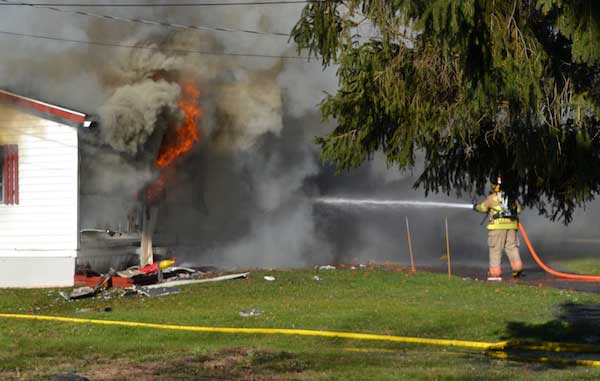 Photo by Tom Rivers: Firefighters work to put out a fire in Clarendon today at 4214 Fancher Rd. The house and garage were a total loss after fire quickly spread through the structures just before noon.
The Red Cross is assisting the homeowners, Jim and Marg Dale.
The Red Cross also is assisting a family that lost their home to a fire in Royalton, Niagara County, this afternoon.
Three adults and two children are without a home after the fire at 8448 Bunker Hill Rd. in Royalton. The rear of that house was fully engulfed in flames when the Sheriff's deputies and firefighters arrived on scene after 2 p.m. The lone occupant of the house was able to escape to safety with the family dog, the Niagara County Sheriff's Office reported.
The two-story structure in Royalton and the contents are a total loss.
The Red Cross reports the agency also provided immediate emergency assistance today to 7 people affected by a fire at east Delevan in Buffalo and 5 people at a fire on Niagara Street in Niagara Falls.