'Recovery Day' is celebration of people trying to break cycle of addiction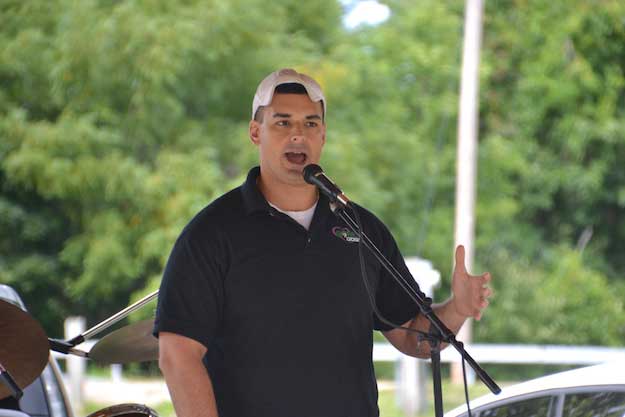 Photos by Tom Rivers
MEDINA – Kyle Ruggeri speaks Saturday at State Street Park in medina about how his use of painkillers from football injuries led to his drug addiction.
Ruggeri, 31, played football for Webster Thomas and was the Section 5 Defensive MVP in 2005. He then played for two years at Edinboro University in Pennsylvania.
He sustained multiple concussions and had pain in his neck, when he started to abuse painkillers. He became addicted and used cocaine and heroin, and was in state prison for 3 ½ years after a crime spree that included burglaries.
He is now sober and speaks out about opioids and pain management.
"Recovery is so much better than addiction," Ruggeri said Saturday at State Street Park at a "Recovery Day" organized by Orleans – Recovery Hope Begins Here.
Ruggeri said using drugs "is 30 seconds of pleasure followed by hours of misery."
He urged people fighting addiction to reach out to many groups in the region that are their to help addicts or those in recovery.
"The programs work so well," he said. "You can talk to other people who have been through it."
Ruggeri said addiction is a community problem that needs everyone's efforts, including parents and teachers.
"It's up to us," he said. "We can't arrest or legislate our way out of it."
Ruggeri runs the SoberDogs.com website to connect people to resources. He said his dog was a source of unconditional love that helped him in his recovery.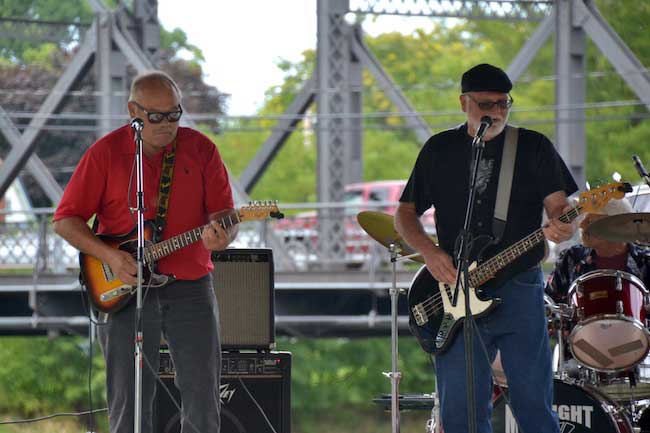 The band Midnight Cruisers performed at the event. Doug Gagne, left, and Neil Gagne are part of the band. Neil is the husband of Sue Gagne, coordinator of a community recovery center in Batavia for the Genesee/Orleans Council on Alcoholism and Substance Abuse.
Tami Ashton, one of the Orleans – Recovery Hope leaders, said the organization wanted the first-time event to help break the stigma of addiction.
"It's a celebration of recovery because people work hard everyday in their recovery," Ashton said.