Re-enactors at GCC provide timeline of U.S. history since mid-1700s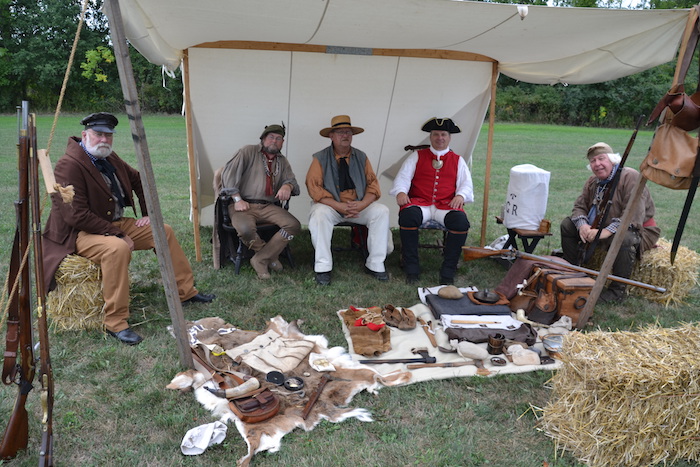 Photos by Tom Rivers
MEDINA – There are many impressionists and re-enactors from U.S. history at GCC in Medina today as part of the inaugural Orleans County Heritage Festival.
This group, includes, from left: Tom Schobert of West Seneca, an Alamo defender from 1836; Mark Houseman of Medina, a colonial militia ranger from the French and Indian War from 1756-1763; John Della Penna of Batavia, a member of the militia in the War of 1812; John Snyder of Lancaster, portraying Sir William Johnson (Indian agent for the British Empire during French and Indian War); and Tom Faith of Elma, a British ranger in the French and Indian War.
They are pictured with weaponry and leather leggings, moccasins, provisions, powder horns and other artifacts. "The public doesn't realize the hotbed of history sitting here in Western New York," Snyder said.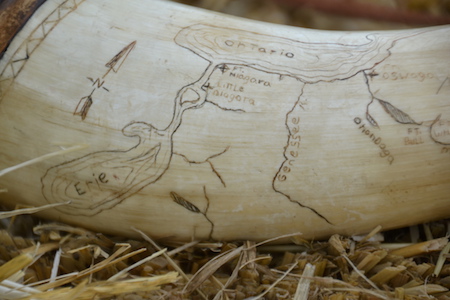 Snyder's replica powder horn includes a map of WNY that details sites visited by a soldier, which would help in case he got lost. Snyder made the powder horn as a replica or what one would have looked like about 250 years ago.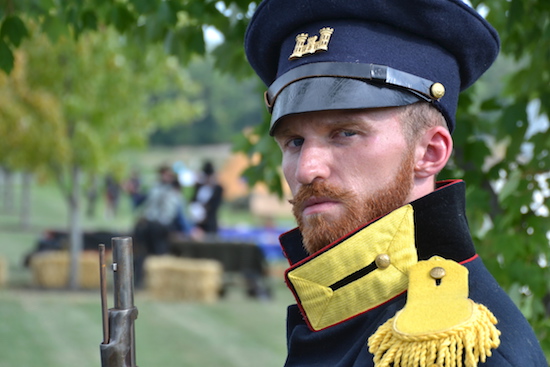 Raymond Ball of West Seneca portrays a member of the Corps of Engineers who served in the Mexican-American War in 1846-1848. Ball said his father is descended from a unit that served in that war.
"This is a very overlooked part of American history," Ball said. "There was a huge land grab and the war established the U.S. Army as a force to be reckoned with."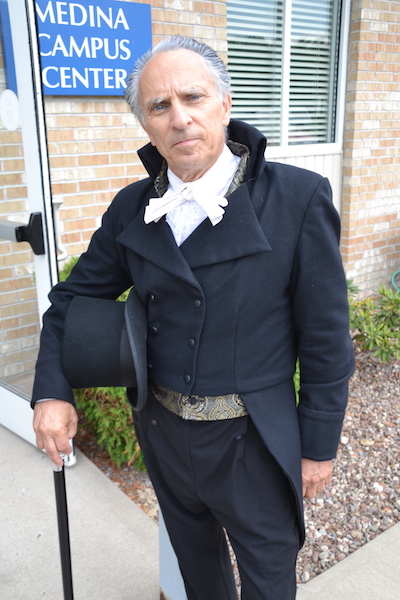 Gary Costello of Buffalo is James Madison, the fourth U.S. president who served during the War of 1812. Costello first portrayed Madison in 2012 at 200th anniversary observance of the War of 1812, which included action in Buffalo.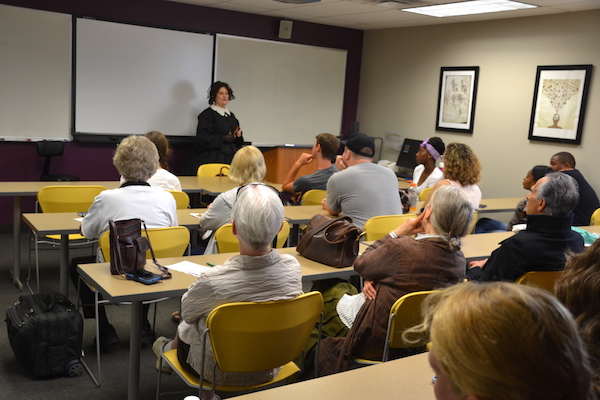 Melinda Grube is in costume as Elizabeth Cady Stanton, sharing stories of the leader of the suffrage movement from Seneca Falls.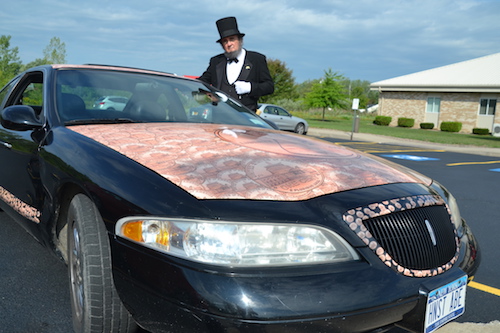 David Kreutz of Depew is a prominent Abraham Lincoln impersonator. He is pictured with his "Penny Car," which includes a vinyl wrap of Lincoln. Kreutz's license plate reads "HNST ABE." He has travelled 150,000 miles in his Lincoln car, attending events all over the country. Kreutz said the car functions as "a roving schoolhouse."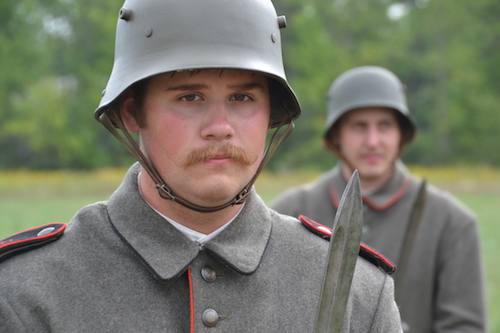 Sam Maryjanowski of Medina, front, and Steven Burley of Barker are dressed as German soldiers from World War I.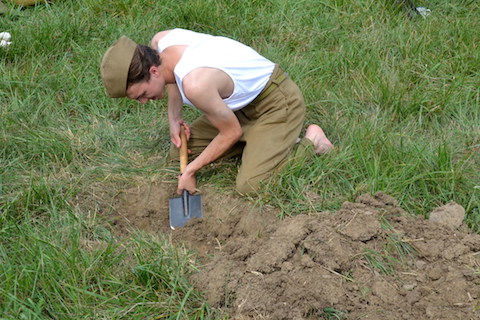 Andy Tripp, a Niagara University student, portrays a Russian soldier from World War I. He is digging a rifle pit to hide in. He said the pits where a way to avoid gunfire.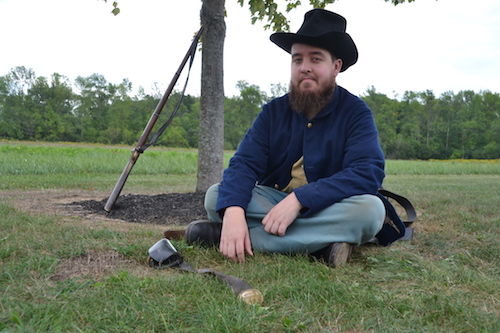 Caleb Avery of Lockport is dressed as a Union solider in the Civil War during 1864. Avery said he was part of the 78th NY, which included infantry from the Buffalo area. Avery is working on an impression of a World War II soldier. Many of the other participants are Civil War re-enactors who have developed other characters from different eras of U.S. history, Avery said.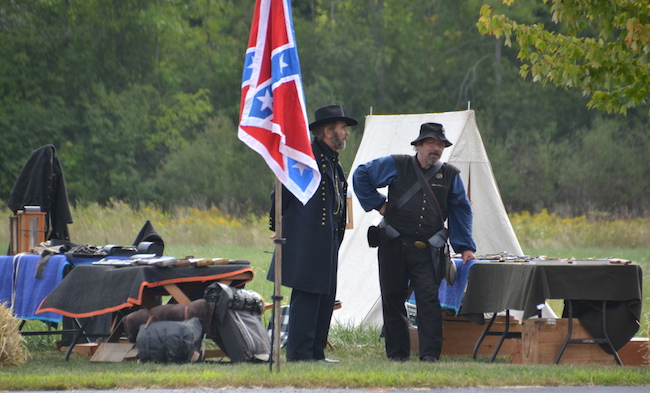 Ed Brodbeck, left, of Cheektowaga is Gen. Ulysses Grant. Jay Black, right, of Batavia portrays a provost marshal. Black brought along a collection of weapons that were used in the Civil War for people to look over.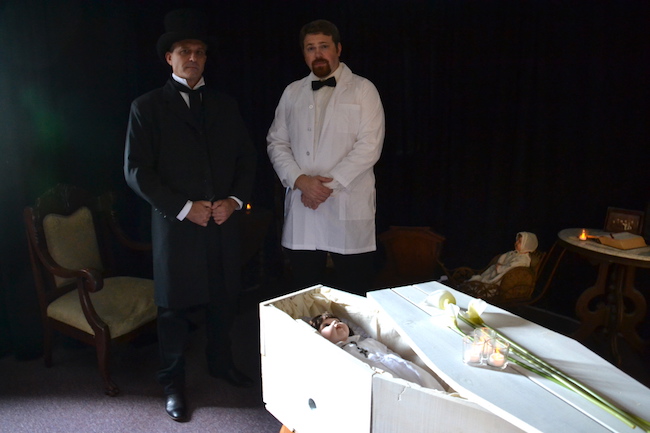 GCC professors Tracy Ford (an undertaker), left, and Matt Pettit (an embalmer) are part of Victorian mourning display at GCC in Albion. A doll represents a child. Many children never reached adulthood during the 1800s, victims to disease, sickness and other ailments.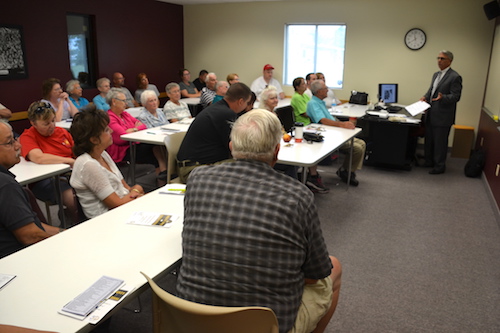 District Attorney Joe Cardone drew a packed house for his discussion on famous crimes and murders in Orleans County.
In addition to the activities at the GCC campus centers today, 29 sites in Orleans County are available for tours. Click here to see the schedule for the Heritage Festival.