Pullman church hosts peaceful vigil for justice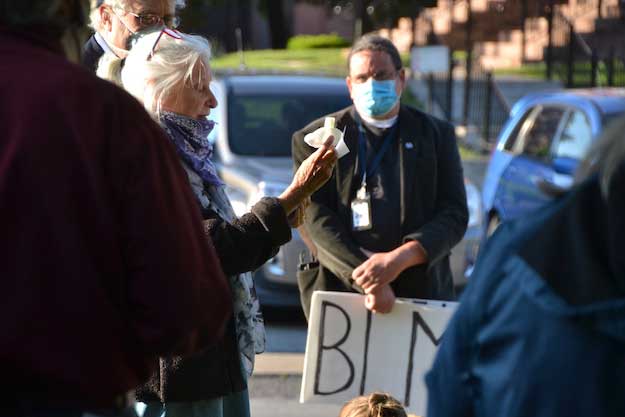 Photos by Tom Rivers
ALBION – Susan Daiss, a lay leader at the Pullman Memorial Universalist Church in Albion, speaks at a vigil for peace and justice on the church's lawn this evening.
About 20 people attended the vigil that lasted about a half hour. Darrel Dykes of Medina holds a Black Lives Matter sign.
He attended a march on Saturday in Buffalo. He said the event was "overwhelmingly positive and peaceful" in the beginning. He could tell the atmosphere was changing later in the evening and he left before there was widespread vandalism.
He regrets that most of the news coverage and social media attention on the marches has focused on the looting and detracted from the message of peace and justice.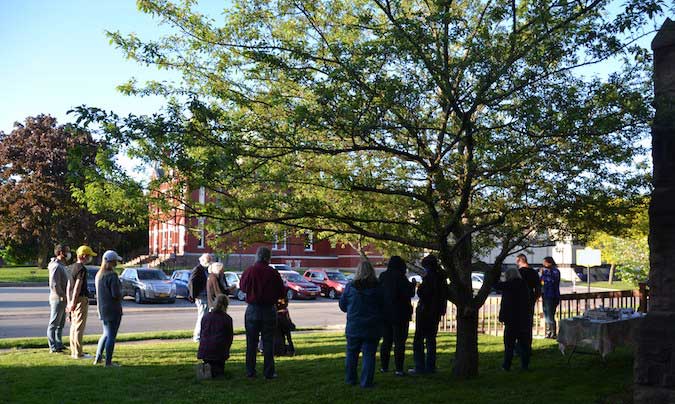 The church wanted to offer "safe space" to pray and send energy for justice, peace and healing "during these troubling and chaotic times in our nation and communities, as well as observe a moment of silence for all of those lost to racial violence so far this year."
The group gathers outside the church on East Park Street. They responded to the death of George Floyd, an African-American man who died a week ago after a police officer knelt on his neck for nearly nine minutes despite Floyd's anguish and pleas that he couldn't breathe.
That death led to nationwide protests, with many resulting in damage to businesses and public spaces, including in nearby Buffalo and Rochester.
Jessica Geroge, chairwoman of the board for the Pullman Church, shared a reflection during the vigil.
"Our world needs so much right now. So much love, and compassion, and kindness, and justice, and peace, and understanding.  We are called here tonight as people of conscience. People outraged by the disregard for human lives that we are seeing, outraged by the divisiveness we see in our communities, and by the dehumanization we are seeing from people in positions of power and authority."
She urged the group to "love radically"  and challenge "systemic oppression."
The Pullman church wanted to offer a place during a scary time for the country. Besides the death of Floyd, the country has seen the images of looters, and has endured nearly three months of restrictions due to the Covid-19 pandemic.
"We are called here tonight to seek a more compassionate, peaceful, and kind world," George said. "We are moved to be here as people that are committed to seeing our world, our nation, and our society be better for all of us.  We are moved to search not only for justice, but for equality, fairness, equity and peace."
Al Capurso also sang a song during the vigil – "Here Comes the Sun" by The Beatles.