Public Works Association honors county DPW employee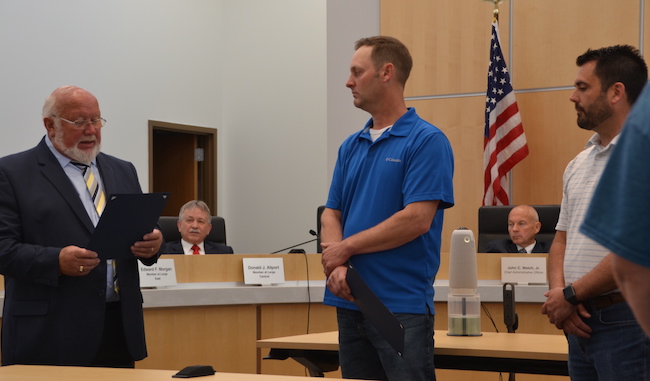 Photos by Tom Rivers
ALBION – Wayne Krull, center, recently received a commendation from the Orleans County Legislature for receiving the Douglas C. Zefting Award from the American Public Works Association Genesee Valley Chapter.
County Legislator Bill Eick is at left and John Papponetti, DPW commissioner for the county, is at right.
This award recognizes outstanding public service and achievement of an operational/maintenance level employee of a public works agency. Krull has worked for the county for 21 years.
He started his career with the Orleans County DPW in May 2001 as a motor equipment operator. In July 2015 he was promoted to Lead Motor Equipment Operator, and in January 2021 he was promoted to Deputy Commissioner of the Public Works' Highway Division.
"He has overseen several large culvert replacement projects," said John Papponetti, the county's DPW commissioner. "The most recent being the emergency replacement of the Yates Carlton Townline Road Culvert that collapsed as a result of a recent high water event. His drive and passion for his job sets the tone for our crews each day. Wayne's positive attitude and willingness to learn on a daily basis is what earned him this award."
Krull is responsible for overseeing the day-to-day activities and projects for DPW's Highway Division. This includes project planning, project staffing, coordination with the towns and villages, coordination with vendors and contractors, and assisting the commissioner with planning highway capital improvement projects.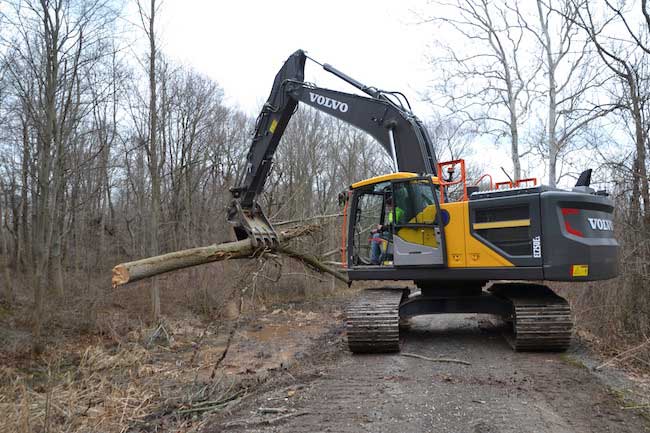 Wayne Krull is shown in an excavator in this photo from January 2020 when the DPW cleared trees, limbs, brush and debris from the original canal loop in Holley. The 2,000-foot long section is a rare remaining piece of the original Erie Canal west of Rochester. It is just west of Bennetts Corners Road and east of the lift bridge.