Produce boxes go quickly at fairgrounds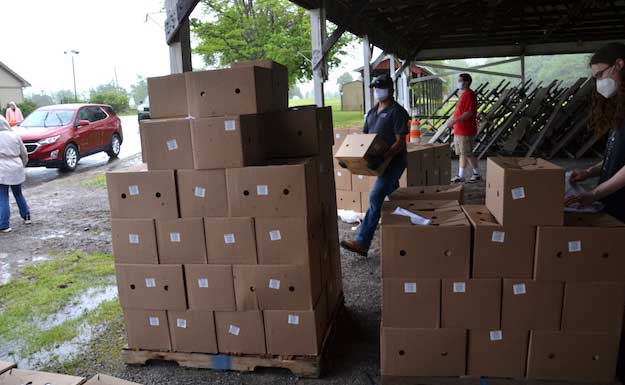 Photos by Tom Rivers
KNOWLESVILLE – Boxes of produce are stacked on pallets at the Orleans County 4-H Fairgrounds this morning as part of a distribution from the USDA farmers-to-families produce initiative.
Their were cars lined up on Wood Road by 7 this morning for the distribution that was scheduled to start at 10.
By 11 a.m., about 800 boxes had been picked up out of the 1,200. Each box weighs about 20 pounds.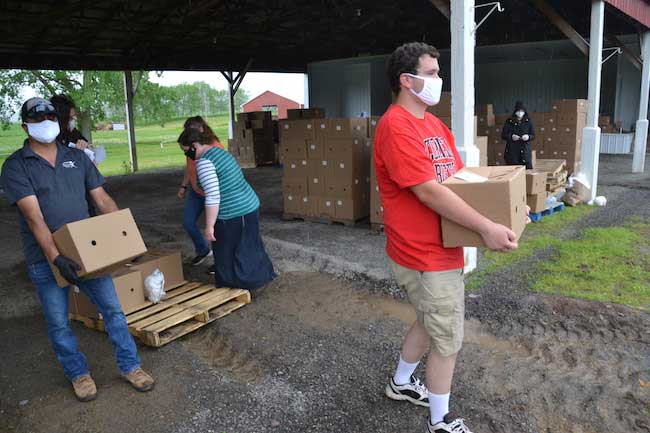 John Gabalski carries a box to one of the vehicles. He volunteered to help with the distribution.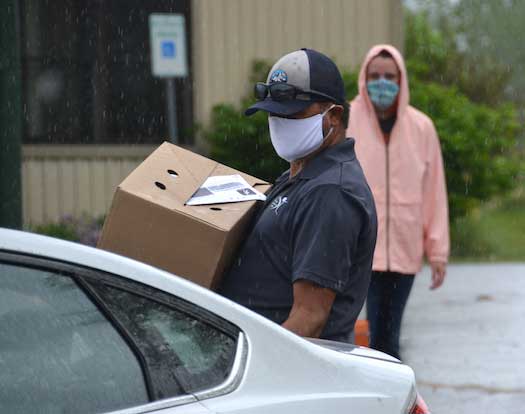 Jose Iniquez, a member of the board of directors for the Orleans County Cornell Cooperative Extension, loads a box into a truck of a car. It started raining hard at about 10:30. Iniguez is vice president of Lamont Fruit Farms in Waterport.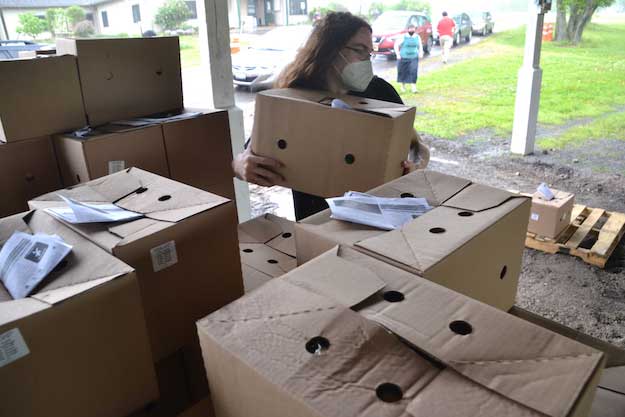 Aeddon Cayea of Medina also volunteered during the distribution.
The USDA farmers-to-families produce boxes include potatoes (1-5 pounds), oranges (1-4 pounds), apples (1-3 pounds), onions (1-3 pounds), green vegetables (1-3 pounds of broccoli, cabbage, green pepper, etc.), and carrots (1-2 pounds). The cabbage, apples and onions all came from Orleans County farms.
James Desiderio Inc. of Buffalo served as the distributor of the produce.
Robert Batt, CCE executive director, urged people to call the office today at 798-4265 to see if boxes are left. Given how fast the boxes were going at the beginning of the distribution, he didn't expect they would last too long during the day.
Some of the boxes went to Community Action's food pantry, Calvary Tabernacle's food pantry in Medina and some to the Arc of Genesee Orleans.