Pro wrestler from Albion injured in Thruway crash in Batavia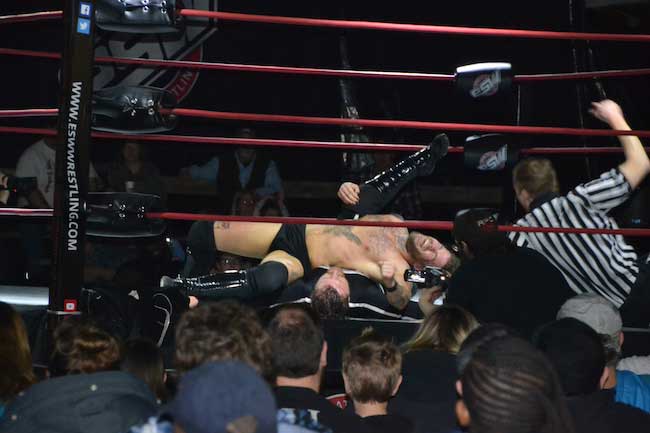 Photo by Tom Rivers
BATAVIA – Kevin (Lockwood) Blackwood, an Albion native, pins Scotty O'Shea during one of the matches in Knowlesville on April 28 during the "Fairgrounds Fallout" at the Orleans County 4-H Fairgrounds.
Blackwood suffered two broken ankles and head trauma in a car accident Sunday night on Thruway. He was traveling with three other wrestlers. All four wrestle as the "Buffalo Brothers." They were returning from a wrestler event in Montreal when they hit black ice on the Thruway and crashed into a guard rail just east of the State Street overpass.
Blackwood has been a featured wrestler with Empire State Wrestling for about two years. He competes in an independent circuit in New York and Canada.
Danny Garcia, another member of the Buffalo Brothers, broke one leg and broke an ankle on the other leg. The two other Buffalo Brothers, Nick Pufpaff and Kevin Bennett, suffered minor injuries.
A GoFundMe has been established to help the wrestlers with their medical bills. It has raised about $16,000 so far.
Blackwood posted this message Sunday on Twitter: "I'm overwhelmed with the amount of love my friends and I have received. I promise, nothing can stop us. Your words mean more than you could ever know #buffalove"
He posted this message at about 1:20 p.m. today: "I'm out of surgery on my leg. The worst part of this right now is knowing I'm not gonna wrestle for a while. But when I come back, the world is gonna know."