Print Shop wins 'Phoenix Award' for big renovation in downtown Medina
MEDINA – The downtown in Medina has enjoyed a renaissance in the past decade with many new businesses tackling major renovations and building projects in recent years.
But one building, the former Bernie's Laundry, was in shambles. The building is high profile on East Center Street, one of the first structures that people see heading west in the downtown.
Ken Daluisio, owner of The Print Shop, eyed the building for several years of expansion. But the site was difficult to get, due to tax liens and a complicated chain of title from bankruptcies with past owners.
But Daluisio was persistent, and with help from the Orleans County government, was able to get the back taxes cleared up.
On March 19, 2015, he took possession of the former laundromat building. One year and one day later, a vastly improved building was ready for The Print Shop.
When doing renovations for the expansion, Daluisio needed 13 dumpsters to haul out laundry machines and dryers, as well as the old floor, ceiling, partition walls and other debris.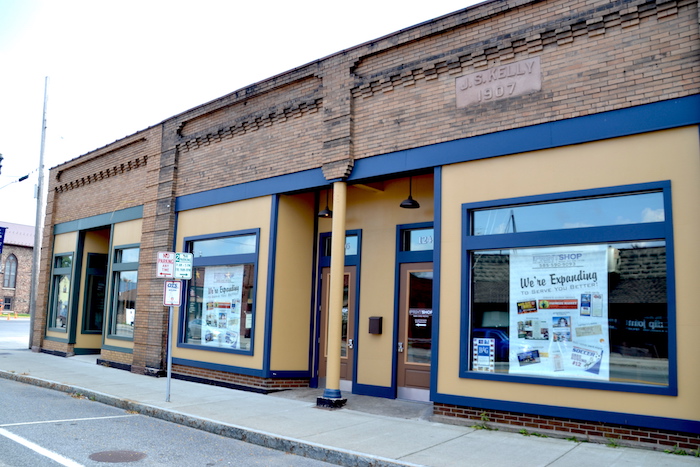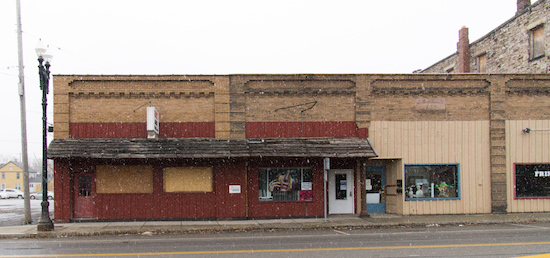 These photos show 124-126 E. Center St. in Medina after major renovations and before Ken Daluisio tackled the project. 
It took seven dump truck loads to remove bricks and dirt from the basement. The building was stripped down to four bare walls and then rebuilt with new floor, a roof, electrical system and other upgrades. Daluisio's brother John managed the construction project.
"This is an area that was just dilapidated," said Kathy Blackburn, owner of Meggie's Moos, down the street from The Print Shop. "Ken's revamping of the building just helps everybody. The building was falling in. I'm surprised he could save it."
Blackburn is the grants manager for the Orleans County Chamber of Commerce, which is presenting Daluisio with the "Phoenix Award" on Friday.
Daluisio opened The Print Shop in 2004. He was crammed for space before the expansion, which gives him 3,000 additional square feet. He has added two high-speed digital production machines.
In the basement he can print 4-color T-shirts and 4-color signs.
He has a dedicated local clientele, but also is subcontracted by many print shops in the region for special order jobs. He also handles big contracts, including the sole printer of custom fortune telling cards for Zoltar and Esmeralda fortune telling machines.
Even in the age of the Internet, Daluisio said his business has been growing.
"Many of the print shops with older equipment have died off," he said. "But print is still very much alive."
The Internet has allowed new businesses to start, and they often need stickers and signs, Daluisio said.
He and his five full-time employees and two part-timers print many books, signs, banners, and other products.
"We're a one-stop shop for anything that would have your name on it," he said.