Preschool, dancewear business join Gotta Dance in Albion
ALBION – The Gotta Dance Studio by Miss Amy in Albion has become a busier place. There is a new preschool and owner of a shop that sells dance supplies.
The building at 28 West Bank St. for about 20 years has been used for dance classes, and in recent years has hosted cabaret shows and other live performances.
Last week a preschool started at Gotta Dance. The Beehive serves eight children ages 3-4. Jordan Thomas runs the preschool from 9 to 11 a.m., Monday through Thursday.
Thomas, 24, also is a dance instructor at Gotta Dance working with preschoolers. She started dancing at the studio in 2012.
Amy Sidari, owner of Gotta Dance, sees first-hand how Thomas connects with younger children and keeps them happy and motivated. Sidari welcomed the chance to have one of the three dance studios be used for preschoolers in the morning.
"It makes sense to maximize the hours in the buildings," Sidari said. "We want this building to maximized for the community at all hours for all ages."
The Beehive helps prepare the preschoolers for kindergarten. Thomas runs a program that teaches social skills and respect others, often incorporating singing and dancing. The kids learn how to express their feelings and emotions in a safe environment. There are plenty of crafts, and activities where they learn colors, counting, days of the week, the weather and reading.
"We stress kindness, respect and listening skills," Thomas said.
She said the Beehive helps fill a preschool gap in the community. She used to work at the former Rainbow Preschool in Albion as a one-on-one aide. That school closed in August 2020.
"There are so many kids and not enough places for them to go," Thomas said about local preschools.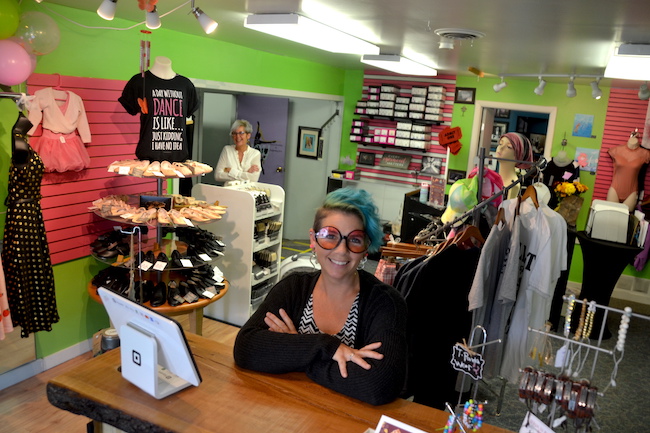 Mandee Heinsler owns the Barre Boutqiue at Gotta Dance. She has taken over the part of the business where Gotta Dance students and other sin the community can buy ballet, tap and jazz shoes. Heinsler will also do fitting for point shoes and sew ribbons on those. She learned the art of fitting point shoes from Sidari.
Heinsler's daughters – Evee, 15, and Thalia, 10 – are both dancers at Gotta Dance.
Heinsler also sells dance leotards, from sizes toddler to adult, and tights, including ones that are convertible. The Barre Boutique also has graphic tees and other trendy clothing, including gifts.
Heinsler named it "Barre Boutique" not for the town in Orleans County. In ballet and dance, the barre is the horizontal handrail that is fixed to the walls of a studio.
The boutique will be open from 4 to 9:30 p.m. Monday through Thursday with some Saturday hours expected in the future. Heinsler also will be available for appointments. Contact her through the Barre Boutique Facebook page for more information.
Sidari has made another big change at Gotta Dance. Crystal Hallenbeck, a dance instructor there since 2001, will serve as manager of operations. She also works as a budget director at Brockport State College. She has a doctorate degree in executive leadership.
Sidari said the changes will allow her to step back from some of the day-to-day demands of running the studio and business. She recently became a grandmother with a second grandchild due soon.
She was considering selling the building and closing Gotta Dance in June, but a new team came together that Sidari expects will take the place to new heights.
"This year will be rocking," she said. "It's everybody that works here. I know I can walk away a little bit but I'm still here."
Sidari said the cabaret already has five shows with bus tours lined up. She and Hollenbeck also will work on monthly events, including a kids night out in October and dance-a-thon.
Sidari said other activities are in the works, and she also rents out the cabaret room as an events/conference venue with the professional technology equipment available.
"Here we have a genuine love for everyone," Sidari said. "Come as you are and we will help you meet your goals. This has always been my home and my place to help others' dreams come true."